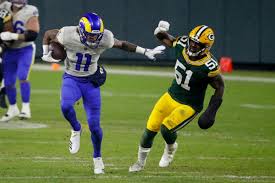 I enjoyed my second NFL-free Sunday since early September. Instead of cursing Mike Pettine, it was nice just relaxing on the couch while not giving a shit who won the Virginia/Carolina game. That said, I still couldn't stop thinking about the Packers. Here are just three of the many thoughts that ran through my head:
1) The Packers allowed starting inside linebackers Blake Martinez and B.J. Goodson to walk after the 2019 season, and they were replaced by veteran free agent Christian Kirksey and undrafted rookie Krys Barnes. The swap didn't go very well, especially against the pass. Martinez (Giants) and Goodson (Cleveland) were targeted 136 times and gave up 105 completions (77%) for 942 yards and 2 TDs. Kirksey and Barnes were targeted 89 times and gave up 77 completions (87%) for 715 yards and 6 TDs. So while the former starters weren't good in coverage, their replacements were much worse. Fortunately, Kirksey probably won't be back next season, and Barnes should be better in his second year. That said, unless GM Brian Gutekunst finally finds an inside linebacker who can actually run with backs and tight ends, it won't matter who's coordinating the defense because quality QBs will continue to play pitch and catch with receivers in the middle of the field.

2) Because the Packers finished the regular season with the No. 1 scoring offense in the league, it's easy for people to scoff at the "we need another wide receiver" crowd – a crowd that was very vociferous last offseason. But you know what? The Packers do need another wide receiver. According to the website QB Data Mine, for the second year in a row, Green Bay's receivers lost the most yards in the league to drops (552). The two biggest culprits were Allen Lazard and Marquez Valdes-Scantling. But even if you forget about all the drops, maybe having another wide receiver would've made a difference in the red zone versus Tampa Bay in the NFC championship game. Or on those two crucial three and outs in the fourth quarter. There are two reasons why Rodgers often forces the ball to Davante Adams in crunch time. One is that Adams is a first-team All-Pro; the other is that he's sooooo much better than Lazard and Valdes-Scantling.

3) Seven teams hired new general managers in the past few weeks, and over 30 people interviewed for those jobs. Surprisingly, not one of those people came from the Packers' front office. Then again, maybe it's not all that surprising. Despite back-to-back trips to the NFC championship, there simply isn't a John Dorsey, a John Schneider, or even a Reggie McKenzie in Gutekunst's personnel department. Being hired by Ron Wolf brought a talent evaluator instant credibility. The same can't be said for being hired by Mike Sherman, Ted Thompson, or Gutekunst. But the bigger problem for Milt Hendrickson, Jon-Eric Sullivan, John Wojciechowski, and especially director of college scouting Matt Malaspina has been the recent drafts. Of the 28 players selected since 2018, only four (Valdes-Scantling, Jaire Alexander, Elgton Jenkins, and Darnell Savage) were on the field for at least 50% of the snaps this past season. In comparison, of the 23 players selected by the Super Bowl champ Bucs since 2018, eight were on the field for at least 50% of the snaps.