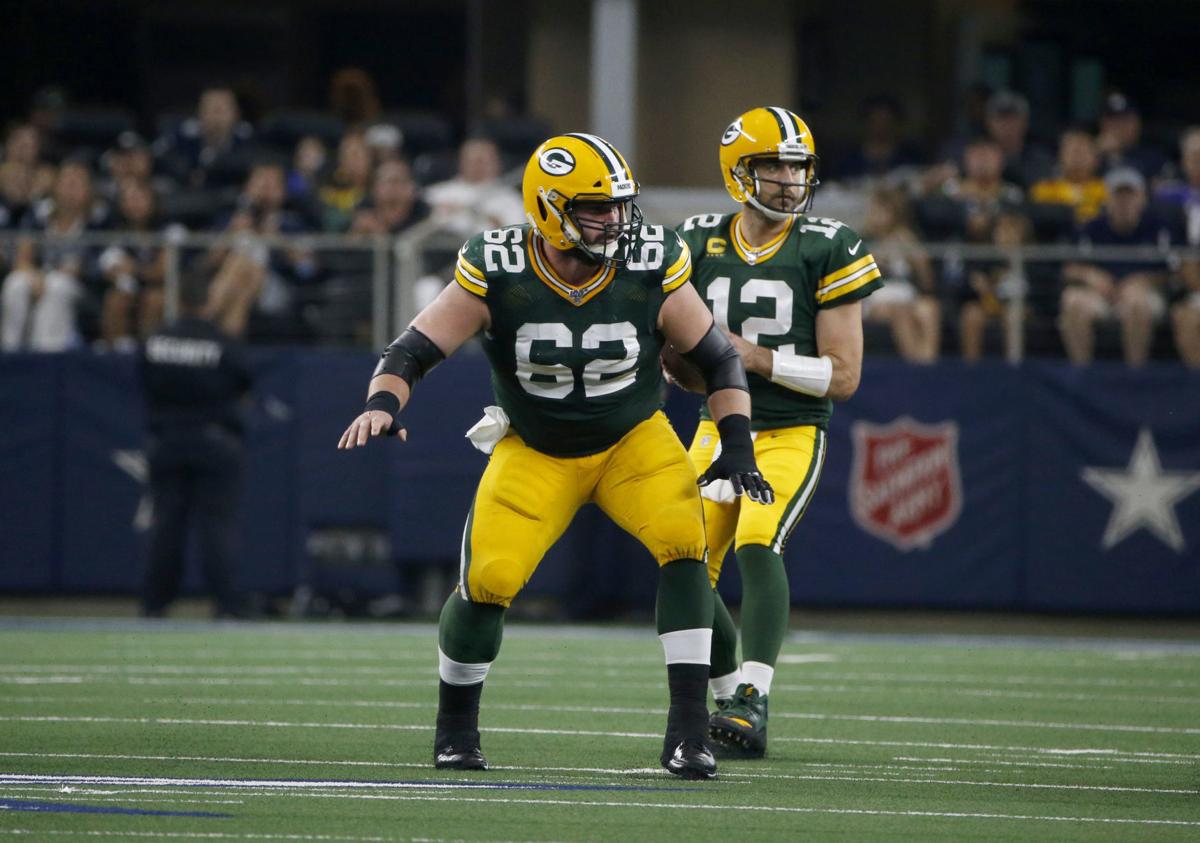 There's no NFL Combine this year due to the coronavirus, and as much as I miss football, I can't say I'll miss watching young men in shorts run 40 yards and lift weights. I might be stuck in the house, but I'm still not that desperate for entertainment. Anyway, here are just three of the many Packers-related thoughts that ran through my head the past few days:
1) While the Packers have a number of options to replace Corey Linsley should the All-Pro center leave in free agency, the most logical would be to move starting right guard Lucas Patrick a few feet to his left. The 27-year-old former undrafted free agent from Duke generally held his own in 17 starts last season, but he's always been better suited to line up over the ball. While Patrick's tenacity usually allows him to get by at guard, his lack of size and athleticism can be a problem against very talented defensive tackles. Moving Patrick to center would allow him to avoid uncomfortable 1-on-1 matchups, and at the same time, use his superior instincts to provide help to the guards when necessary. I'm not sure if he'd be the long-term solution at the position, but he could certainly help get the offensive line through what figures to be a challenging season should Linsley sign with another team in a few weeks and All-Pro left tackle David Bakhtiari miss the first month or two while rehabbing his knee.

2) After two years, most people already knew that corner Josh Jackson and inside linebacker Oren Burks couldn't play in the NFL. The former didn't have the speed or quickness to stay with quality wide receivers, and the latter lacked instincts. That's not the case with tight end Jace Sternberger, even though his first couple of seasons have been even less productive than his fellow day 2 draft picks. That's because, unlike Jackson and Burks, Sternberger does have the ability to be a good player at this level. He's an improving blocker who adjusts well to the ball in the air and plays much faster than his 40 time (4.75). But none of that will matter if Sternberger can't stay healthy. Since joining the Packers, he's missed 13 games and numerous practices due to injuries. This would be a problem for any young player, and it's especially problematic for a young player who was catching passes at Northeastern Oklahoma A&M as recently as 2017. The still raw Sternberger simply needs to stay on the field this summer. If he does, he'll find a role in the offense. If not, he could find himself the rare third-round pick who doesn't make it to year 3.
3) It's all well and good that Rashan Gary and Darnell Savage improved in their second seasons, but as of now, neither player has come close to living up to his lofty draft status. Gary was picked 12th overall in 2019, and he's contributed seven sacks as a part-time outside linebacker. The former Michigan star has played a total of 700 snaps. That's less than every first-rounder from his class other than offensive tackles Jonah Williams and Andre Dillard, who both missed entire seasons due to injury. Savage was chosen nine spots after Gary – at the cost of two fourth-round picks – and while he's started 29 games at safety, he's been more dependable than dynamic. Despite better speed than size, the former Maryland star has been more effective playing in the box than lined up in the middle of the field. If the defense is going to improve under new coordinator Joe Barry next season, Gary and Savage are going to have to be more like Clay Matthews and Nick Collins and less like Nick Perry and Morgan Burnett.