Grading Gutekunst In Free Agency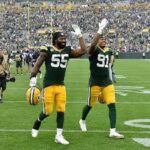 This is the first time in his four forays into free agency that general manager Brian Gutekunst didn't sign a player within the first 24 hours. That's probably because this is the first time the Packers were actually over the salary cap when the legal tampering period began. But Gutekunst will eventually get involved, and when he does, he'll be looking to accomplish two things – acquire good players and do it for as little money as possible.
How has Gutekunst fared in free agency three years into his tenure? I graded each of his signings based on the performance of the player and the size of the contract. This means a lesser player could receive a higher grade depending on how much he was paid. For example, a player who was paid $10 million and played at a Pro Bowl-level wouldn't be graded as high as a player who was paid $6 million and played at a Pro Bowl-level. Similarly, a player who was paid $2 million and played poorly wouldn't be graded as low as a player who was paid $6 million and played poorly.
(If you're reading this post on a cell phone, you'll probably have to turn the phone horizontally in order to read the chart below).


PLAYER
CONTRACT
MONEY PAID
ANALYSIS
GRADE
COMMENT
Jimmy Graham
3 years/$30 million/$11
million guaranteed
$22.5 million
Caught 93 passes in two seasons, but scored only 5 TDs. Made minimal impact on offense, but worked hard and provided leadership.
73
Paid like a star, but didn't play like one. Probably didn't deserve a second season with the Packers.
Mo Wilkerson
1 year/$5 million/$3.5 million guaranteed
$3.6 million
Played only 3 games before suffering a season-ending injury. Did OK vs. the run, but showed little burst as a pass rusher
INC
Was a shell of the player who starred for the Jets, but had he stayed healthy, probably would've been worth the relatively small investment.
Tramon Williams
2 years/$10 million/$4.75 million guaranteed
$10 million
Played over 800 snaps in both seasons, and while no longer elite, he was an above-average starter both outside and in the slot.
85
Performance on the field and leadership in the locker room made this a very good investment.
Byron Bell
1 year/$1.6 million/$500K guaranteed
$1.6 million
Signed as a backup tackle, and wound up starting 9 games at right guard. It didn't go well.
70
You usually get what you pay for in sports. Luckily, the Packers didn't pay much for this player.
Marcedes Lewis
1 year/$2.1 million/$500K guaranteed
$2.1 million
Played over 1,200 snaps the past 3 seasons. Has provided solid blocking and great leadership both on and off the field.
80
Last two seasons were better than his first in Green Bay. Does whatever is asked of him. That's why he keeps coming back.
Za'Darius Smith
4 years/$66 million/$20 million guaranteed
$40.5 million
Most impactful player on defense. A pair of Pro Bowls and 26 sacks in two seasons. Many thought this was an overpay at the time. They were wrong.
92
Paid like a star, and has performed like one. Better in 2019 than 2020, but was still the only front 7 player offenses really had to worry about last season.
Preston Smith
4 years/$52 million/$16 million guaranteed
$31 million
Very good in 2019 and very average in 2020. Took a sizeable pay cut this month to avoid being released.
83
Went from slightly underpaid to extremely overpaid. Whether this was a good signing or not will be determined six months from now.
Adrian Amos
4 years/$36 million/$12 million guaranteed
$27.1 million
Signed to add experience and dependability to a very young secondary. He's done that... and more.
85
Not flashy, but he's been one of the 10 best safeties in the league for the past two seasons. That's money well spent.
Billy Turner
4 years/$28 million/$9 million guaranteed
$18.3 million
Average starter, but being an average starter at three positions is pretty impressive. The Packers don't have the No. 1 offense last season without him.
81
Not worth $7M per at any one position, but unique versatility makes that number a lot more palatable.
Christian Kirksey
2 years/$13 million/$4 million guaranteed
$6.1 million
Injury-prone veteran missed 5 games with a pectoral injury. Played a few good games late, but was a liability for much of the season.
70
Cut last month after only 1 season. Wasn't an upgrade from B.J. Goodson, who wasn't good enough in 2019.
Rick Wagner
2 years/$11 million/$5.75 million guaranteed
$6.5 million
Started the season as the No. 7 O-lineman, but wound up starting 9 games at right tackle. Held up surprisingly well until the NFCC.
82
Looked like a waste of money in week 1, but was worth of every penny of his modest salary by the end of the season.
Treyvon Hester
1 year/$850K/$25K guaranteed
$25K
Never had a chance. COVID-19 followed by an injury ruined his training camp and led to his quick exit.
NG
Probably would've been worth the modest investment had he been healthy, but we'll never know.
Devin Funchess
1 year/$1.8 million/$300K guaranteed
$300K
Opted out of last season due to COVID-19. Took a pay cut to return.
NG
No down side to keeping him around. At best, he helps the offense at minimal cost. At worst, he's released at minimal cost.
According to my very subjective analysis, the average for the free agents signed by Gutekunst is 80%. That letter grade would be a B –  high enough to get a person into a good college, but not high enough to get them into the best college. And that pretty much sums up the Packers the past two years. They've been good; they just haven't been the best. Gutekunst has a chance to raise this grade in the next few weeks. If he can squeeze just the right players under a tight cap, perhaps next season won't end in the NFC championship game for the third year in a row.


Visits: 12111 Today: 102
Tagged:
Brian Gutekunst
Green Bay Packers