Intriguing Lower-Tier Free Agents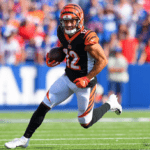 It's easy to list the top free agents at every position, but unearthing hidden gems takes more than just copy and pasting from Pro Football Focus or Sports Illustrated. It takes watching a lot of tape, and that's exactly how I found Denver outside linebacker Shaquil Barrett in 2019 and Carolina right tackle Daryl Williams in 2020. The former signed a $4 million deal with Tampa Bay and went on to lead the league in sacks with 20. The latter signed a $2.25 million deal with Buffalo and went on to have a Pro Bowl-quality season.
I'm not as high on any players this year, but here are three lower-tier free agents who could provide big bangs for little bucks:
ALEX ERICKSON (WR/Bengals)
The 28-year-old would be more than just a great gift to Packers' fans who still miss Jake "Touchdown Jesus" Kumerow and Jeff "White Lightning" Janis. The former Wisconsin star is a darn good football player. He's been one of the league's best punt returners for years, and he caught over 40 passes as recently as 2019. Erickson, who's more fast than quick, can line up outside or in the slot. He runs precise routes, and even at his size (6-0, 195), isn't afraid to go over the middle and take a big hit. As a returner, he makes smart decisions and is sure-handed. He'd be the perfect replacement for free agent Tyler Ervin since he's better on both offense and special teams. There could be a market for Erickson, but it's hard to imagine any team paying him more than $1.5 million a year.
When's the last time you saw somebody for the Packers make a play like this? Erickson (#12) may not be overly explosive, but he has good vision and the ability to make defenders miss in the open field. This return against the Giants went for 29 yards.

MORGAN FOX (DE/Rams)
The 26-year-old wasn't on the field a lot last season, but that says more about the Rams' outstanding depth on the defensive line than it does about Fox's play. The former undrafted free agent from Colorado State certainly made the most of his limited opportunities. He had seven sacks and 35 hurries in only 473 snaps. For comparison's sake, Dean Lowry had three sacks and 22 hurries in nearly 700 snaps for the Packers. And while Lowry is probably a bit stouter than Fox against the run, neither player is going to be confused with a young Mike Daniels any time soon. What also makes Fox appealing is his familiarity with new defensive coordinator Joe Barry. The two spent the past four seasons together in Los Angeles. It might take $4 million a year to sign Fox, and while that's not cheap, it should be pointed out that Lowry has a base salary of $4.1 million and will count $6.2 million against the cap in 2021.
The versatile Fox (#97) can rush from outside or inside. On this play against the Cardinals in week 17 – a game the Rams had to win – he lines up over the center and uses his quickness and strength to beat Mason Cole and sack quarterback Kyler Murray.

PATRICK ONWUASOR (ILB/Jets)
The 28-year-old is coming off a lost season. After starting 31 games for the Ravens from 2017 through 2019, he played in only one game for the Jets in 2020 before being placed on injured reserve with a hamstring injury. Onwuasor was never a star in Baltimore, but he was a key cog in what was always a very good defense. While the former Portland State star is best-suited to be a role player, he could certainly step in as a starter if young Kamal Martin isn't ready and/or the Packers don't upgrade the position in the draft. Onwuasor weighs only 230 pounds, and that lack of size can be a problem against the run. Ideally, he'd be used on obvious passing downs, where his athleticism makes him dangerous on the blitz and adequate in coverage. He's also good on special teams. Most importantly, it shouldn't take much more than the veteran's minimum and a modest bonus to get Onwuasor signed.
Onwuasor (#48) does it all on this play against the Patriots. He gets his teammate aligned correctly, quickly diagnoses where Tom Brady is going with the ball, makes the tackle on Julian Edelman, and forces a fumble that's returned for a touchdown.
DEMARCUS WALKER (DL/Broncos)
The 26-year-old played alongside Barrett for a couple of seasons, and while he's not nearly as talented a player, he too has a chance to be more impactful away from the Mile High City. Walker could start at defensive end in the base and then move inside on passing downs. He lacks the size (6-3 1/2, 285) to be a dominant run stuffer and the explosiveness to be a great pass rusher, but he does both things reasonably well. The former Florida State star is most effective when used on stunts. He's blessed with good initial quickness, an impressive closing burst, and the desire to keep working to come free. Walker played the past couple of years for coach Vic Fangio, who taught his scheme to Brandon Staley in Denver, who then taught a variation of that same scheme to Barry in Los Angeles. As far as money is concerned, Walker will probably cost slightly more than Erickson and Onwuasor, but not as much as Fox.
As a pass rusher, Walker (#57) is like a poor man's Za'Darius Smith. He can line up anywhere but is most effective inside. On this play against the Dolphins, he starts over the center and eventually winds up beating the left tackle around the corner.


Visits: 7776 Today: 6
Tagged:
free agency
Green Bay Packers