Smith Now Has Incentive To Improve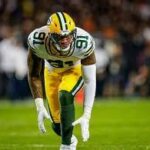 Preston Smith reported to training camp overweight last summer, and his play on the field for much of the fall was uninspired, undisciplined, and unproductive. So what price did he pay for being among the least effective starting outside linebackers in the entire league? The Green Bay Packers handed him a check for $6.5 million last Friday – $2.5 million more than he was scheduled to receive at the end of this week. Talk about failing up.
While it's true Smith saw his base salary slashed from $7.5 million to $1 million – the downside of ranking 56th out of 60 in pass-rush productivity – he can recoup $4.4 million by matching the 12 sacks he recorded two years ago. That, by the way, was back when the former Mississippi State star didn't have the tummy of a woman in her third trimester.
It's doubtful Smith will get to 12 sacks since he's averaged seven a season in his career, but even a slightly above-average campaign would allow him to add an additional $2 million to the already $7.5 million he's guaranteed. Add in a $200,000 workout bonus and $300,000 for simply being on the active roster each week, and his final salary for 2021 would total $10 million. Not too shabby. It's easy to see why Smith and his agent agreed to this revised deal.
As for the Packers, they cleared $7.25 million of cap space by re-working Smith's contract. And since releasing him would've meant a savings of only an additional $750,000, it sure feels like a win-win for the team. But is it really?

Unless new defensive coordinator Joe Barry can figure out a way to keep a trio of outside linebackers on the field for every down, 2021 looks to be another season that finds Rashan Gary relegated to a part-time role. And while the former Michigan star will almost certainly play more than he did a year ago, there are only so many snaps to go around, and All-Pro Za'Darius Smith won't be leaving the field aside from an occasional breather. So that begs the question – are 40 or 50 snaps a game enough for an emerging young player who was the 12th pick in the 2019 draft?
Of course, there would always be the option to drastically reduce Smith's snaps if Gary is outplaying him, but since that never really happened last season when the exact scenario occurred, it's probably not realistic. Plus, benching Smith would be even trickier for the coaching staff now that such a big part of his salary is tied to incentives.
Speaking of which, what incentive does Smith have to pay any attention to the run next season? The truth is, he's been obsessed with sacks ever since getting seven of them in his first six games as a Packer. Setting the edge, which had been a strength of his in Washington, has too often become an afterthought in Green Bay. And that was before the team dangled over $4 million in front of him as a reward for getting the opposing quarterback to the ground. If you thought Smith was a little too quick to forego his responsibilities against the run before, just wait.
Plays like this one were far too common for Smith (#91) in 2020. Lined up at right outside linebacker, he charges inside with his head down. He has no idea where the ball is, and once he finally figures it out, he leisurely strolls down the field as Colts' receiver De'Michael Harris picks up 19 yards.
Being able to clear substantial cap space and also keep Smith will be applauded by pretty much everyone in the coming days and weeks. But "winning" in the spring doesn't necessarily translate into winning in the fall (just ask the Bears). Knowing when to let a veteran player go is often the hardest part of a general manager's job. Brian Gutekunst clearly didn't think it was time to sever ties with Smith just yet. We'll find out soon enough if he was right.


Visits: 6319 Today: 2
Tagged:
Green Bay Packers
Preston Smith