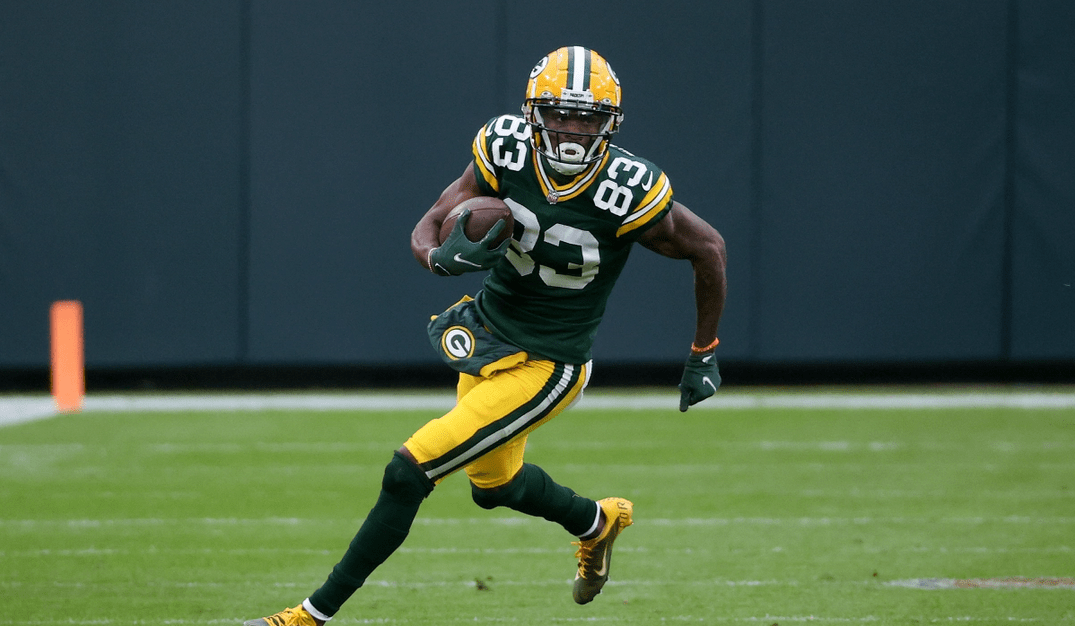 The question is, who'll be the next full-time host of Jeopardy? The answer is, who's not Aaron Rodgers. Forget what the league MVP said about wanting the gig. That felt more like trolling the Packers than anything else. While Rodgers did an impressive job for the past two weeks, there's a big difference between taping 10 shows over three days and taping 230 shows over two months while still trying to get your aging body ready for another season. Anyway, here are three more thoughts that ran through my head recently:
1) It's easy to criticize Marquez Valdes-Scantling for what he's not, but maybe it's time to fully appreciate him for what he is – one of the best deep threats in the NFL. Last season, the former fifth-round pick from South Florida led all players in yards per catch (20.9), and his 6 TDs were tied for 10th in the NFC. Just as importantly, his great speed provided other less skilled receivers more room to operate. As for the seven drops, while it's true that a number of them came when he was wide open 30 or 40 yards down the field, in reality, he was more sure-handed than the likes of Nelson Agholor, who signed a $13 million a year deal last month and Jerry Jeudy, who was the 14th overall pick in the 2020 draft. So while not a No. 1 receiver and probably not a No. 2, as a No. 3, MVS is A-OK.
Valdes-Scantling was one of the few Packers to step up in the NFC championship game against the Tampa Bay Buccaneers. This clutch 29-yard catch over the middle late in the fourth quarter capped a big day (4 receptions for 115 yards and 1 touchdown) and offered hope for better things to come.

2) Lane Taylor's signing with Houston improved the odds of Simon Stepaniak making the final 53-man roster. The former Indiana star spent most of his rookie season on the physically unable to perform list recovering from knee surgery, but he returned to practice on a limited basis in December and should be good to go for training camp. Stepaniak was my favorite pick in last year's draft. While he possesses ideal size and just enough athleticism to do what's required of an interior O-lineman, what makes him different is his intelligence, upper-body strength, and temperament. He takes excellent angles to seal and wall off in the run game, and when he gets his two hands on an opponent, he'll block him into the front row of the stands. The 24-year-old will need to improve his technique as a pass protector if he's to find success at the next level, but that shouldn't be a problem with Adam Stenavich coaching him.
3) Speaking of the offensive line, it'll be interesting to see if the Packers use a day 1 or 2 pick in next week's draft on this position. That's something they've done only two times since 2011, which is less than every other team in the league. Nevertheless, Aaron Rodgers was afforded some of the best pass protection of his 16-year career last season. And while those two things shouldn't go together, selecting stars David Bakhtiari and Corey Linsley in the middle rounds and signing Lucas Patrick as an undrafted free agent allowed it to happen. But with Bakhtiari likely to miss at least the first few games of the season recovering from a knee injury and Linsley now a member of the Los Angeles Chargers, can the Packers really go into next season without adding a tackle, a guard, or a center in the first three rounds? Probably not, unless the coaching staff has an awful lot of confidence in the young backups plucked off the street (Yosh Nijman) and chosen very late in last year's draft (Stepaniak, Jon Runyan Jr., and Jake Hanson).[yop_poll id="7″]