Brian Gutekunst has conducted three drafts as general manager of the Packers, and fans are now prepared to expect the unexpected when it comes to the early rounds. Few saw Rashan Gary as the No. 1 pick in 2019 after the team spent $120 million on a pair of free-agent outside linebackers a few weeks earlier, and last year's top three selections (Jordan Love, A.J. Dillon, and Josiah Deguara) left people's mouth's agape for at least 48 hours. So while it's impossible to know which positions will be targeted by Gutekunst in nine days, both lines and cornerback have to be very strong possibilities. I wrote about the O-line earlier, and I'll get to the D-line in a future post, but here are  my three favorite corners for each day of the draft:
DAY 1
ASANTE SAMUEL JR. (5-10, 182/Florida State)

If Caleb Farley falls to 29, Gutekunst will have a tough choice. The Virginia Tech star is a legit top-15 prospect, but he's undergone a pair of back surgeries in the past 16 months. Samuel's ceiling is a bit lower, but his floor is much higher. He might never be an All-Pro corner at the next level, but it would be a surprise if he isn't a solid 10-year starter. In fact, I see a lot of Jaire Alexander when I watch Samuel. He's a terrific athlete who plays bigger than 5-foot-10. He possesses outstanding man cover skills to ride the hip of wide receivers and his change of direction ability is special. The son of a former NFL star, the 21-year-old carries a swagger and plays with confidence. The only real negative about Samuel – and it's what will likely keep him from being as good as Alexander – is a lack of size. He weighs only 182 pounds, and he might not have the frame to get much heavier. That was a problem at times on Saturdays, and it figures to be a bigger – pardon the pun – issue on Sundays. He tends to stick to blockers a little too long, and he could struggle to withstand the rigors of the pro game. Samuel played mostly outside at Florida State, but he's capable of lining up in the slot. If drafted by the Packers, he'd likely challenge nickel back Chandon Sullivan this season and then replace starter Kevin King in 2022.
I made note of this play while watching tape of Tee Higgins before last year's draft. Despite giving away about six inches to the Clemson wide receiver and future second-round pick of the Cincinnati Bengals, Samuel (#26) stayed right with him, timed his jump perfectly, and knocked the ball away.


DAY 2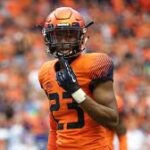 IFEATU MELIFONWU (6-2, 205/Syracuse)

As many as 10 cornerbacks could get drafted on day 2, and the majority possess very similar skill sets. Melifonwu stands out because of his size. He looks like a safety – until you watch him move. Unlike King, this tall corner has loose hips which allow him to transition out of breaks and stay with quick receivers on slants and crossing routes. He also has enough speed to keep stride with fast, vertical receivers. Ironically, the weakest part of his game is tackling. His technique tends to get sloppy, and he's unreliable in the open field. This has to be a concern to teams, and it's one of the reasons why such a talented player will likely get drafted in the 50s as opposed to the 20s. At Syracuse, Melifonwu was used mostly outside, but he could play in the box or in the slot. That versatility will make him a comfortable fit in any defense, including the Vic Fangio-based scheme favored by new coordinator Joe Barry. In Green Bay, the 22-year-old would likely challenge for playing time in the nickel as a rookie – working either as the sole linebacker or in the "star" role, which would mean lining up in the slot. That's the position Jalen Ramsey played with the Los Angeles Rams last season, and while nobody is comparing Melifonwu to the best corner in the league, he does share that rare mix of size and speed.
On this play, Melifonwu (#2) shows his ability to stay with a quick wide receiver over the middle. He's draped all over Dyami Brown and deftly knocks the ball away and into the hands of a teammate for an interception. He was a thorn in the side of North Carolina quarterback Sam Howell all day.
DAY 3
TAY GOWAN (6-1, 188/Central Florida)
While watching 2019 tape of Aaron Robinson – projected to go in the second or third round of the draft – his less-heralded teammate caught my eye. Gowan might not have the skill set to be a top-flight starting corner at the next level, but at the very least, he should be a dependable backup. The 23-year-old, who opted out of last season due to the coronavirus, has prototypical size and speed (4.4) for the position, and he uses his length well at the line to disrupt and jam. He's also physical in run support. Gowan is a little stiff in the hips, so he played 90% of his snaps outside at UCF, and that's where he belongs in the NFL. He probably won't get drafted before round 5, and that's understandable due to his lack of experience against top competition. He played only three games for Miami (Ohio) in 2017 before spending the 2018 season at Butler Community College in Georgia. If drafted by the Packers, Gowan would make an immediate impact on special teams while serving as the No. 4 or 5 cornerback. With good coaching and plenty of reps in practice, he'd be a candidate for more playing time in 2022 since King and Sullivan are both eligible for unrestricted free agency next March.
Gowan (#23) is very effective against deep passes thrown outside the numbers. On this play from 2019, he runs stride for stride with Alec Pierce, Cincinnati's best receiver. Also, by smartly using the sideline as another defender, he gives quarterback Desmond Ridder nowhere to go with the ball.


This class of corners is one of the deepest in recent years. I had a difficult time choosing only three players from the nearly two dozen I watched on tape. Among the others who impressed me were Georgia's Tyson Campbell, Central Arkansas' Robert Rochell, Michigan's Ambry Thomas, and Michigan State's Shakur Brown for Day 2, and Appalachian State's Shemar Jean-Charles and Wisconsin's Rachad Wildgoose for Day 3. The Packers shouldn't need corners after drafting five in the first two rounds since 2015, but since they do, this is an opportune time to restock.
Visits: 12961 Today: 2