Brian Gutekunst has conducted three drafts as general manager of the Packers, and fans are now prepared to expect the unexpected when it comes to the early rounds. Few saw Rashan Gary as the No. 1 pick in 2019 after the team spent $120 million on a pair of free-agent outside linebackers a few weeks earlier, and last year's top three selections (Jordan Love, A.J. Dillon, and Josiah Deguara) left people's mouth's agape for at least 48 hours. So while it's impossible to know which positions will be targeted by Gutekunst in two and a half weeks, both lines and cornerback have to be very strong possibilities. I'll be getting to the defensive line and corner in future posts, but here are  my three favorite tackles for each day of the draft:
DAY 1
LIAM EICHENBERG (6-6, 305/Notre Dame)
The only thing that separates Eichenberg from former teammate Mike McGlinchey, who went No. 9 overall to San Francisco in '18, is about 1 1/2 inches in arm length. But that's enough to make the latest stud tackle from Notre Dame a borderline first-round pick. Besides that one flaw, it's hard to find much else wrong with Eichenberg. He's blessed with impressive size and a terrific understanding of how to play the position. His hand placement is excellent in protection – no sacks allowed since late in the 2018 season – and he's effective sealing and climbing to the second level in the run game. It would be a surprise if he isn't an instant starter for whichever team drafts him. If that team happens to be Green Bay, the 23-year-old could either fill in for David Bakhtiari on the left side or start immediately at right tackle. Eichenberg needs to get stronger, and while he might lack the athleticism to be an All-Pro at the next level, he should be a solid starter for a decade. He's also a safe pick. If for some reason he struggles outside, he has the skill set to move inside and be a quality guard.
Like all college tackles, Eichenberg (#74) will make his money protecting the quarterback in the National Football League, but he's so much fun to watch as a run blocker. His stellar work on this play helped Kyren Williams go untouched for 75 yards and a touchdown against Clemson last season.

DAY 2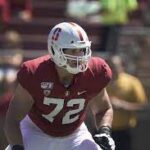 WALKER LITTLE (6-7, 313/Stanford)
How long it's been since he's taken snaps in an actual game is the only reason – and it's a big one – that Little won't go in the first round. He injured his knee in September of 2019 and then opted out of last season. This inactivity could make him more project than plug-and-play, but the payoff could be huge for a team willing to exercise patience. The former Stanford star has the skill set to be an elite pass blocker at the next level. He's a good athlete with the lower-body flexibility, natural knee bend, and lateral agility that often made protection look effortless in college. He'll need to improve his strength to be as effective in the NFL. When the 22-year-old struggled, it was against defensive ends who had both strength and speed – a combination seen a lot more on Sundays than Saturdays. A year in a pro weight room will do him good as a run blocker as well. While Little weighs over 310 pounds, he tends to play too upright and sometimes struggles to generate surge. Some mock drafts have the 22-year-old going in the middle part of the third round, but the guess here is he'll end up being off the board by the 60th pick. Left tackles are a precious commodity – even ones who haven't played in a while.
As a true sophomore, Little (#72) was asked to block – usually with no help – Oregon outside linebacker Justin Hollins, who ran 4.5 at 250 pounds at the Combine. Little didn't win every battle, but he more than held his own. On this play, he used his quick feet to neutralize the explosive pass rusher.
DAY 3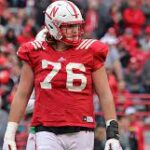 BRENDEN JAIMES (6-5, 299/Nebraska)
Few left tackles were more impressive in pass protection than Jaimes last season. Not only didn't he allow a sack, but he rarely let his opponent get within the same zip code as the quarterback. He's a solid technician who understands angles and positioning. He also adjusts well to the varying speed of edge rushers. The reason the former Nebraska star will probably be available on day 3 is a lack of size. At under 300 pounds, he struggles to get movement in the run game and can be driven back by power on occasion. And while the latter didn't happen often in the Big 10, it'll almost certainly happen more frequently in the pros. That's why the 21-year-old will likely spend his rookie season in the weight room and not on the field. If he can add 10 to 15 pounds and get a lot stronger, he has a chance to start at either right tackle or guard at the next level. Assuming Gutekunst adds a more NFL-ready offensive lineman earlier in the draft, Jaimes would make a lot of sense in the fourth or fifth round. He wouldn't have to play immediately and could spend a year eating, lifting, and learning. And by the summer of 2022, he could be ready to replace veteran Billy Turner, whose cap number will be nearly $9 million.
The end result of this play wasn't good for the Cornhuskers, but don't blame Jaimes (#76). As he did for most of the game, the scrappy left tackle got the better of Iowa All-American defensive lineman A.J. Epenesa (#94), who a few months later was drafted in the second round by the Buffalo Bills.


This class of offensive tackles is one of the deepest and most talented in recent years. I had a very difficult time choosing only three players from the nearly two dozen I watched on tape. Among the others who impressed me were Oklahoma State's Teven Jenkins for day 1, Texas' Samuel Cosmi, BYU's Brady Christensen, and Cincinnati's James Hudson for day 2, and Purdue's Alaric Jackson, Western Michigan's Jaylon Moore, and Oklahoma's Adrian Ealy for day 3. There's something seriously wrong if the Packers, who haven't drafted a tackle in the first three rounds since the forgettable Jason Spriggs in 2016, can't find a future starter from this impressive group of prospects.
Visits: 8691 Today: 0