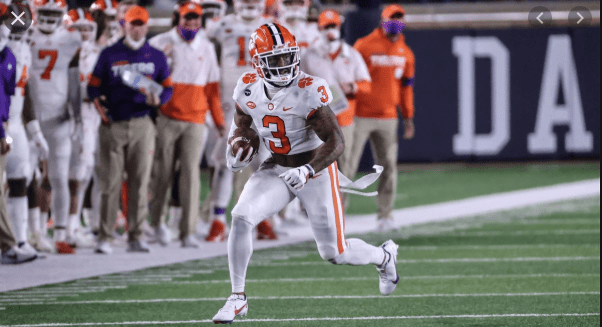 Earlier this week, I listed the Packers' top four needs as cornerback, offensive line, defensive line, and wide receiver. Well, you can cross three of them off the list. After selecting corner Eric Stokes in round one, general manager Brian Gutekunst added an offensive lineman (Josh Myers) and a wide receiver (Amari Rodgers) in rounds two and three. Of course, drafting at positions of need only means something if those picks can play.
The following is a closer look at the two newest members of the Packers and what to expect from them next season:
JOSH MYERS (6-5, 310/Ohio State)
Centers aren't typically chosen in the first two rounds of the draft, and on the relatively rare occasions when it does happen, those prospects are usually either great physical specimens or dominant college players. Myers is neither.

So why did the Packers take Myers late in the second round, ahead of more talented and/or productive interior offensive linemen, including Oklahoma's Creed Humphrey? Probably because Gutekunst really likes Myers' size, temperament, and versatility, and most importantly, has faith that assistant coach Adam Stenavich can smooth over the rough edges that caused the 22-year-old some issues in pass protection the past couple of seasons.
Myers, who underwent turf toe surgery in January, gave up six sacks in 21 starts for the Buckeyes, but there's really no reason why he should struggle in protection. He's big, strong, smart and his feet are adequate. The problem is he plays too tall at times and has only average recovery speed. This allows gap penetrators to pierce his edges too quickly. He also tends to get sloppy with his hands. And while most of these things are certainly fixable, it's mildly concerning that they haven't been after three years at one of the premier programs in the country.

On the positive side, Myers is very effective in the run game. His size and strength allow him to re-establish the line of scrimmage, and he's quick climbing to the second level to cut off linebackers and safeties. His skill set should fit perfectly in the zone-blocking scheme employed by the Packers, which is similar to the one used by Ohio State.

There's a reason why Ohio State loved to run the ball up the middle. On this play against Penn State, watch as Myers (#71) gets to the second level in a hurry and then makes sure that inside linebacker Lance Dixon won't be able to make the tackle. The end result is a 14-yard gain by Master Teague.
The Packers think Myers can also play guard, but center is his best position, and it's where he'll be given every opportunity to win the starting job this summer. Elgton Jenkins, who played over the ball in college, is another option, but according to Gutekunst, the preference is to keep the rising star at guard, where he was voted to the Pro Bowl last season, or move him to tackle until five-time All-Pro David Bakhtiari is ready to return from knee surgery.
Corey Linsley, who started at center for seven seasons in Green Bay before leaving in March, also attended Ohio State. He lasted until the fifth round in 2014 because he was considered undersized and not very athletic. Last evening, the Packers picked a lesser player with better measurables three rounds earlier. Gutekunst would be thrilled if Myers comes close to being as good as Linsley one day, but for now, he's just hoping the coaching staff can get him to perform well enough as a rookie to keep the offense from missing its former All-Pro center too much.
AMARI RODGERS (5-10, 212/Clemson)

While Myers might've been slightly over-drafted, Rodgers was definitely slightly under-drafted. He's a terrific all-around player who should fit perfectly in Green Bay. Matt LaFleur's offense has been missing a shifty slot receiver since Pro Bowler Randall Cobb signed as an unrestricted free agent with the Dallas Cowboys following the 2018 season.
Rodgers isn't quite as talented a receiver as Cobb, and that's why he was drafted a round later than the former Kentucky star. But he might be a better fit in LaFleur's offense. Rodgers can line up anywhere – outside, in the backfield, or where he figures to spend most of his time, in the slot. The 21-year-old doesn't have great size or speed (4.51), but he's built like a running back, and he looks like one with the ball in his hands. That strength, combined with good vision and above-average elusiveness, makes him a threat to score from anywhere on the field.
If the uniform color was green and the number was 18, you'd swear this was Cobb. On this play against Notre Dame, Rodgers (#3) puts all of his skills on display. He catches the ball easily, breaks a tackle, makes people miss in the open field, and turns what should've been a short gain into 25 yards.

It might take Rodgers some time to get comfortable at wide receiver, especially if the ultra-demanding Aaron Rodgers is still the one doing the throwing, but he should be able to contribute right away as the primary jet motion option on offense and on special teams as a returner. The Packers desperately need to upgrade from journeyman Tyler Ervin, who when not injured, filled both of those roles after being signed late in the 2019 season.
Once Rodgers gets comfortable with the playbook, he'll add much-needed quickness to the passing game. And while the offense did just fine without that type of receiver last season, having someone besides All-Pro Davante Adams who can get into and out of breaks in a hurry would've been useful in the NFC championship game against Tampa Bay. Their talented cornerbacks did a nice job of sticking to the Packers' receivers, especially in the fourth quarter.
Gutekunst traded a fourth-round pick to Tennessee in order to move up seven spots to get the player he coveted. That was a lot to give up, but it'll seem like a small price to pay come the fall. Rodgers is going to be a big part of the offense – the only questions are how big and when will it happen? The Packers are hoping it's sooner rather than later.