The Green Bay Packers came into last month's draft needing help at wide receiver and the offensive line, and general manager Brian Gutekunst addressed both positions by the end of the third round. Unlike a year ago when quarterback Jordan Love, running back A.J. Dillon, and fullback/tight end Josiah Deguara were picked with an eye toward the future, at least two of the five offensive players chosen this year will be expected to make immediate contributions.
The following is a closer look at those five offensive players, ranked from 1 to 5 based on their potential in the NFL: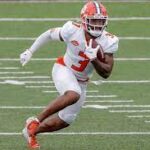 1. AMARI RODGERS (WR/Clemson/Round 3)
The easy comp is to Randall Cobb, but the better comp is to Ty Montgomery. Like the former Packer who's best remembered for being released after ignoring coaches and returning a kick versus the Rams in 2018, Rodgers can do a little bit of everything. He can catch, run, and return. What makes him different from Montgomery is that he does all of those things a lot better. Rodgers isn't super quick or explosive like a young Cobb, but he has a good feel for soft spots in coverage and knows where to settle. He adjusts well to the ball and can track it over either shoulder. He did struggle at times to avoid press coverage and got re-routed too easily. That's something he'll need to work on in the NFL. If the Packers wanted to make Rodgers a running back, he could probably be a 1,000-yard rusher. It's so much fun to watch him with the ball in his hands. He has outstanding vision, balance, and anticipation to navigate through traffic. These traits should serve him well on jet sweeps – a play Matt LaFleur would've called a lot more often the past two seasons if he had better options available than Tyler Ervin and Tavon Austin. He does now. As a returner, Rodgers is more reliable than dynamic.
In summation… There's absolutely no way a player this talented and versatile should've been available late in the third round. Gutekunst was smart to trade up – even though the cost was fairly steep. Rodgers may never go to the Pro Bowl as a runner, receiver, or returner, but he'll be like having three different players in one body. Three different very good players. And with active rosters remaining at 46 for at least another year, that's a heck of a luxury.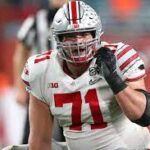 2. JOSH MYERS (C/Ohio State/Round 2)
When I took a cursory look at Myers' tape immediately following Day 2 of the draft, I focused too much on the six sacks he allowed in the past two seasons. That kept me from appreciating the totality of his game, which I was able to do with the benefit of a lot more time. Myers plays with an attitude and competes hard. He has a feisty temperament that will endear him to coaches, teammates, and fans. You'd like to see a center who weighs over 310 pounds be more of a road grader, but his understanding of angles and ability to work off blocks and fit at the second level should serve him well in the Packers' wide-zone run scheme. As a pass blocker, most of Myers' problems were the result of sloppy technique and not physical ability. He tended to play too upright, which negated his agility and caused him to be stressed by quickness. Still, the more games I watched, the more I became convinced that pass protection won't be a major issue in the NFL – especially after he gets to spend time with O-line coach Adam Stenavich. There's no doubt in my mind that Myers could also fill in at guard, which is probably one of the reasons Gutekunst took him ahead of the higher-rated but less versatile Creed Humphrey.
In summation… I liked Corey Linsley more coming out of Ohio State in 2014, and he was selected by then-GM Ted Thompson in the fifth round. I still think Myers was drafted at least a round too early, but the truth is, nobody will care if he provides solid play at center for the next eight seasons. As for the upcoming season, he's obviously not going to be as good as the first-team All-Pro he's replacing. The Packers simply have to hope the drop-off isn't too dramatic.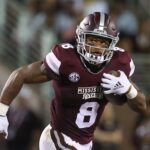 3. KYLIN HILL (RB/Mississippi State/Round 7)
If Rodgers was a steal at 85, Hill might be the heist of the century at the very end of round 7. I have to think opting out after only three games last season and then being referred to as a malcontent by former coach Mike Leach played a big part in his being picked behind 17 other running backs – many of whom aren't nearly as talented. Hill's a gifted and physical runner who broke over 100 tackles in his career and had 740 yards after contact as a junior. When he avoids dancing around and hits the hole in a hurry, he reminds me of a more dynamic version of Jamaal Williams. He's also similar to the former Packer and current Lion in the way he effortlessly catches the ball out of the backfield. Whether Hill makes the 53-man roster will likely come down to how he handles pass protection. He didn't do a lot of that in college, so we won't know his aptitude until we see him in practices and preseason games. If he can't keep blitzers away from the quarterback, he can't play for LaFleur. Just as Dexter Williams, another talented back who's carried the ball only seven times in two seasons.
In summation… The Packers found themselves a starting-caliber running back after a placekicker, a punter, and a pair of long snappers had already been drafted. Hill probably won't see much action as a rookie – there's even a chance he could spend part of the season on the practice squad – but this pick could pay big dividends in a couple of years when Pro Bowler Aaron Jones' heavily back-loaded $48 million contract will probably force him to move on.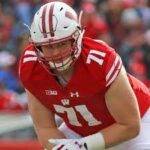 4. COLE VAN LANEN (OL/Wisconsin/Round 6)
I must've watched the Ohio State game from 2019 four or five times. While Van Lanen certainly had his hands full with Chase Young, I actually came away fairly impressed by how he played against the dynamic pass rusher who would go on to win NFL Defensive Rookie of the Year in 2020. The Green Bay native battled his ass off for 60 minutes, and while Young wrecked the Badgers' offense in the second half, Van Lanen was hardly the one most at fault. I saw a patient pass blocker with the skill to shuffle, slide and mirror. These traits will serve him well at the next level. So will his ability to fire off the ball and move defenders in the run game. Unfortunately, Van Lanen didn't show much improvement from his junior season to his senior season, and that's a big reason why he wasn't drafted until the sixth round. There were too many times in 2020 when he struggled against average defensive ends and outside linebackers. Still, the talent is there. Van Lanen isn't strong enough right now to hold up against the likes of Danielle Hunter (Vikings), and Khalil Mack (Bears), but give him a year in the weight room and he just might be. Aside from physical studs like Hall of Famer Joe Thomas and All-Pro Ryan Ramczyk (Saints), Van Lanen reminds me of some other Badgers who were drafted late and went on to have successful pro careers. I'm thinking of former Packers Mark Tauscher and Rick Wagner, and Rob Haverstein of the Rams.
In summation… Van Lanen was drafted 72 spots after Royce Newman, but I think he'll wind up being the better pro. Most scouts assume Van Lanen will have to move to guard in the NFL, but I'm not so sure. With patience and the type of quality coaching he'll receive in Green Bay, I think he has a chance to become a quality swing tackle if not a potential starter. I really hope the Packers at least give him that opportunity since he can always be moved inside later.
5. ROYCE NEWMAN (OL/Ole Miss/Round 4)

Most of the scouting reports said Newman needed to get stronger, and that's the very first thing that jumped out on tape. For a player who weighs 310 pounds, he got knocked around way too much. He tends to let his pads rise on contact, which affects his leverage and balance and leaves him susceptible to being pushed back or tossed aside. I also fear his recovery quickness will be more exposed in the NFL than it was at times in the SEC. The best part of Newman's game is his ability to move. He's smooth in space and does a pretty good job of locating targets at the second level. That's why I think his chances of finding success with the Packers are better at guard, even though he started 10 games at right tackle last season. He'll need to spend time in the weight room if he's going to move inside and face 320-pound defensive linemen on a weekly basis, so that's why I see him being more of a help a year from now. That, however, won't stop the coaches from giving him a long look at right tackle in training camp. With David Bakhtiari likely to miss some games in September, it would be a real godsend if a young player steps up. And while that might happen, I'd be a bit surprised if the young player is Newman.
In summation… I don't think Newman was drafted too high, but I do think expectations for him might be a bit unrealistic. While the Packers have had tremendous success with offensive linemen selected in rounds 4 and 5 (Bakhtiari, Linsley, Josh Sitton, T.J. Lang, and J.C. Tretter), the majority of players picked on Saturday wind up being average starters or capable backups on Sunday. Based on the tape, that's pretty much what I expect from Newman.
–photo on home page courtesy of packers.com