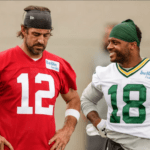 Less than 48 hours after Aaron Rodgers agreed to a reworked contract with the Packers, the team reacquired Randall Cobb from the Houston Texans for a sixth-round pick in next year's draft. It's no coincidence. Rodgers and Cobb are close friends and a reunion was clearly part of the discussions that led up to the disgruntled quarterback and reigning league MVP reporting to training camp with the rest of the players on Tuesday.
So what exactly are the Packers getting in the former Pro Bowl wide receiver who turns 31 in August and has averaged 46 receptions a year since leaving the Packers in March 2019? Here's a look at the pros and cons of the transaction:

PROS
1) Rodgers only returned to the Packers because he had no other real options, so keeping him content for the next five or six months is incredibly important. Having a good friend around is one way to make that happen. How close are the two? Rodgers was a groomsman at Cobb's wedding four years ago. Would general manager Brian Gutekunst have made this move on his own? Of course not. He let Cobb walk as a free agent because – aside from money – he didn't think he had much left in the tank. And that was over two years ago. Nevertheless, a late-round pick and a $3M cap hit is a small price to pay if it helps keep the most important player on the team from being a problem.
2) Cobb will add quality depth to the wide receiver position. Do the Packers need him? Not really, but even at 31, he's better than the likes of Equanimeous St. Brown and Malik Taylor, who played over 400 combined snaps last season. And aside from rookie Amari Rodgers, who may or may not be ready to play a key role on a team with Super Bowl aspirations, Cobb is the only legitimate slot receiver on the roster. His tape from last season isn't overly impressive, but he still understands spacing and how to find soft spots in a zone to uncover. That's a good trait to have when playing with a QB like Aaron Rodgers, and it's a trait not enough of the other wide receivers possess.
3) Cobb will be a great mentor for Amari Rodgers. Ironically, the two already have a close relationship. Here's what the rookie said recently about the veteran: "My dad was his receiver coach while he was at Kentucky in college. He's like a big brother to me. My whole middle school career, my whole high school career, he's always been in my corner giving me tips on the game and stuff like that." Just as importantly, Cobb will be helpful to all the other young receivers on the roster. He'll not only help teach them the finer of how to play the position, but he'll teach them how to be professionals. If you don't think that's important, just keep in mind that 37-year-old Marcedes Lewis, who probably can't outrun 335-pound rookie nose tackle T.J. Slaton, recently signed a deal worth $6M.
CONS
1) Cobb, who played in the Pro Bowl in 2014, has clearly lost at least half a step since leaving the Packers, and that's especially noticeable on grass. It's no coincidence that his best season since 2016 was with the Cowboys in 2019 when he caught 55 passes for 828 yards. Thirteen of the team's 16 games were played on turf. He's just a lot quicker into and out of his cuts on the fake stuff. It's more of a struggle for Cobb to gain separation on grass, and the Packers play 13 of their 17 games this season on Mother Nature's preferred surface, including 7 of their first 8.
2) Aaron Rodgers didn't facilitate this trade only to watch his buddy sit on the bench, so as long as he's healthy, Cobb is likely to see a decent amount of snaps, whether he's deserving of them or not. It would be a shame if that slows the development of a talented young player like Amari Rodgers, but again, keeping Aaron Rodgers happy and content is something coach Matt LaFleur will have to consider along with all of his other responsibilities this season.

VERDICT
Don't let anybody tell you Cobb is washed-up because his tape suggests otherwise. When healthy, and that's been an issue for much of his career, he's still an average receiver. While this trade probably won't make a big impact on the field, it could make an impact off the field, and at least for this season, that makes it a big (pardon the pun) deal.
–photos courtesy of packers.com

Visits: 2569 Today: 2