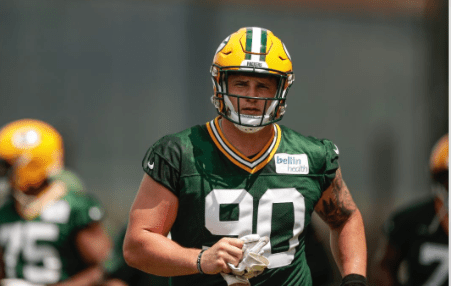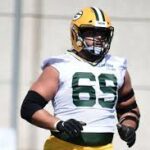 Things went pretty much as expected as the Packers reduced their roster to 53 players, but this probably won't be the exact group they take into week 1. Look for a few changes in the next 24 to 48 hours. Here are some quick impressions of what happened earlier today:

1) The decision to keep 5-time All-Pro left tackle David Bakhtiari on PUP was a little disappointing but not very surprising. The Packers are always very cautious with players coming back from injuries, and you figured they'd be even more cautious with a player who just signed a $92M extension that included over $60M of guaranteed money.
2) There's a dearth of decent backup quarterbacks in the league, so it's possible that Kurt Benkert will be claimed off waivers, but that seems unlikely. If a team is going to add a new QB to the roster after final cuts, it would more likely be a rookie or first-year player with a big upside as opposed to a 26-year-old journeyman with a limited skill set.
3) Ben Braden was a good story early in camp – one I wrote about a few weeks ago – but the reasons three teams cut him eight times became apparent the more he played. He doesn't have a natural position. He plays too tall inside, and his feet aren't quick enough for tackle. That said, he'd be a nice guy to have around on the practice squad.
4) I sometimes wonder if this regime knows what a good kick returner looks like (i.e., Darrius Shepherd and Malik Taylor). The Packers had one in Dexter Williams, but the third-year player was released. That leaves Kylin Hill to do the job, and while the rookie is a very talented running back, he simply lacks the burst to be a top-flight kick returner.
5) Undrafted rookie Christian Uphoff impressed observers in practice, but his average speed and stiff hips were always going to be a problem in games against NFL players. That was obvious from his college tape, and it's why I never bought into the hype. He needed to stand out on special teams in order to make the 53, and he just wasn't good enough.
6) I liked Tipa Galeai coming out of college, and he showed potential as a pass rusher a year ago. Unfortunately, the weight he added in the offseason seemed to slow him down. And while the young outside linebacker was much better against the run this summer, his quick first step and explosiveness off the edge were nowhere to be seen.
7) I reluctantly included Kabion Ento as the No. 7 corner on my final roster projection, but his inability to tackle in the open field was a serious problem – one GM Brian Gutekunst was obviously unwilling to overlook. The former college wide receiver does have some natural cover skills, so he'll likely land on the practice squad if he clears waivers.
8) I remember watching practice in 2019 and tweeting that undrafted rookie wide receiver Malik Taylor from Ferris State was a better player than Eqaunimeous St. Brown, a fifth-round pick from Notre Dame. Taylor wasn't as big, fast, or flashy, but he ran better routes and caught the ball more naturally. Two years later, only Taylor is still around.

9) I thought Cole Van Lanen would outplay Royce Newman this summer; I was obviously wrong. Still, the Green Bay native had a solid summer and should be added to the practice squad on Wednesday. If he spends the next 12 months getting bigger and stronger, there's a good chance he could challenge for the starting job at right tackle next season.
10) It's fair to question whether a team needs both undrafted rookie Jack Heflin and veteran Tyler Lancaster – two very similar defensive linemen – but how do you justify releasing either one while keeping lesser players at other positions? As any head coach or general manager will tell you, big guys are a lot harder to find than little guys.
OK, so I lied about there being 10 quick things. Here are a few more…
11) It was easy to dismiss Isaac Yiadom after he gave up five catches and a touchdown against Buffalo in the final preseason game, but that's why watching tape matters. The former Giant certainly isn't a starting-caliber player, but his overall body of work is more than adequate for a No. 5 corner. To think Ento is a better option right now is laughable.
12) For a team that hasn't had a decent cover linebacker in years, releasing Ray Wilborn, while expected, was still disappointing. The second-year player from Ball State is more fluid than some of the defensive backs on the 53. Hopefully, he'll be signed to the practice squad and be available if Krys Barnes and De'Vondre Campbell struggle vs. the pass.
13) Jake Hanson making the 53-man roster was the biggest surprise of the day. While the second-year center wasn't bad this summer, he still looks too small to hold up against talented 320-pound nose tackles. Maybe the coaches don't want starting guard Lucas Patrick to be the backup center and don't trust Jon Runyan to handle the job.
14) I wanted to include Chauncey Rivers on my projected 53-man roster but didn't because I thought keeping 10 linebackers was unlikely. And while I still think that number is too high considering the suspect talent at the position after the top five players, it's nice to see the unheralded second-year player get rewarded for a good camp.
15) Tired of the inconsistency of JK Scott, the Packers acquired punter Corey Bojorquez from the Rams for a swap of late-round picks in 2023. The 24-year-old averaged 50.8 yards gross and 44 yards net for the Bills last season. The lefty has a big leg, and after kicking for three years in Buffalo, won't be bothered by the weather in Wisconsin.
Here's a spectacular 70-yard punt by Bojorquez in last week's preseason finale. He came close to winning the job from 4-time All-Pro Johnny Hekker.
ETC… My final roster projection was extremely accurate (an all-time best 50 for 52), and the only reason I missed on Bakhtiari is because I didn't know he was ineligible to be placed on injured reserve after final cuts. The truth is, there were only about 57 players worthy of being on an NFL roster. It wouldn't surprise me to see Kelly placed on IR later this week and replaced by either Van Lanen or, more likely, Braden. I also think Gutekunst could be on the lookout for a veteran outside linebacker, especially if Za'Darius Smith (back) is in danger of missing the season opener.
I want to thank those of you who have already made a donation. Any amount will go a long way toward helping me cover costs, so please click the button below if you appreciate this type of Packers' content. ⬇️
[wpedon id=46164]