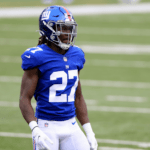 In a trade of disappointing corners picked early in the 2018 draft, Green Bay sent Josh Jackson to the Giants for Isaac Yiadom. The trade will save the Packers about $366K in cap space.

Jackson, who went into the 2018 NFL Combine as a potential top-20 pick, saw his stock plummet after posting a very disappointing 40 time (4.56). That allowed general manager Brian Gutekunst to grab him in the middle of the second round – a selection that was hailed as a steal by most people at the time. But I was always somewhat leery of Jackson. I was actually bothered more by his hips than by his speed. Here's what I wrote immediately after he was drafted:
The former Iowa star has good size and unreal ball skills. Unfortunately, he also has stiffish hips which cause him to struggle some in man coverage – especially against quick receivers… Gutekunst may one day regret taking Jackson over Colorado's Isaiah Oliver, a more fluid athlete who went 13 picks later to the Atlanta Falcons.
That day is today. Those hips did indeed prove to be his undoing in Green Bay. While Jackson competed hard and generally held up OK on deep balls, he just wasn't able to stay with even average receivers on crossing routes and quick outs. That was apparent again last Saturday versus the Texans in what proved to be his final game with the Packers.
Jackson didn't intercept a single pass in three seasons after leading the entire country with eight picks as a junior in 2017.
Yiadom entered the league as a third-round draft pick of the Broncos. The former Boston College star played 770 snaps his first two seasons before being traded to the Giants last September for a seventh-round pick. He wound up starting 10 games opposite Pro Bowler James Bradbury, and the results weren't pretty. Yiadom's passer rating against of 126.4 was about 30 points higher than Jackson's (like golf, higher isn't better when it comes to NFL corners).
Here's how a friend of mine – a huge Giants fan – described the newest Packer: "He plays really hard and won't back down from anyone, but he lacks the ability to stay with good receivers in man-to-man coverage. [Defensive coordinator) Patrick Graham had to play more and more zone as the season went along in an attempt to protect Yiadom."
The Rams, the team that employed new Packers defensive coordinator Joe Barry last season, played zone 66% of the time. That was more than all but seven teams – something that was almost certainly considered when making this trade. Yiadom, 25, also has the size and long arms that Gutekunst prefers in his corners. And while he's hardly fluid in his movements – based on the small amount of tape I watched today – he does seem a little less stiff than Jackson.

This type of deal happens all the time in the middle of training camp. Teams trade for disappointing players with the hope that a change of scenery will make a difference. It almost never does. That said, Jackson had zero chance of making the Packers' 53-man roster, so there's no downside to swapping him for another corner. Yiadom now has a couple of weeks to show he's worth keeping over the likes of Shemar Jean-Charles, Kabion Ento, and Ka'dar Hollman.
Visits: 994 Today: 1
Tagged:
Green Bay Packers
Isaac Yiadom
Josh Jackson