State Of The Offensive Line 2.0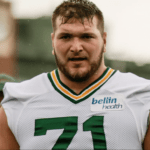 Back in May, I projected how the offensive line would look at the start of training camp. Now, after two weeks of practices and the addition of one new face to the mix, it's time to project how things will look in 37 days when the Packers open the season in New Orleans:

LEFT TACKLE
1. Elgton Jenkins
2. Billy Turner
The question of whether David Bakhtiari would be ready for the opener has for all intents and purposes been replaced by whether he'll begin the season on the 53-man roster or the Physically Unable to Perform (PUP) list. It's difficult to imagine him being ready before early October, so it'll be a tough call. Regardless, Pro Bowl guard Elgton Jenkins will almost certainly be starting at left tackle for at least a few games. He won't be Bakhtiari, but no team in the NFL is better prepared to replace a 5-time All-Pro at the most important position on the offensive line.
LEFT GUARD
1. Lucas Patrick
2. Ben Braden
3. Jon Runyan
4. Royce Newman
The battle to temporarily replace Jenkins was always going to be fierce, and the intensity has only increased in the past two weeks thanks to Braden's strong early showing and the signing of free agent right tackle Dennis Kelly, who started 16 games for the Titans last season. What three months ago figured to be a battle between Braden and Runyan could now also include Patrick if Kelly starts at right tackle and pushes Turner inside. As I predicted in my draft analysis, Newman – a left tackle at Mississippi – is working almost exclusively at guard in camp.
CENTER
1. Josh Myers
2. Lucas Patrick
3. Jon Runyan
This has been Myers' job to lose since the moment he was drafted in April. So far, he seems to be doing just fine in camp. If that changes in the next few weeks, the always reliable Patrick will be ready to step in. In that unlikely case, the competition at left guard would be down to Braden and Runyan. Second-year pro Jake Hanson is still in the mix, but right now spending another year on the practice squad appears much more likely than a spot on the 53.
RIGHT GUARD
1. Billy Turner
2. Jon Runyan
3. Royce Newman
Here's where I go out on a bit of a limb. While Turner has taken snaps almost exclusively at tackle so far in training camp, putting him here makes the most sense if the goal – as coach Matt LaFleur has said many times – is to get the five best players on the field. Turner is better at right tackle than right guard, but is he a better right tackle than Kelly? That's something the coaches will have to consider over the course of the next four weeks. If Turner stays at tackle, that means Patrick, Braden, and Runyan will be competing for not one but two starting jobs at guard.
RIGHT TACKLE
1. Dennis Kelly
2. Billy Turner
Based on his play last season in Tennessee, it's hard to see keeping Kelly on the bench if the goal is to get the five best linemen on the field. He played this position as well, if not better than Turner in 2020. At the end of the day, the decision could come down to who the coaches would prefer to see line up against a talented Saints' defensive line in week 1 – Kelly and his 21 starts or Braden/Runyon and their combined 160 snaps. Don't totally dismiss seventh-round pick Cole Van Lanen's chances of sticking on the 53, but he'll need a strong preseason to make it happen.

I expect the Packers to keep eight offensive linemen on the 53. They are Jenkins, Kelly, Turner, Myers, Patrick, Runyan, Braden, and Newman. Bakhtiari would be No. 9 if the decision is made to activate him before the start of the regular season. If there's a surprise, it could be Patrick getting traded or released around the time of final cuts, but that would only happen if the coaches were confident in Runyan's ability to play center. And while Van Lanen could fight his way onto the active roster, he's more likely to begin the season on the practice squad. He would be joined there by a couple of others from a group that includes Hanson, Zack Johnson, and undrafted rookies Jon Dietzen, Jacob Capra, and Coy Cronk. The experiment with Yosh Nijman will likely come to an end after three summers.
Visits: 1644 Today: 1
Tagged:
Green Bay Packers
Offensive Line