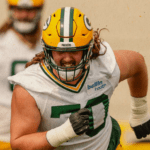 If you adhere to the long-held theory that games in the National Football League are won up front, you have to be at least a little concerned about the Packers heading into the upcoming season. While the roster is loaded with good to great players at almost every position, both of the lines are a bit lacking when it comes to talent and proven productivity.

It's not a shock that the offensive and defensive lines are two of the biggest question marks heading into what the Packers hope will be a Super Bowl-winning season. All-Pro Aaron Rodgers is at quarterback. Pro Bowler Aaron Jones is at running back. Pro Bowl snub Robert Tonyan is at tight end. All-Pro Davante Adams is at wide receiver. All-Pro Za'Darius Smith and No. 1 pick Rashan Gary are at outside linebacker. No. 1 pick Darnell Savage and Pro Bowl alternate Adrian Amos are at safety. All-Pro Jaire Alexander and No. 1 pick Eric Stokes are at corner. And then you get to the trenches. With the exception of Pro Bowlers Elgton Jenkins and Kenny Clark, the other half-dozen projected starters include a promising third-year player, a trio of unproven youngsters, and a couple of journeymen.
Since taking over as GM in January 2018, Brian Gutekunst has spent premium draft picks (rounds 1 – 3) on one quarterback, one running back, one wide receiver, two tight ends, one outside linebacker, one inside linebacker, three cornerbacks, and one safety. But aside from Jenkins in 2019 and Josh Myers in 2021, he's waited until Day 3 to address the lines. Cole Madison, Jon Runyan Jr., Jake Hanson, Simon Stepaniak, Royce Newman, Cole Van Lanen, Kingsley Keke, and T.J. Slaton were all chosen long after viewers turned off ESPN. So despite the need to start eight players at the two key positions, very little draft capital has been spent on big guys. That hasn't kept the Packers from winning 26 games in the past two seasons, but finding similar success in 2021 could be more difficult.
The offensive line will go into week 1 without All-Pro center Corey Linsley, who left as a free agent, and most likely without All-Pro left tackle David Bakhtiari, who's still rehabbing from knee surgery. Take two players of this caliber away from any group and there's going to be a drop-off. Not only were they great individually last season, but they also made those around them better. Lucas Patrick and Billy Turner were no better than average a year ago, but that wasn't a problem since the other three starters performed at such a high level. But with Linsley in Los Angeles and Bakhtiari on PUP, it's likely that players such as Patrick and Turner – not to mention unproven commodities Runyan and Newman – will be more easily exposed. And while Myers looks promising at center, he's still a rookie – a rookie who, in contrast to Linsley in 2014, won't have Pro Bowlers Josh Sitton and T.J. Lang by his sides.
Adam Stenavich is one of the top offensive line coaches in the league, but he'll be in for the challenge of his young career starting in two weeks. There's a chance his three interior starters could be a couple of rookies (Myers and Newman) and a second-year player with 160 snaps under his belt (Runyan). Things should get a lot better once Bakhtiari returns and Jenkins moves from left tackle to left guard, but there's a chance that won't happen until late October or November. It's also important to remember that the Packers will see nine defenses that finished in the top 15 of the league in sacks last season, including six that finished in the top 10. And the revamped O-line will see four of those defenses in September and October when Bakhtiari will either be out or still rounding into form.
The defensive line has been even more ignored than the offensive line under Gutekunst. Aside from Clark, the other eight players at this position on the current roster were either drafted on Day 3 (Keke, Slaton, and Dean Lowry) or signed off the street (Tyler Lancaster, Jack Heflin, Willington Previlon, Carlo Kemp, and Josh Avery). New defensive coordinator Joe Barry is counting on Keke to go from impacting a few plays a game to impacting every game. If the former Texas A&M standout is able to make that jump in year 3, this position shouldn't be a problem.
But if Keke fails to step up and become a consistently disruptive force, the defensive line could be an issue, especially when looking at the schedule. The Packers will face eight offenses that finished in the top half of the league in rushing last season, including five offenses that finished in the top 10. And with the situation at inside linebacker as shaky as always – that's another story for another time – the potential for New Orleans, Baltimore, Minnesota, Cleveland, Arizona, and others to run through this defense like a hot knife through butter is all too real.

I once opined that the Packers could win 10 games with Mr. Magoo as GM and Elmer Fudd as head coach as long as Rodgers stayed healthy, and I still feel that way. But winning in the postseason takes more than just great play from the quarterback. Like the Buccaneers showed last season, it takes high-quality play from both lines. Green Bay doesn't appear to be good enough right now to get to where they want to go. The key will be getting there by January.
Visits: 2441 Today: 678
Tagged:
Defensive Line
Green Bay Packers
Offensive Line