Not All Blowouts Are The Same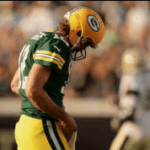 Sunday wasn't the first time one of Matt LaFleur's teams failed to be competitive in a game. The Packers were pummeled by the Chargers and the 49ers in 2019 and by the Bucs last fall. But the utter debacle against the Saints feels different because of when it occurred.

It's easy to excuse a terrible performance in late October or early December as just something that happens during the grind of a very long National Football League season. Teams get tired. Teams get injured. Teams go up against an opponent coming off a bye week. Teams simply can't match the emotion of a more desperate foe. But none of these things apply to what transpired three days ago in Jacksonville, and that's what makes it more troubling.
The Packers were healthy and extremely well-rested, and they literally had months to prepare for an opponent that wasn't nearly as physically fit and had to relocate from New Orleans to Texas after Hurricane Ida wreaked havoc a few weeks earlier. Heck, with mostly Packers fans in the stands, the Saints were essentially playing a "home" game on the road.  So if either team could've made excuses for a poor showing, it was the one from the Bayou.
Instead, coach Sean Payton had his team champing at the bit. The Jameis Winston-led offense seemed to know exactly what plays to call in any given situation. Payton obviously used the time since the schedule came out in early May to get ready for the Packers. Meanwhile, I have no idea what LaFleur was doing in preparation for the Saints. Maybe the third-year coach needed to spend less time worrying about how to assuage his quarterback's hurt feelings and more time worrying about how to attack Dennis Allen's fast, physical, and well-disciplined defense.
Speaking of defense, wasn't new coordinator Joe Barry supposed to bring energy to that side of the ball? So why did the Packers look like 11 extras from the cast of The Walking Dead? Nobody was expecting Barry to be a great Xs and Os guy, but he was supposed to be a big-time motivator. Instead, the only people he motivated on Sunday afternoon were tens of thousands of Packers fans… to turn off their televisions in disgust early in the fourth quarter.
While there's no good excuse for what happened on Sunday, both LaFleur and Aaron Rodgers were right about it being just one game. There's plenty of time to turns things around – starting on Monday against Detroit. But a win, even a convincing one over the rebuilding Lions, won't wipe away the stench from Week 1. All the Packers can do is prove they're not a fraud; proving they're a Super Bowl team will have to wait until the following week in San Francisco.
I still think this is an 11-win team with a legit chance to get to the Super Bowl, but I can't say I'm quite as confident as I was just 72 hours ago. That's what a 38-3 loss on opening day can do to one's psyche. And for the first time, I'm at least considering the possibility that the so-called "last dance" could wind up looking more like Benes than Baryshnikov.
A big thanks to those of you who have already made a donation. If you haven't contributed yet, please click the button below to keep enjoying this type of Packers' content throughout the 2021 season. ⬇️
Visits: 3756 Today: 2
Tagged:
Green Bay Packers