Preview: Packers vs. Lions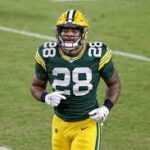 The Packers (0-1) will attempt to put last week's humiliating loss to the Saints behind them tonight against Detroit. Lambeau Field will be filled with 80,000 screaming fans for the first time since January 12, 2020. If Green Bay is to get to 1-1, here are five keys to victory:

1) GIVE DILLON A CHANCE
The Packers attempted to run the ball only 15 times in the opener against the Saints, and while some of that was due to limited possessions in the first 30 minutes and a big deficit after halftime, coach Matt LaFleur lamented not committing more to the run in his post-game press conference. I know Aaron Jones made the Pro Bowl last season and just signed a $48 million extension, but A.J. Dillon needs to get 12 to 15 carries tonight. The former Boston College star has churned out at least four yards on nearly 60% of his career attempts. Expanding Dillon's role would also allow LaFleur to use Jones more in the passing game, where he can be a nightmare matchup for defenses.
2) SPREAD THE WEALTH

The Packers are obviously better with Davante Adams in the lineup, but there's a reason the offense scored 197 points in the six games – all wins – the star wide receiver missed the past two seasons. LaFleur had to get more creative, and quarterback Aaron Rodgers wasn't forcing the ball to one player. In the opener, Adams was targeted on seven occasions, while the team's talented collection of running backs and tight ends were thrown to only nine times combined. It'll be very tempting for Rodgers to focus on getting the ball to Adams against Detroit's shaky cornerbacks, but recent history strongly suggests the offense works best when the ball is more evenly spread around.
3) GET AFTER GOFF
New Lions' quarterback Jared Goff takes a lot of criticism, but the Packers shouldn't underestimate him. It's important to remember that as a member of the Rams, the former No. 1 overall draft pick compiled a 105.9 passer rating against the Packers in last year's divisional round of the playoffs. And he did it with a banged-up thumb and without his best receiver. If Green Bay's pass rush isn't a lot better than it was against the Saints (10 pressures and no sacks), Goff is capable of doing tonight what Jameis Winston did eight days ago. With All-Pro outside linebacker Za'Darius Smith on injured reserve, it's time for young Rashan Gary to step up. In fact, it's a necessity.
4) HAVE A PLAN FOR HOCK
The Lions, who lack playmakers in the passing game even when No. 1 wide receiver Tyrell Williams is healthy, will try to get the ball in the hands of Pro Bowl tight end T.J. Hockenson as often as possible. The former Iowa star is a crafty route runner whose combination of size and speed posed problems last season for inside linebackers a lot more talented than Krys Barnes and De'Vondre Campbell. After a brutal debut, defensive coordinator Joe Barry can calm the already vociferous critics just a little by coming up with a plan to limit Hockenson's impact on the game.
5) IMPROVE COMMUNICATION
Yes, it was Barry's first game, and yes, the Packers sat all but one of their starters in the preseason, but there's still no excuse for how disorganized the defense looked last Sunday. Linebackers and safeties were frantically yelling and pointing at each other before almost every play, and not surprisingly, that chaos often spilled over to after the ball was snapped.  To be fair, Sean Payton can do that to even the best defenses. Lions' play-caller Anthony Lynn is no Payton, so if the Packers still look as confused tonight, maybe it'll be time for someone to purchase the domain firejoebarry.com.
PREDICTION: The assumption is that the Packers will take out their frustration from last Sunday on the Lions, and perhaps they will, but this isn't the same team that crushed the Giants by 18 points a week after getting humbled by San Francisco in 2019 and routed Houston by 15 points seven days after getting humiliated by Tampa Bay in 2020. Those teams had David Bakhtiari and/or Corey Linsley on the O-line and Smith at outside linebacker – not to mention a happy and content QB. That said, the Packers are still a lot more talented than the young and rebuilding Lions, and that should be enough to get them their first win of the season.
The Packers should win this game by two or three touchdowns, but after last week's dismal showing, I'm simply not willing to give 11.5 points to any opponent – even the lowly Lions. GREEN BAY 35-27 (0-1 straight-up; 1-0 vs. spread)
A big thanks to those of you who have already made a donation. If you haven't contributed yet, please click the button below to keep enjoying this type of Packers' content throughout the 2021 season. ⬇️
Visits: 3362 Today: 4
Tagged:
Green Bay Packers