Preview: What To Expect In 2021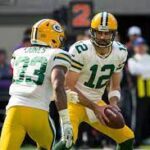 The 2019 and 2020 Green Bay Packers benefited from unusually good health and a somewhat fortuitous schedule en route to the NFC championship game, but 26-6 is still 26-6. That's why anything less than a trip to the Super Bowl would have to be considered a disappointment, especially for a team that returns all but one key starter from a year ago.
With the season opener now only a couple of days away, what should we expect from the 2-time defending NFC North champions over the course of the next four-plus months? Well, here's the way I see it:

OFFENSE
Up until the fourth quarter of the NFCC game against the Bucs, last year's offense was scary good. Led by the creative schemes of play-caller Matt LaFleur and coordinator Nathaniel Hackett, the Packers finished No. 1 in scoring, were historically efficient in the red zone, and sent six players to the Pro Bowl (quarterback Aaron Rodgers, running back Aaron Jones, wide receiver Davante Adams, and linemen David Bakhtiari, Corey Linsley, and Elgton Jenkins). With the entire staff and all but one starter back, it's safe to assume the offense will again be elite.
Along with the aforementioned stars, the Packers are blessed with a talented No. 2 running back (A.J. Dillon), an ascending tight end (Robert Tonyan), and one of the most dangerous deep threats in the league (Marquez Valdes-Scantling). But creating holes for the runners and giving the receivers time to get open is where things could get a little dicey starting on Sunday afternoon in Jacksonville. The offensive line will open the season without its two All-Pros.
Linsley left as a free agent and Bakhtiari will miss at least six games while continuing to rehabilitate the knee he injured last New Year's Eve. And while Jenkins should fill in adequately at left tackle, he won't be Bakhtiari. There also figures to be a drop-off at left guard where journeyman Lucas Patrick will step in for Jenkins and at center with rookie second-round pick Josh Myers replacing Linsley. Add in another rookie at right guard (fourth-round pick Royce Newman), and it's hard to imagine there won't be some rough patches early in the season. The hope has to be that the young and revamped line will get better each week and be at its best come the playoffs in January.
Most offenses couldn't function without two All-Pro linemen, but most offenses don't have Rodgers at quarterback. The reigning league MVP and future Hall of Famer always makes the players around him better, and he'll do that again this season. His savvy and quick release will lessen the growing pains up front, but make no mistake about it; there will be growing pains up front. That's why the offense will be hard-pressed to be quite as good as a year ago – at least not until sometime after Halloween – so it'll be up to new coordinator Joe Barry's defense to step up early in the season against a handful of quality signal-callers. Ben Roethlisberger (Steelers), Jimmy Garappolo (49ers), Kyler Murray (Cards), Joe Burrow (Bengals), and Patrick Mahomes (Chiefs) are all on the schedule prior to the second week in November.
DEFENSE
This begs the question, will the defense be able to help out the offense until Bakhtiari returns and the two rookie linemen get more comfortable? That hasn't happened very often the past 10 seasons, and it's why the Packers are on their third coordinator since 2018. The aforementioned Barry will be tasked with getting a unit blessed with five No. 1 picks to finally play up to its potential. While this side of the ball finished a more than respectable 9th in yards allowed and 13th in points allowed a year ago, it never looked quite as impressive on the field as it did on paper. The run defense struggled to set the edge, the pass rush was inconsistent, and two of the top-3 corners were easy targets for quality quarterbacks. And yet, general manager Brian Gutekunst chose to return 10 of 11 starters.
By retaining 90 percent of the starters and all of the position coaches from a defense that underachieved just enough to cost Mike Pettine his job, LaFleur made it clear that he considered his former coordinator to be the No. 1 problem. That puts an incredible amount of pressure on Barry, who brings a wealth of experience but precious little success to the job. None of his four defenses in Detroit (2007 and 2008) and Washington (2015 and 2016) ranked higher than 17th in points allowed and twice finished last in the league. To be fair, he didn't have much talent to work with at either stop. Still, it must be concerning that coaches Sean McVay (Rams) and Brandon Staley (Chargers), who worked closely with Barry in Los Angeles, chose other people to run their defenses this season.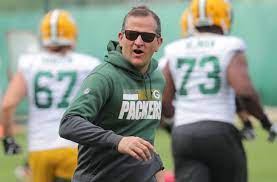 The scheme won't look dramatically different under Barry. The lineman figure to be more active, and God willing, the cornerbacks won't give 12-yard cushions on 3rd & 6, but where LaFleur hopes to see the biggest change is in attitude. Unlike the stoic Pettine, the new coordinator is a fiery leader who can motivate young men. That, along with a prior relationship from their days together in LA in 2017, had to be a big reason why LaFleur hired the 51-year-old after Wisconsin's Jim Leonhard turned down the job. There were too many players who gave less than 100% last season – starting with Za'Darius Smith, who despite being paid over $16 million a year, often treated stopping the run as an afterthought on his way to the QB.
If a lack of talent was Barry's problem in the past, it shouldn't be an issue in Green Bay. Smith, nose tackle Kenny Clark, and corner Jaire Alexander give the defense an impact player at each level. Add in ascending young vets like outside linebacker Rashan Gary and safety Darnell Savage, and there's no reason why this can't be an above-average defense on the field and not just in the rankings. Questions at inside linebacker and behind Alexander at corner will likely keep this unit from really good, but it doesn't have to be. It simply needs to be better than it's been in recent years.
SPECIAL TEAMS
If this unit doesn't improve substantially, LaFleur has nobody to blame but himself. After the front office low-balled his top choice two years ago (Darren Rizzi), the then anonymous rookie coach had few good options, so he wound up listening to Pettine and hired Sean Mennenga. It seemed like a poor choice at the time, and it was. To be fair, the coordinator shouldn't receive all of the blame for the past two seasons. Gutekunst sure didn't help by not providing quality returners. Darrius Shepherd and Malik Taylor got fans to stand up and cheer last season by bringing a kick out past the 20-yard line, and a successful punt return by Tavon Austin was simply holding onto the football. That said, Mennenga's blocking schemes were too vanilla, and his players lacked toughness and discipline.
Given the chance to finally hire his own guy – this time with more clout behind his name – LaFleur chose to give the job to Maurice Drayton, who assisted Mennenga the prior two seasons. It's the third time the Packers promoted the assistant to a failed special teams coordinator since 2008. Shaun Slocum and Ron Zook failed to improve things after taking over from Mike Stock and Slocum, respectively. Perhaps the third time will be the charm, although season-ending injuries to outside linebacker Randy Ramsey and defensive back Will Redmond won't help the cover units. At least Drayton will have better returners, although neither rookie Amari Rodgers (punts) nor fellow frosh Kylin Hill (kicks) has the burst and explosiveness of Desmond Howard or even Tyler Ervin.
Mason Crosby returns for a 15th season, and he's getting better with age. The 37-year-old has connected on 46 of his last 48 field goal attempts. Corey Bojorquez should be an upgrade from JK Scott, although the new guy had his own bouts of inconsistency in Buffalo. But he has a big leg, and when he mishits a punt, he doesn't mishit it like Scott. Hunter Bradley will need to snap better than he did in 2020 if he's to keep Steven Wirtel on the practice squad.
COACHING & FRONT OFFICE
Give Packers president and CEO Mark Murphy credit – LaFleur was the perfect hire for this particular job. His youth, energy, and creative mind were exactly what a stagnating team needed after back-to-back losing seasons under Mike McCarthy, and his personality was a great fit with the prickly and diva-ish star quarterback. Speaking of which, winning 26 of 32 games is pretty darn impressive even when blessed with having Rodgers under center. There's no longer any doubt that LaFleur is a good head coach, although we won't know just how good until No. 12 is gone.
This isn't to suggest LaFleur is perfect. He's already fired two coordinators and one position coach. Granted, one of the coordinators (Pettine) was pretty much forced on him, but it's still worth noting that should-be Hall of Famer Mike Holmgren didn't fire a single assistant in his seven years in Green Bay. LaFleur's work in the last two NFC championship games is also deserving of some criticism. San Francisco's Kyle Shanahan badly outcoached him in 2019, and he made some, let's just call them curious decisions, last January against the Bucs. Still, it's hard to think of a half-dozen men the Packers would be better off having on the sideline going into the upcoming season.
While LaFleur missed badly with Mennenga and former wide receivers coach Alvis Whitted and the jury is still out on Barry and Drayton, the majority of his initial hires were very good. The two best have been arguably his two most questionable at the time – Hackett and offensive line coach Adam Stenavich. The former had just been fired in the middle of a brutal season with the Jaguars, and the latter was an unknown 35-year-old with only two years of experience in the NFL. Both have done great work and are destined for bigger and better things in the future. Ben Sirmans (running backs) and Justin Outten (tight ends) also deserve credit for developing young talent.
Back-to-back 13-3 seasons have Gutekunst riding high these days, but that could change in a hurry if Rodgers leaves after this season. The front office spent the spring restructuring seven contracts in what sure seems to be shaping up as Green Bay's version of The Last Dance. And while nobody will care if the Packers stink up the field in 2022, 2023, and even 2024 if there's another parade in Wisconsin six months from now, most fans won't be nearly so patient if multiple losing seasons follow yet another January disappointment.
Regardless of how the upcoming season turns out, it seems inevitable that young Jordan Love will be the team's starting quarterback at this time a year from now. And let's be 100% honest, that seemed to be the plan from the moment the former Utah State star was drafted in 2020. Whether that was the right move or not remains to be seen, but you have to give Gutekunst credit for having the courage of his convictions. It's either going to leave him a Ron Wolf-like legend in Green Bay or quite possibly have him searching the want-ads for a new job as early as 2025.
After 44 months at the helm, Gutekunst's been pretty conventional when it comes to roster building. Other than the day in March 2019 when he signed four free agents for $180 million, he hasn't been particularly aggressive when it comes to acquiring quality players. And he sure hasn't shown Wolf's willingness to take chances. Trading Damarious Randall for DeShon Kizer and Josh Jackson for Isaac Yiadom pales in comparison to trading a No. 1 pick for a third-string quarterback (Brett Favre) or a No. 2 pick for a disgruntled tight end (Keith Jackson). At this point, Gutekunst is much more similar to Ted Thompson – just with more personality and less drafting acumen in the late rounds.
To be fair, Thompson was surrounded by some of the best young talent evaluators in the business when he was hired in 2005. Wolf handed him future general managers John Schneider, Reggie McKenzie, and John Dorsey. Conversely, Thompson handed Gutekunst a bunch of guys who've never attracted attention from other teams. Jon Eric-Sullivan, Milt Hendrickson, John Wojciechowski, and Matt Malaspina might be buddies with Gutekunst, but none of their resumes are particularly impressive. It would behoove the boss to go outside the building and find some talented underlings. It's what Wolf did three decades ago and what Thompson never had to do in 12 years.
Can the Packers get to the Super Bowl? Sure. They're as good as any team in the NFC. But I just can't shake the feeling that 2020 was their year, and they blew it. Everything, with the exception of losing Bakhtiari late, fell their way. They had the No. 1 seed and home-field advantage throughout the playoffs. In the divisional round, they faced the beat-up Rams who were missing their No. 1 receiver (Cooper Kupp) and whose All-Pro defensive lineman (Aaron Donald) and starting quarterback (Jared Goff) were dealing with injuries that greatly diminished their effectiveness. They didn't have to deal with the 49ers, who mentally and physically beat the living daylights out of them the previous January. And finally, they got to play the warm-weather Buccaneers at Lambeau in the NFC championship game. All that and they still fell short of the Super Bowl.
Maybe the Packers will take the tougher path to the promised land this year the way they did as the No. 6 seed in 2010, but that just seems like a lot to ask of a team with two new coordinators – neither of whom has anything on his respective resume to suggest he can do the job at a high level. Plus, who knows how the moody and enigmatic Rodgers will react if adversity hits at some point. Sure he said all the right things in August after a spring filled with drama, but that's easy to do when nobody's keeping score, and the offseason is still at least four months away.
Would I be shocked to see confetti cascading down on the heads of Gutekunst, LaFleur, team president Mark Murphy and 46 players wearing green and yellow uniforms at about 10:30 p.m. ET on Feb. 13, 2022? No, but I'd be surprised. The guess here is that the Packers will have another good regular season (10 or 11 wins) but fall short of their ultimate goal for an 11th consecutive year. And then, two months after yet another heartbreak, the best fans in the NFL will watch a fantastic, and at the same time, slightly disappointing era come to an end when No. 12 is traded.
A big thanks to those of you who have already made a donation. If you haven't contributed yet, please click the button below to keep enjoying this type of Packers' content throughout the 2021 season. ⬇️
Visits: 5419 Today: 4
Tagged:
Green Bay Packers