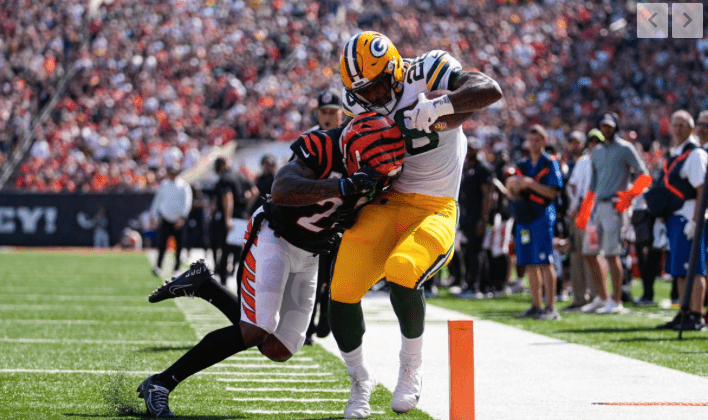 After rewatching Sunday's game against the Cincinnati Bengals, here are 10 things worth knowing:
OFFENSE
1) It's understandable why Aaron Rodgers throws so many passes to Davante Adams. The All-Pro wide receiver is a special player who tortured the Bengals' secondary for 68 minutes. Still, targeting the former Fresno State star on nearly half of his attempts – which was the case on Sunday – is simply too much. Rodgers needs to trust other receivers, especially when the field shrinks. One reason the offense was historically efficient inside the 20 last season was No. 12's willingness to spread the ball around to players not wearing No. 17.
2) Speaking of which, Matt LaFleur needs to figure out a way to get Robert Tonyan more involved. After last season, defenses are taking away the bootleg and paying more attention to the fourth-year tight end in the red zone. The result is a measly nine catches in five games, including one on Sunday. While Tonyan isn't close to being an elite player despite all the hype he received in 2020, he's certainly talented enough to be more of a factor on offense. To his credit, being ignored in the passing game didn't keep him from having one of his better days as a run blocker.
3) Even before helping to set up the game-winning field goal with a season-long 20-yard reception that saw him run around and over a couple of defenders, tight end Marcedes Lewis was enjoying one of his best games since joining the Packers in 2018. The 37-year-old was effective as both a run blocker and a pass protector. Lewis looks more flexible than he did in 2020 when he struggled at times to roll his hips and move defenders at the point of attack.
4) Nobody who watched A.J. Dillon run in college would be surprised that he's gained 111 yards on the ground the past two games, including 30 on eight carries against the Bengals. The second-year player is extremely gifted with the ball in his hands. But his four receptions for 49 yards and one touchdown on Sunday were an unexpected bonus from a player who caught a total of 23 passes in his final two years at Boston College and first season with the Packers. Through a lot of hard work, the 250-pound Dillon has made himself into a viable option out of the backfield.
5) Lucas Patrick started at center on short notice and performed admirably. The five-year veteran made a few good blocks in the run game and held up well in protection. He was solid in one-on-one match-ups and offered timely help to the guards. Like any good backup, the former Duke star was able to minimize the absence of the player he replaced – in this case, Josh Myers. Green Bay is lucky to have a player as competent and versatile as Patrick.

DEFENSE
1) Jonathan Garvin enjoyed the most productive game of his young career on Sunday. The second-year outside linebacker recorded three hurries in only eight rushes. He also held his own against the run and in pass coverage. Fellow backup La'Darius Hamilton wasn't as good in his NFL debut, but the former Buc did show some intriguing potential as a pass rusher. He used his strength to push left tackle Jonah Williams into the backfield a couple of times.
2) Dean Lowry had good match-ups against Cincinnati's mediocre guards, and he took advantage on a number of occasions. The sixth-year defensive end from Northwestern was tough at the point of attack and disruptive as a pass rusher. He batted down two balls and collected a half-sack when Garvin flushed quarterback Joe Burrow into his waiting arms. The defense desperately needs Lowry to have many more games like the one he had on Sunday.
3) Kevin King delivered one of his best performances in years when the Packers really needed it. With All-Pro Jaire Alexander on IR, the much-maligned fifth-year corner allowed only three completions for 17 yards while lined up  against some very talented receivers. He also tackled well in the open field. The defense needs more games like this from King if the secondary is going to hold up without its best player for at the very least another two weeks.
4) After a rough first start against Pittsburgh, rookie Eric Stokes showed great improvement on Sunday. While he gave up five catches for 84 yards to the freakishly talented Ja'Marr Chase, his coverage was usually pretty good. Hey, sometimes you just have to give the opponent credit. Stokes does need to clean up his tackling, which was inconsistent for the second week in a row. It was also surprising to see him unable to run down Chase in the open field.
5) In what's likely a preview of how defensive coordinator Joe Barry plans to use  Jaylon Smith once the former Cowboy learns the playbook, Oren Burks lined up everywhere on Sunday. The former Vanderbilt star played 18 mostly nondescript snaps at inside linebacker (10), outside linebacker (4), and in the slot (4). He was employed in pass coverage or as a blitzer on nearly two-thirds of his snaps. This is the role Smith will likely take over in a week or two.

FINAL THOUGHTS: In his post-game press conference, LaFleur said there's still a lot to clean up. He's right. The offense and especially the defense are struggling in the red zone, and special teams have been no better under a new coordinator. Still, winning on the road against a pretty good team is always impressive, especially without six starters, including three All-Pros and one Pro Bowler. Now on to the Windy City and a battle for first place in the North.
A big thanks to those of you who have already made a donation. If you haven't contributed yet, please click the button below to keep enjoying this type of Packers' content throughout the 2021 season. ⬇️
[wpedon id=46164]