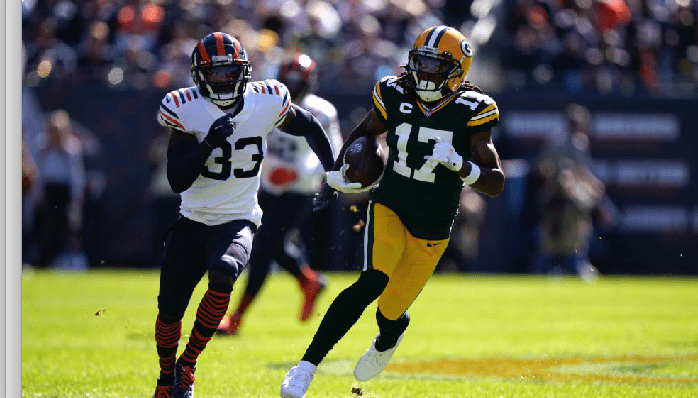 After rewatching Sunday's game against the Chicago Bears, here are 10 things worth knowing:
OFFENSE
1) Davante Adams was targeted a season-low five times, but he still made a big impact on the game. His four catches were good for 89 yards, and just as importantly, he attracted the attention of the Bears' best cornerback (Jaylon Johnson) on nearly every snap. This strategy helped keep Adams from dominating, but it allowed other receivers to take advantage of favorable matchups. The Packers' passing offense works best when everybody gets involved, and on Sunday afternoon, Aaron Rodgers' 17 completions went to seven different players.
2) Watching Aaron Jones run, it's easy to forget he stands 5-foot-9 and weighs barely 200 pounds. On Sunday, the Pro Bowler from UTEP gained more than half of his 76 yards after contact against one of the most physical and talented defenses in the league. He also caught four passes for 34 yards, including his career-high fourth touchdown. And just for good measure, Jones saved at least two potential sacks by deftly picking up blitzing linebackers.
3) If Marcedes Lewis is still playing at the age of 37 due to his blocking, Allen Lazard should have a long career ahead of him. While the fourth-year wide receiver caught a season-high three passes for 27 yards and one TD, it was his outstanding work in the run game that really stood out on Sunday. The former Iowa State star weighs at least 15 pounds less than tight ends Robert Tonyan and Josiah Deguara, but he did a much better job of covering up defenders.
4) Left tackle Elgton Jenkins really settled down after a poor first quarter. And while the third-year player from Mississippi State didn't win his battle with Robert Quinn, he probably earned a draw. Jenkins, who missed the previous three games with an ankle injury, struggled with Quinn's speed off the edge, but his strong work in the run game was a big reason why Jones and A.J. Dillon combined for 135 yards and averaged close to six yards a carry.
On this play from early in the second quarter, Jenkins (#74) got a piece of at least three different defenders on Aaron Jones' physical 7-yard run

5) Rookie Royce Newman had another rough day. Besides being at least partially responsible for a pair of sacks, he struggled to sustain his blocks against moving targets in the run game. Granted, Chicago's front four is one of the best in the league, but the former Ole Miss star just hasn't shown much improvement since Week 1. Once David Bakhtiari returns, the coaches will have to decide whether Newman or Jon Runyan should start at right guard.

DEFENSE
1) One of the heroes of the day was journeyman corner Rasul Douglas, who stabilized the defense after Isaac Yiadom was picked apart on the Bears' opening touchdown drive. The former Eagle and Panther, who was signed to the practice squad on Oct. 6 and promoted to the active roster on Saturday, allowed only three receptions, the longest being 15 yards. And while the Packers would obviously prefer not to have Douglas on the field for over 50 snaps in a couple of weeks when Arizona's Kyler Murray and not a rookie is the opposing QB, he was a godsend on Sunday.
2) Rashan Gary was overly aggressive on the Bears' first drive, and that led to a few big runs. Fortunately, the third-year outside linebacker settled down after that and played one of his best games of the season. The former Michigan star was in the face of rookie quarterback Justin Fields all day, and while he wasn't credited with a sack, his consistent pressure forced a number of incompletions. Gary isn't Za'Darius Smith, but he's helping to fill the void.
3) It was nice to see Kenny Clark finally get rewarded on the stat sheet for all the excellent work he's done this season. His two sacks late in the fourth quarter ended any hopes the Bears had of staging a comeback. The Pro Bowl nose tackle just wouldn't be denied as he used his rare mix of strength and quickness to first overpower left guard Cody Whitehair and then split right guard James Daniels and right tackle Elijah Wilkinson on his way to the QB.
On this play, outside linebacker Jonathan Garvin (#53) got credit for the sack, but Clark (#97) caused it by chasing the quarterback out of the pocket
4) Inside linebacker Jaylon Smith made his debut with the Packers, and the results were far from impressive. The ex-Cowboy missed a tackle in the open field and struggled in coverage. To be fair, he signed only 10 days ago and is probably still learning the playbook. A lack of familiarity with the defense can't be used as an excuse for Krys Barnes, who was a major liability against the run. That's why the former UCLA star played four fewer snaps than Smith.
SPECIAL TEAMS
1) The coverage units and the return game struggled once again, but punter Corey Bojorquez continued to be a bright spot on special teams. His 82-yard bomb late in the third quarter was one of the biggest plays of the game. Standing on his own 3, the ball landed at the Chicago 17 and rolled into the end zone. If JK Scott were still around, the Bears probably would've started their next drive close to midfield. Instead, they got the ball back at their own 20.

FINAL THOUGHTS: The Packers keep winning ugly, but for a team missing three All-Pros and a handful of other starters, that's just fine. With the schedule becoming much more difficult in a few weeks, it was imperative for Green Bay to win as many of their first seven games as possible. Mission accomplished with Washington up next. Getting to 6-1 would provide the banged-up but resilient Packers with some wiggle room as they head into a stretch of 10 games against opponents with a combined record of 33-27 (33-21 if you don't count the winless Lions).
A big thanks to those of you who have already made a donation. If you haven't contributed yet, please click the button below to keep enjoying this type of Packers' content throughout the 2021 season. ⬇️
[wpedon id=46164]