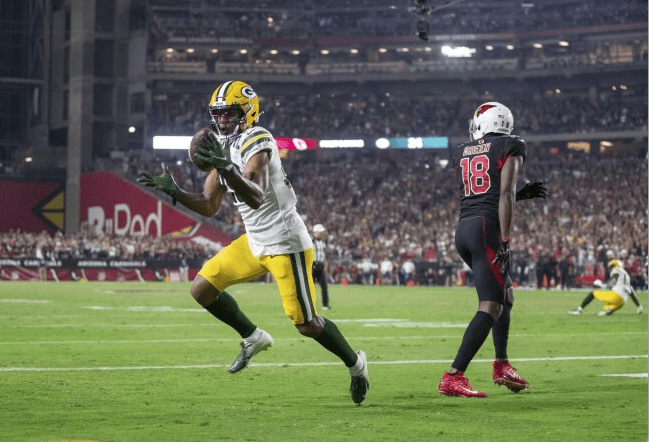 After rewatching Thursday night's game against Arizona, here are 10 things worth knowing:
OFFENSE
1) If Thursday night was Elgton Jenkins' last start at left tackle, he left on a very high note. The Pro Bowl guard made Chandler Jones all but disappear. The star edge rusher, who had five sacks in a game earlier this season, had only two pressures in 32 rushes. And while Jones probably wasn't 100 percent following a bout with COVID-19, that shouldn't take away from Jenkins' superb effort. In his third game back from an ankle injury suffered in the Week 2 win over Detroit, the former Mississippi State star moved around much better.
2) Royce Newman played his best game of the season at right guard. The athletic rookie still looked surprisingly awkward in space, but he got pretty good movement in the run game and held up extremely well in protection. And while the former Ole Miss star certainly benefitted from not having to contend with future Hall of Famer J.J. Watt, that shouldn't take away from his effort. When All-Pro David Bakhtiari returns next week, either Newman or left guard Jon Runyan will have to go to the bench. That decision might've gotten a little easier after Thursday night.
3) Remember how people were worried that Randall Cobb would hurt the offense by stunting the progress of rookie Amari Rodgers? Seems pretty silly now, doesn't it? While the rookie from Clemson proved yet again on Thursday night that he's not quite ready for prime time, the 10-year veteran from Kentucky caught two more touchdowns. Cobb isn't as quick as he used to be, but his uncanny connection with quarterback Aaron Rodgers makes up for a lot of what age has taken away. Most impressively, the former Pro Bowler has fully accepted his role on the team – whether that means playing 50 snaps like he did last night or fewer than 25 snaps as he did in Week 6.
4) I've often referred to  A.J. Dillon as being his own lead blocker, and there was no better example of this than Thursday night. The holes just weren't there on many of his 16 carries, and yet he still gained 78 yards. In fact, a whopping 80 percent of his yards came after contact. Aaron Jones, who also played well (110 total yards and 1 TD), might be one of the top-10 running backs in the NFL, but there will be times when Dillon is simply the better option.
5) If Robert Tonyan's knee injury is as serious as it appears, the Packers will need Josiah Deguara to be much better than he was on Thursday night. The second-year pro from Cincinnati was inconsistent as a blocker, and even worse, he didn't know where to line up on a number of plays. Deguara, whose skill set is probably better suited for fullback or H-back, will now be asked to help replace one of the top four or five tight ends in the NFC. His best play of the game – and the season – came in the fourth quarter when he caught a 12-yard pass on 3rd and 1.

DEFENSE
1) Dean Lowry enjoyed his fourth consecutive impressive game on Thursday night. Along with stuffing the run, the veteran defensive end had four pressures and a sack. And while it's true the former Northwestern star has been feasting on some shaky offensive lines in recent weeks, that's not something he took advantage of very often in the past. Lowry seems more comfortable in first-year coordinator Joe Barry's scheme. He's playing a lot faster, and he might be extra motivated after being forced to take a sizeable pay cut before the start of training camp.
2) It remains to be seen if journeyman corner Rasul Douglas can play at a consistently high level for a few months and not just for a few weeks, but so far, he's been a revelation in Green Bay. While the former West Virginia star allowed five completions for 50 yards to his former teammates, he didn't give up any big plays, and he continued to add much-needed physicality to the defense. And, of course, his game-clinching pick was spectacular. Because the pivotal play happened so fast and elicited so much raw emotion, it was easy to overlook the difficulty of the catch.
3) Eric Stokes had his first taste of real adversity on Thursday night. The rookie cornerback was beaten deep for the second time in two weeks – this time by DeAndre Hopkins in the first quarter. Stokes finished the game with four completions allowed for 80 yards. Those numbers almost certainly would've been worse had Hopkins not been limited to 15 snaps and had Kyler Murray hit a couple of open receivers. To be fair, the Packers' No. 1 pick should still be learning the pro game behind Jaire Alexander and Kevin King, but with both veterans sidelined, he's being asked to learn on the job. That's seldom going to look pretty when it comes to young players at this position.
4) The struggles of rookie nose tackle T.J. Slaton continued on Thursday night. The fifth-round pick from Florida played only six snaps but still managed to be a liability. Despite weighing close to 340-pounds, Slaton couldn't get the better of the much smaller Josh Jones on James Conner's 9-yard touchdown run in the fourth quarter. Slaton allowed Arizona's mediocre right guard to get inside his frame and keep him engaged just long enough. If Kinglsey Keke (concussion) can't go next week in Kansas City, it might be time for the coaches to finally give Jack Heflin a look.
5) Another struggling young player is inside linebacker Krys Barnes, who has regressed in his second season. The lowlight of the former UCLA star's long night came on back-to-back plays in the third quarter. First, he got lost in coverage, and then he made a pathetic attempt to tackle Conner at the goal line. The Packers currently don't have a worthy partner for midseason defensive MVP De'Vondre Campbell, who was good but not great against the Cards.
FINAL THOUGHTS: I've been watching the Packers since 1978. Last night in Arizona wasn't the most important win I've ever seen, and it wasn't the most exciting win I've ever seen, although it was up there. But considering the circumstances, it was the greatest win I've ever seen. Am I being hyperbolic and simply overreacting to a game that ended less than 24 hours ago? I honestly don't think so. Playing without eight starters, Green Bay flew across the country on a short week and beat a previously undefeated team. And one more thing, Matt LaFleur is now 33-7 through his first 40 regular-season games. That's the best of any coach in the Super Bowl era. Somebody needs to inform the dopes at Pro Football Focus.

A big thanks to those of you who have already made a donation. If you haven't contributed yet, please click the button below to keep enjoying this type of Packers' content throughout the 2021 season. ⬇️

[wpedon id=46164]


[yop_poll id="28″]