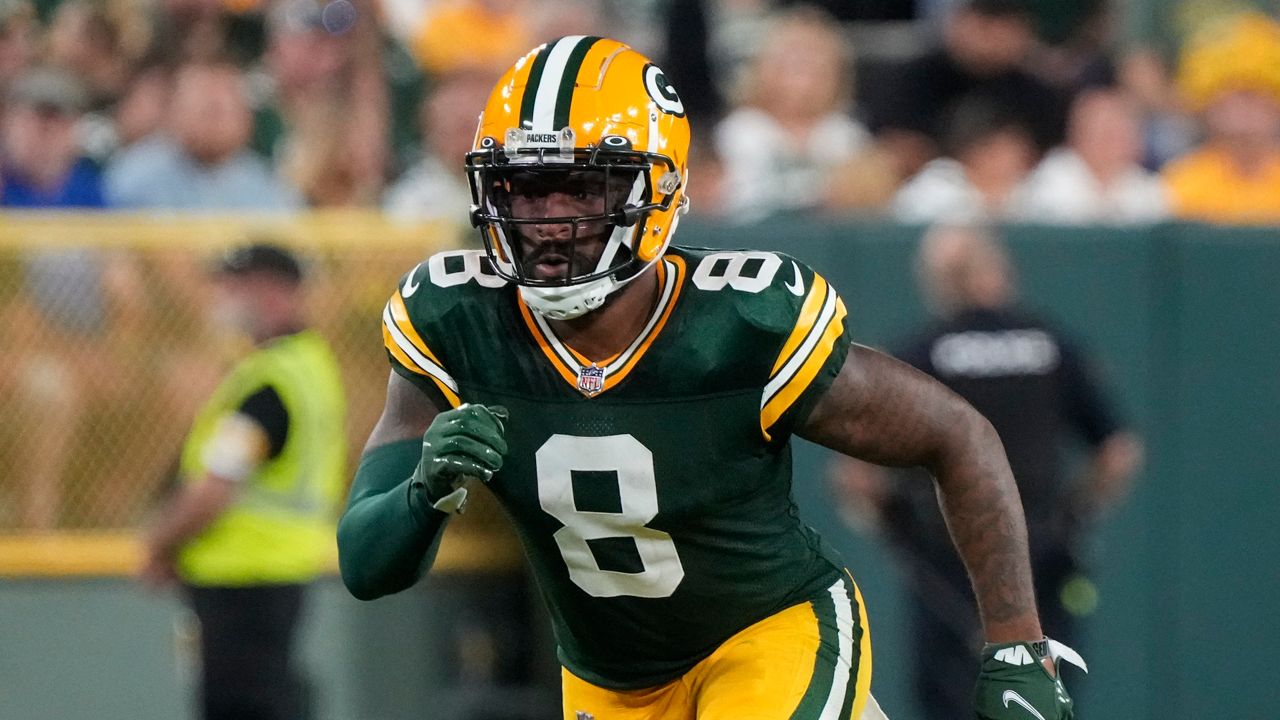 After a rookie class that barely contributed in 2020, the Packers needed more from the nine players who were drafted in April. They've got just that, and it's a big reason why a team battered by injuries has still been able to post the league's second-best record at midseason.
The following is an analysis of the nine players from the Class of 2021, along with a grade:

? ERIC STOKES (1st round/29th overall)

Stokes has been everything general manager Brian Gutekunst could've hoped for – and probably more. With Jaire Alexander on injured reserve since Week 4 and veteran Kevin King missing three games prior to returning last Sunday, Stokes has played over three-quarters of the snaps on defense. And while the former Georgia star has given up a few big plays, he's battled hard and generally done a good job in coverage. The 22-year-old plays to his blazing 4.29 speed, and while he's not as twitchy as Alexander, he's been able to transition out of breaks well enough to avoid being a liability against quick-breaking routes. He committed three penalties in Weeks 3 and 4, but that hasn't been a problem lately as he's beginning to trust his technique. His run defense and tackling have been adequate.
GRADE (B): The still raw Stokes will have his share of rough moments as the competition gets even tougher in the second half of the season, but if he keeps improving, he has a great chance of earning a spot on the All-Rookie team.
? JOSH MYERS (2nd Round/62nd overall)

A finger injury forced Myers to sit out the Cincinnati game, and he then suffered a knee injury versus Chicago in Week 6 that sent him to IR. Prior to that, the former Ohio State star was proving to be a capable replacement for All-Pro Corey Linsley, who signed as a free agent during the offseason. Myers wasn't charged with a sack in over 260 snaps, and while his run blocking wasn't as consistently solid as his pass protection, he certainly wasn't bad when it came to opening holes for Aaron Jones and AJ Dillon. At 6-foot-5, Myers is one of the tallest centers in the league, so pad level is still a problem at times. That's something he'll need to work on when he returns later in the season.
GRADE (B-): This grade is lowered from a B because availability is a big part of being an NFL player, but Myers sure looks like a keeper who someday soon could be the third Packers' center since 2010 to be voted to the Pro Bowl.
? AMARI RODGERS (3rd round/85th overall)

Rodgers has played only 55 snaps on offense, and while some of that is due to the trade for Randall Cobb in late July, it's also fair to point out that Rodgers didn't do much in training camp or the first nine weeks of the season to earn more playing time. The former Clemson star looks tentative as a route runner, and he's dropped one of the five balls thrown his way. It's surprising that head coach and play-caller Matt LaFleur hasn't used him more on jet sweeps. At 5-foot-9 and 210 pounds, Rodgers moves more like a running back than a wide receiver with the ball in his hands. He's been the No. 1 punt returner all season, but his tentativeness and shaky hands continue to be a problem.
GRADE (D): While it's fair to wonder how much further along Rodgers would be with more opportunities, it's also fair to point out that he's added next to nothing on both offense and special teams. Hopefully, that'll change in the coming weeks.
? ROYCE NEWMAN (4th round/142nd overall)

Newman has been the starter at right guard all season, and the results have been mixed. While he hasn't looked overwhelmed, he also hasn't played as well as Lucas Patrick did a year ago. The former Ole Miss star has already allowed four sacks, and he's been spared a few others thanks to Aaron Rodgers' quick release and escapability. Newman is a tough SOB who won't back down from any defensive lineman, but he's sometimes slow to react to stunts, and he gets stressed when gap shooters get outside his cylinder. It's obvious the coaches are counting on Newman to get better as the season goes along, but if that doesn't happen, Jon Runyan will be ready to take his place.
GRADE (C-): Another offseason in the weight room will almost certainly make Newman a much better player next September, but the Packers need him to be much better by January. Right now, he's the weak link on an otherwise solid line.
? T.J. SLATON (5th round/173rd overall)

Injuries forced Slaton to play a season-high 45 snaps last Sunday, and he turned in a solid performance. Prior to that, the former Gator had been extremely quiet through the first eight games. Even with dubious depth on the defensive line, Slaton played only 66 snaps. That's because his work at the point of attack left a lot to be desired. Despite weighing 335 pounds, Slaton is still figuring out how to harness and deploy the innate power in his body. Until those lessons are learned, he'll continue to get schooled by smaller and less talented guards and centers. Surprisingly, Slaton has been more effective as a pass rusher than a run stuffer. He's flashes power in his hands, and he's quicker than he looks. These traits have allowed him to shoot through gaps and pressure the QB a few times.
GRADE (D+) – With the trade deadline now in the rearview mirror, the Packers will be counting on Slaton to step up and provide reliable depth in the second half of the season. His effort against the Chiefs showed that's at least a possibility.
? SHEMAR JEAN-CHARLES (5th round/178th overall)

Is it fair to say that any late fifth-round pick is a disappointment? Probably not, but it's certainly fair to say that Jean-Charles has been the least impressive of the nine players drafted in April. With all the injuries at corner, the former Appalachian State star would've been the preferred choice to pick up some of the slack, but he just hasn't shown the ability to play at this level – at least not yet. He's struggled to stay with even pedestrian receivers, and his tackling has been atrocious. That's why he's played only 22 snaps all season. To his credit, Jean-Charles has done impressive work on special teams. In fact, he's been about as good as anyone when it comes to covering kicks.
GRADE (D): This grade is up from a D- thanks to special teams. Jean-Charles was terrific in coverage in college, and he looked like a natural fit at nickel back in the NFL. Perhaps he'll get there one day, but that day isn't anytime soon.
? COLE VAN LANEN (6th round/214th overall)

Van Lanen has spent all season on the practice squad. That's not a surprise since the Packers are pretty deep on the O-line, and the Green Bay native needs to get bigger and stronger. Van Lanen did some good things at both guard and tackle in the summer, and he'll likely be one of the candidates to start at right tackle in 2022 should Billy Turner become a cap causality. I've often compared Van Lanen to Mark Tauscher, another ex-Badger who started for a decade in Green Bay. Based on their rookie camps, that's probably an unrealistic expectation. Still, the hard-nosed 23-year-old has the smarts and the talent to do more than just take snaps on the scout team in the future.
GRADE (I): This is a redshirt year for Van Lanen, who should be a lot better in 2022 after spending time in the weight room.
? ISAIAH MCDUFFIE (6th round/220th overall)

The second of the team's sixth-round picks has been active for six of the eight games, but he's yet to play a snap on defense. His work on special teams has been OK, although he'll need to be more impactful if that's to be his main role in future seasons. The former Boston College star did some positive things at inside linebacker during the summer, but his lack of size is always going to be a problem. At barely 230 pounds, McDuffie's best chance to contribute on defense is as a nickel backer in sub-packages. He runs well and showed fairly loose hips and good short-area burst in the preseason. Of course, that was against receivers who are either backups or on the street these days.
GRADE (D): It's hard to grade McDuffie since he hasn't played at all on defense, but it's a little disappointing that he didn't even get a cursory look when Krys Barnes was out. The coaching staff instead turned to Oren Burks and Ty Summers.
? KYLIN HILL (7th round/256th overall)

The seventh-round pick had his rookie season ended in Week 8 when he got hurt on special teams. Prior to that, he was one of the most impressive members of this draft class. The former Mississippi State star turned heads all summer, and he showed enough in practice to earn 26 snaps on offense even though he was behind arguably the best backfield duo in the National Football League. Hill is a very talented runner and receiver who figures to be A.J. Dillon's primary backup in 2023 after Aaron Jones and the Packers part ways. It's still difficult to believe a player this skilled was available so late in the draft. As a kick returner, Hill usually picked up the real estate that was available, but he lacked the explosiveness to create big plays. Only one of his 10 returns went for more than 23 yards.
GRADE (D+): This grade would likely be a lot higher if Hill touched the ball more than 11 times on offense, but the opportunities just weren't there. His work on special teams – both returning and cover kicks – was mediocre at best.

Overall, this has the makings of a strong class. Three players (Stokes, Myers, and Newman) are already starting, and Rodgers could join them in 2022. That already makes this a good draft. How good depends on what kind of starters they become and what happens with Slaton, Jean-Charles, Van Lanen, McDuffie, and Hill. If one or two of them become major contributors, this draft class has the potential to be one of the most successful in the past 20 years.
[yop_poll id="29″]