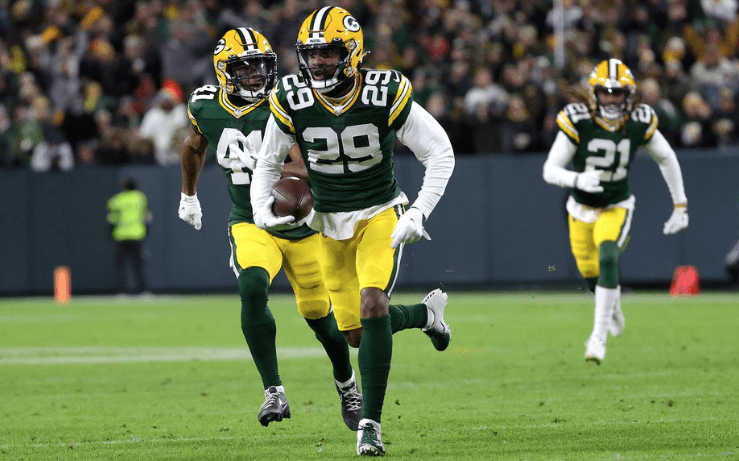 After rewatching Sunday's game against the Los Angeles Rams, here are 10 things worth knowing:
OFFENSE
1) There's only one quarterback in the NFL who could've beaten the Rams on Sunday, and fortunately, he plays for the Packers. Under heavy pressure all game, Aaron Rodgers still managed to put up big numbers (28 of 45 for 307 yards and two touchdowns) against a very good defense. That was due to his poise and accuracy. The reigning MVP stood tall in the pocket and kept completing passes to receivers who were covered like a blanket. Rodgers also did a nice job of taking what was there and not forcing the ball down the field. Nearly two-thirds of his throws were within 10 yards of the line of scrimmage.
2) The numbers weren't overly impressive (20 carries for 69 yards), but A.J. Dillon was one of the best players on the field. As Aaron Jones (10 carries for 23 yards) kept finding out, there was nowhere to run against a stout Rams' defensive line. The difference was that the 245-pound Dillon didn't need blocking to pick up three or four yards. He just lowered his head and plowed forward. Nearly 80% of his yards came after contact. The former Boston College star also caught four passes, including a touchdown.
3) Equanimeous St. Brown played more than usual (26 snaps) due to Randall Cobb exiting the game at halftime with a groin injury, and the fourth-year wide receiver enjoyed one of the best all-around games of his career. His one catch came on third down to extend a drive in the fourth quarter, and he did good work as a run blocker and on special teams. It's unusual to see someone so big (6-4, 220) being used as a gunner, but St. Brown was very effective. He also had a couple of tackles on kick coverage.
St. Brown (#19) uses his excellent speed and newfound physicality to stop returner Sony Michel in his tracks.
4) I'm sure the "experts" at Pro Football Focus weren't impressed by the work of Jon Runyan Jr., Lucas Patrick, and Royce Newman, but the three interior offensive linemen fought like heck for 60 minutes against the best defensive player in the league (Aaron Donald), a former second-round pick (A'Shawn Robinson), and an emerging young nose tackle (Greg Gaines). It wasn't always pretty to watch, but the trio of overachievers allowed Rodgers to be hit only twice, and they did just enough to give him the time needed to complete 62% of his passes.
5) Making just the fourth start of his career, Yosh Nijman never let himself be a liability despite lining up against future Hall of Famer Von Miller for much of the game. While the former undrafted free agent from Virginia Tech allowed a handful of pressures, he generally held his own. His technique keeps getting better. After the game, Rodgers told the media he almost forgot about that side of the line. That's about the nicest thing any right-handed quarterback can say about a left tackle.

DEFENSE
1) Playing with one arm tied behind his back due to a hyperextended right elbow, Rashan Gary still managed a strip-sack and five pressures against a very good left tackle. It was a remarkable performance from a young outside linebacker who keeps getting better. Two years ago, a healthy Gary wouldn't have stood a chance against a player the caliber of Andrew Whitworth, but thanks to a lot of hard work and some good coaching, he now knows how to take advantage of his unique skill set. Gary also held up surprisingly well in the run game.
2) La'Darius Hamilton and Tipa Galeai played 45 snaps, and while their combined numbers were modest (four tackles and one pressure), the two young outside linebackers got the job done. They allowed the defense to function while Gary and Preston Smith took an occasional breather. That's more than the coaches could rightfully expect from a couple of players who weren't even on the 53-man roster last month. Hamilton was especially effective. At 260 pounds, he used his solid base strength to anchor against the run.
Hamilton (#54) disengages from Whitworth's attempted block and stops Darrell Henderson after a 3-yard gain.
3) Sunday was a perfect example of why Kenny Clark is one of the highest-paid nose tackles in the league. He dominated the interior of the Rams' offensive line all game. While center Brian Allen and guards Austin Corbett and David Edwards are capable players, none of the three stood a chance against Clark's unique mix of size, strength, and quickness. Even frequent double-teams failed to keep the former UCLA star from being a disruptive force against both the run and the pass.
4) Rasul Douglas started for an injured Kevin King and once again proved to be the better player. The former Eagle, Panther, Raider, Texan, and Cardinal had a huge pick-6 in the third quarter and broke up four passes. He did get beat for a 54-yard touchdown by Odell Beckham Jr., but that was the only blemish on an otherwise terrific day. While the coaches will have some tough decisions to make if and when All-Pro Jaire Alexander returns, playing Douglas over King shouldn't be one of them.
5) Henry Black has averaged 20 snaps on defense the past three games, and yet the casual fan might not even know he plays for the Packers. That's not necessarily a bad thing. The second-year safety from Baylor did nothing to call attention to himself on Sunday. He just did his job as either a slot corner or a box safety in the sub-packages. Black allowed three receptions, but none were longer than 11 yards. Missing a tackle in the open field was his only real mistake.

FINAL THOUGHTS: Sunday was yet another example of the Packers coming together as a team to win a game they had no business winning. Four starters were out on offense, and 15 different defensive players were on the field for at least 17 snaps, including three who weren't on any 53-man roster when the season began. There's obviously still much work to be done, but through 12 weeks, this is the most impressive Packers team in the past 40 years. Not the best, but the most impressive.