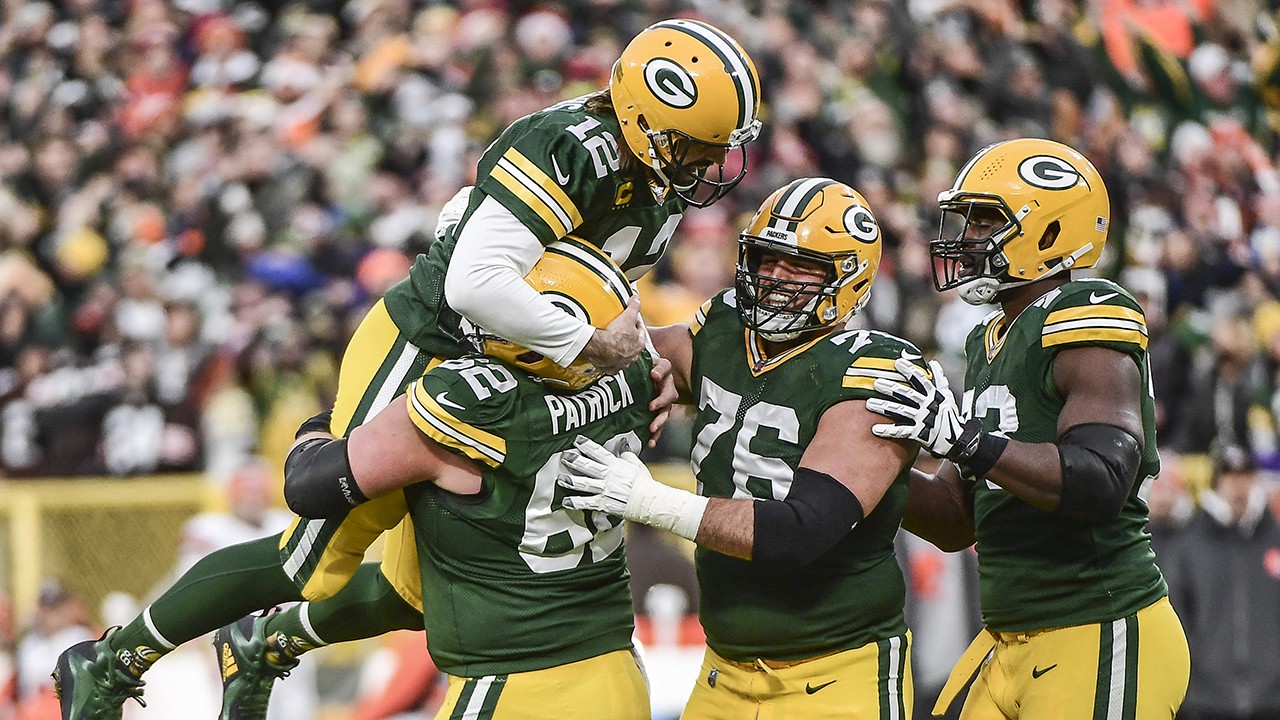 After rewatching Saturday's game against the Cleveland Browns, here are 10 things worth knowing:
OFFENSE
1) Allen Lazard failed to hold onto what should've been a touchdown in the second quarter, but that was the only blemish on an otherwise impressive performance. Besides scoring No. 443 from quarterback Aaron Rodgers and later making an outstanding one-handed reception for 34 yards, the third-year wide receiver from Iowa State blocked for the run better than any of the four tight ends on the roster. Not a bad day's work for a former undrafted free agent who languished on Jacksonville's practice squad until the Packers saved him late in the 2018 season.
If catching a historic touchdown and blocking linebackers weren't enough, Lazard also ran for 13 yards – with some help from Aaron Jones (#33).
2) If any wide receiver is worth $25 million a year (none is), it would be Davante Adams. The 5-time Pro Bowler had another terrific game on Saturday, and he did it against a top-flight cornerback (Denzel Ward) and with Lazard, Equanimeous St. Brown, Juwann Winfree, Marcedes Lewis, and Josiah Deguara as the other options in the passing game. Adams caught 10 passes for 114 yards and a pair of touchdowns, and he made each reception look effortless. The 29-year-old from Fresno State is so good that his costly drop late in the fourth quarter was hard to believe.
3) Yosh Nijman and Dennis Kelly certainly benefitted from Myles Garrett being less than 100% and Jadeveon Clowney being on the reserve/COVID-19 list, but that shouldn't take away from the good work done by both backup tackles. Nijman keeps getting better with every start. The coaches gave him help with Garrett early, but that lessened as the game went on. He also did a nice job creating space for Aaron Jones. Kelly wasn't quite as impressive, but he generally got the job done in protection. His effort on Saturday was on par with how Rick Wagner played for most of 2020.
4) Royce Newman has been a different player in December. The rookie right guard enjoyed his third consecutive solid outing on Saturday. While the former Ole Miss star had a few hiccups in protection, none led to Rodgers getting hit. Newman has allowed only three pressures since the bye after being charged with 12 in the previous four weeks. He's playing with more confidence and beginning to take advantage of his athleticism in the run game. With Jon Runyan also getting better with each passing week, the young and revamped interior of the offensive line is primed for the postseason.

DEFENSE
1) As goes Darnell Savage, so goes the defense. Or so it would seem. The third-year free safety played at a near Pro Bowl level through the middle of November, but he's been struggling the past month as the defense has faltered. Saturday was another game to forget. Aside from an early interception on a poorly thrown deep ball, Savage missed multiple tackles, committed a costly penalty, and seemed to be confused as to where to line up on Cleveland's final TD. Coincidence or not, he hasn't been the same player since getting leveled on an attempted onside kick vs. the Rams in Week 12.
2) Rashan Gary is looking a lot like Za'Darius Smith lately, and that's not necessarily a compliment. While the third-year player is racking up sacks (5 in the last 6 games, including 2 on Saturday), he's become much less effective against the run. As was the case a week ago versus Baltimore, the former Michigan star did a poor job of setting the edge and made it too easy for the running backs to get outside. What made Gary a Pro Bowl-caliber outside linebacker for the first three months of the season was his all-around game. He needs to be that player again as the Packers head into January.
Gary (#52) crashing inside and Savage (#26) missing a tackle in the open field made this long run by D'Ernest Johnson in the fourth quarter too easy.
3) Tipa Galeai had done a surprisingly solid job versus the run since being promoted to the 53-man roster in Week 11, but it was only a matter of time before a team took advantage of the backup outside linebacker's lack of size. The Browns were that team. They ran over the 235-pound former Utah State star the way a hungry driver runs over a speed bump on his way to the pick-up window at McDonald's. To be fair, much bigger players fared no better. The coaches eventually gave Oren Burks a try but replacing one undersized player for another produced predictable results.
4) Kenny Clark has had better games, especially against the run, but playing nearly 90% of the snaps after not practicing all week due to COVID-19 was pretty darn impressive. It's scary to think of how much worse things would've been on defense without the Pro Bowl nose tackle. And while the former UCLA star wasn't credited with a sack, his push inside was a big reason why Gary and Preston Smith both had a pair. One of the reasons Clark played so much was the curious decision to bench Kingsley Keke in favor of rookie Jack Heflin, who wound up seeing all of four snaps.
5) After Eric Stokes was drafted, I described him as "Sam Shields without the ball skills." That's proven to be pretty accurate. The former Georgia star had another solid day in coverage vs. the Browns, but he dropped yet another easy interception. The game would've been over midway through the fourth quarter if Stokes held onto the ball. It's hard to nitpick a rookie whose passer rating against is 81.4 and who was one of the very few defensive players to play well on Saturday, but he can't keep dropping balls thrown right to him. It didn't cost the Packers this time, but it might next time.
6) Chandon Sullivan intercepted a badly overthrown pass in the first quarter, but that was his only highlight. The veteran nickel back struggled all day to cover wide receivers Jarvis Landry and Rashard Higgins on crossing routes. His tackling was an even bigger problem. The former Georgia State star continually took poor angles in the open field. With Stokes and Rasul Douglas playing well outside, if and when Jaire Alexander returns, it wouldn't be a surprise to see him replace Sullivan in the slot – at least in obvious passing situations. This position needs to be better in January.
SPECIAL TEAMS
1) Aside from an early illegal double-team block by Patrick Taylor, there were no issues on special teams. Amari Rodgers returned a few kicks without incident, and the coverage units led by Douglas, Shawn Davis and Henry Black were solid. Mason Crosby has made on six of his last seven field goals, including one in the third quarter on Saturday, and while all have been under 40 yards, the mechanics of the operation look much better. Steven Wirtel's snaps have been more accurate, and not coincidentally, Corey Bojorquez is keeping the laces away from Crosby's foot.

FINAL THOUGHTS: Matt LaFleur tied the record for most wins by a head coach in his first three seasons on Saturday, but the 42-year-old didn't have one of his better games. He was 0 for 2 on challenges, and his play-calling in the fourth quarter left a lot to be desired. LaFleur needs to stop pretending that he has a quality defense because as of now, he doesn't. He needs to stay aggressive on offense and put opponents away by adhering to his "all gas, no brake" mantra. To put it simply, he needs to place his trust in one of the greatest quarterbacks in the history of the National Football League.
[yop_poll id="35″]