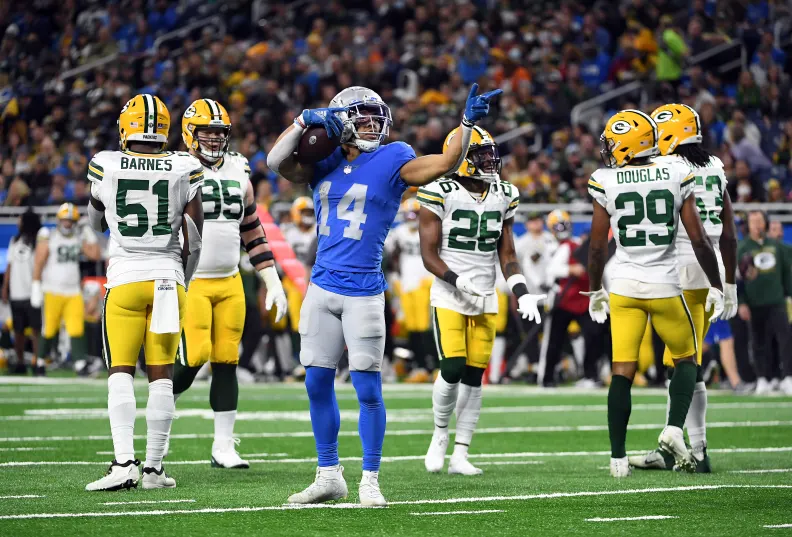 After rewatching Sunday's game against the Detroit Lions, here are 10 things worth knowing:
OFFENSE
1) Jordan Love reminded me of DeShon Kizer before the 2020 draft and watching him throw 62 passes in four games this season has done little to make me re-think that comparison. Playing with backup receivers on Sunday, the former Utah State star looked as pedestrian as he did in his start against the Chiefs in Week 9. Aside from a nice touch pass that was dropped by Tyler Davis in the end zone, Love didn't react well to pressure, and his accuracy was hit or miss. He's only 23, so nobody should write him off just yet, but he certainly hasn't done anything to show he can be "The Man" in Green Bay.
2) Sunday wasn't vintage David Bakhtiari, but nobody was expecting him to play like a 5-time All-Pro in his first game back since suffering a knee injury on Dec. 31, 2020. The veteran left tackle was beaten three times – twice off the edge and once inside – when his technique wasn't on point, but all in all, it was an encouraging performance. Bakhtiari certainly wasn't helped by making his long-awaited return on a lightning-fast turf, so getting to play on grass in two weeks should be to his advantage. As well as Yosh Nijman played in eight starts, a still rusty Bakhtiari was a clear upgrade.
Bakhtiari (#69) looked quick, but his rust showed a few times when edge rusher Charles Harris used a spin move to get inside the All-Pro tackle.
3) The return of Josh Myers didn't go quite as well. The former Ohio State star looked very much like a rookie who hadn't played since Week 6 and who only practiced a few times before being thrust back into the starting lineup. He set too tall in protection and lacked explosiveness in the run game. The Packers have to hope that two more weeks of practice will make a big difference. Myers's return allowed Lucas Patrick to replace inconsistent rookie Royce Newman at right guard, and he was an upgrade. The veteran was solid in protection and moved people at the point of attack.
4) Patrick Taylor showed some intriguing potential in the preseason, but that was against a lot of players who are no longer in the league. On Sunday, the former undrafted free agent from Memphis looked good against legitimate NFL starters. He ran for 53 yards on 11 carries, and about 80 percent of those yards came after contact. At 6-foot-3 and 225 pounds, Taylor slammed into the line with authority and was a load to tackle, often barreling over linebackers and defensive backs. Like most tall backs, he's a bit tight-hipped and lacks elusiveness, so he's going to take a lot of direct hits.
5) Right tackle Dennis Kelly gave up his first sack since replacing an injured Billy Turner in Week 14, but that was the only blemish on another fine performance. The 6-foot-8 veteran handled speedy edge rushers Julian Okwara and Jessie Lemonier surprisingly well on a very fast track, and he probably had his best game as a run blocker. He drove defenders backward on several occasions. The Packers will probably go back to Turner if his knee is OK in time for the divisional round of the playoffs, but Kelly's work the past month will at least give the coaching staff something to think about.

DEFENSE
1) There's a place for Oren Burks on the 53-man roster, but it shouldn't be as the No. 3 inside linebacker. Given a chance to start in place of De'Vondre Campbell, who was held out with a minor elbow injury, the fourth-year player from Vanderbilt really struggled. Burks missed a couple of tackles in the open field and allowed three receptions for 28 yards. For an athletic player who began his college career at safety, it's amazing how uncomfortable he still looks in coverage. Fortunately, Burks will be back to exclusively covering kicks when the postseason begins in less than two weeks.
2) The rollercoaster ride of a rookie season continued for T.J. Slaton on Sunday. After a solid game against the Vikings in Week 17, the massive defensive lineman had a rough afternoon against Detroit. He played too tall against the run and was easily uprooted when double-teamed. Coordinator Joe Barry has given the 340-pounder more snaps than usual at end in recent weeks with Kingsley Keke out, but that's not where he belongs. He's a pure nose tackle. Slaton's inconsistency makes it difficult to imagine the coaching staff trusting him in the postseason when every play is so significant.
3) The fine play of Tipa Galeai hasn't gotten enough attention. The former undrafted free agent from Utah State has really helped the Packers since being promoted from the practice squad in Week 11. Maybe his terrific play on the Lions' fake punt in the first quarter will finally get people to open their eyes and realize he's also doing a darn fine job in limited snaps at outside linebacker. The 235-pounder gave 305-pound right tackle Matt Nelson fits all day. If Galeai can add weight and improve his pass rush in the offseason, he has a chance to play a much larger role on defense in 2022.
Galeai (#40) read this play beautifully and tackled speedy D'Andre Swift before he could get into open space and pick up a lot more than two yards. 
4) Darnell Savage has to shake the slump he's been in the past month and a half. Sunday was another rough game for the former No. 1 pick who's been playing more like M.D. Jennings than Nick Collins lately. Savage took several poor angles that allowed slot receiver Amon-Ra St. Brown to make a catch and/or pick up extra yards in the open field. The former Maryland star is playing without much confidence right now, and that's causing him to be tentative in everything he does. It's probably not a coincidence that both the defense and Savage started struggling around the same time.
5) Adrian Amos hasn't been as disappointing as Savage in recent weeks, but he's certainly not playing as well as he did earlier in the season. Watching how poorly the seven-year veteran from Penn State reacted to the trick play that resulted in a 75-yard touchdown pass from wide receiver Tom Kennedy to wide receiver Kalif Raymond was highly disconcerting. The Packers count on Amos being the glue that holds a young secondary together, but that hasn't been the case lately. To his credit, No. 31 was one of the few defenders who played with physicality in a game that meant nothing.

FINAL THOUGHTS: The return of Bakhtiari and Myers was the only thing that mattered in this meaningless game. The reason the mistakes on defense are concerning is that they've become far too frequent in recent weeks. The Packers played like a team that had already clinched the No. 1 seed in the NFC. Getting out of Detroit with no major injuries made Sunday a success regardless of the scoreboard. As for the struggling defense, there's even positive news on that front. All-Pro cornerback Jaire Alexander and All-Pro edge rusher Za'Darius Smith are expected to be ready for the postseason.