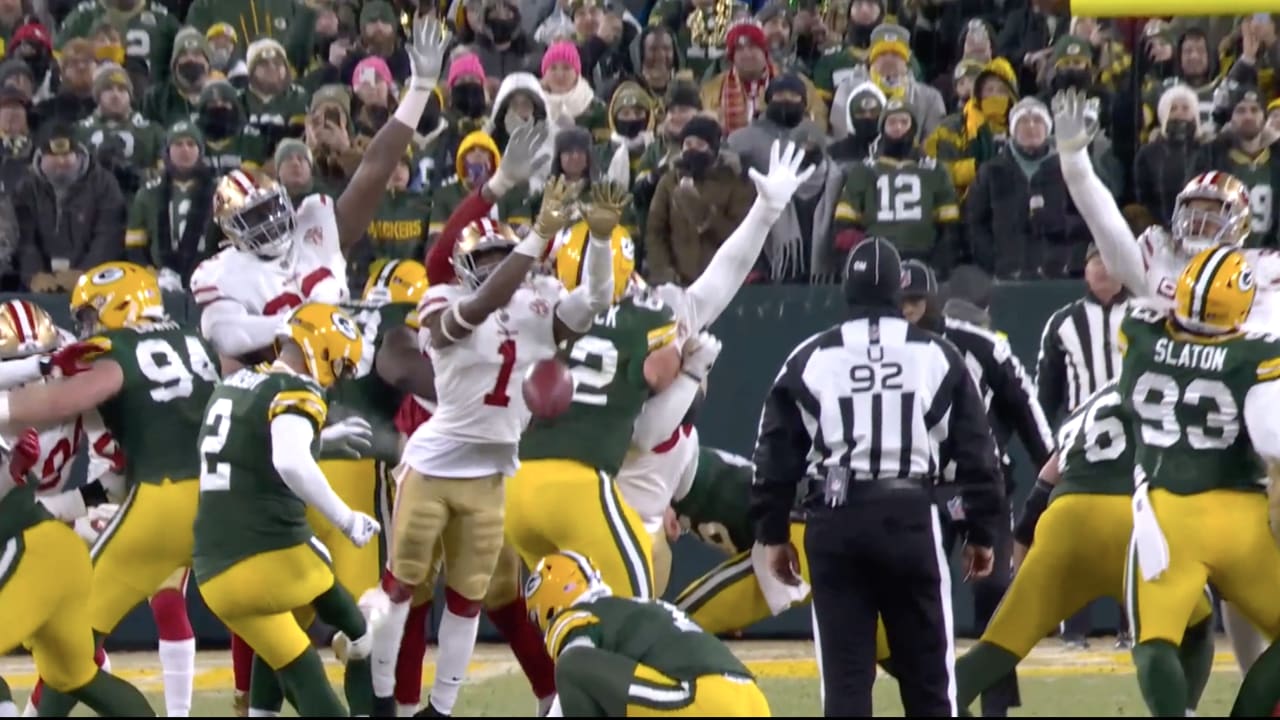 After rewatching Saturday night's playoff game against the 49ers, here are 10 things worth knowing:
OFFENSE
1) If Saturday night was the last game quarterback Aaron Rodgers ever plays for the Packers, the soon-to-be four-time MVP ended his spectacular run with one of the worst performances of his postseason career. Rodgers put up decent numbers (20 of 29 for 225 yards), but many of his completions were so poorly thrown that the receivers had little chance to pick up yards after the catch. He also either ignored or didn't see multiple open receivers on Green Bay's final three-and-out. How bad was Rodgers? If somebody told me he had money on the 49ers, I might've believed them for a second.
2) Perhaps Josiah Deguara has a future at fullback, but as shown once again on Saturday night, he can't play tight end at this level. The former Cincinnati star looked clumsy before dropping a pass over the middle in the third quarter, and he's so unathletic that both Rodgers and the 49ers' defense ignored him when he leaked out to the flat on passing downs. On multiple occasions, there wasn't a defender without 10 yards of Deguara, but it was obvious coordinator DeMeco Ryans trusted that his linebackers could get to the lumbering second-year player before he could do any real damage.
We'll never know whether Rodgers would've thrown to Deguara (#81) on this play, but he didn't in similar situations throughout the game.
3) It's hard to be critical of offensive line coach Adam Stenavich, but his decision to start Billy Turner at left tackle, Josh Myers at center, Lucas Patrick at right guard, and Dennis Kelly at right tackle didn't work out. None of the four played particularly well. It's interesting to note that a line featuring Yosh Nijman at left tackle and rookie Royce Newman at right guard performed much better when the two teams met in Week 3. As was the case in last year's loss to Tampa Bay, the offense really missed All-Pro David Bakhtiari, whose knee injury might've cost the Packers two trips to the Super Bowl.
4) Give Randall Cobb credit for returning from core muscle surgery in time for the postseason, but the veteran wide receiver never looked right the entire game. Maybe it was rust from not playing since early December, or maybe it was the effects of the injury, but he was slow into and out of his breaks and rarely got any separation in the middle of the field. On a night when it was obvious Rodgers was only willing to throw to certain players, his closest friend and most trusted teammate was targeted only once. Cobb, who made an impact at times this season, will almost certainly be released.

DEFENSE
1) Rashan Gary concluded a breakout third season with a dominant effort against the 49ers. The former Michigan star had seven tackles and a pair of sacks. His speed, strength, and explosiveness were too much for journeyman right tackle Tom Compton, who got tossed around like a 315-pound rag doll. It's amazing how far Gary has come from his rookie year. The only thing that hasn't changed is his effort, which might've been even more impressive than usual on Saturday night. General manager Brian Gutekunst will quickly and enthusiastically pick up Gary's $11 million option in May.
2) Tyler Lancaster played a very solid game on defense, more than holding his own at the point of attack against All-Pro left tackle Trent Williams. Unfortunately, his brain fart on special teams cost Green Bay three points. Blocking for a chip-shot field goal attempt at the very end of the first half, the starting defensive lineman inexplicably decided to engage with the wrong rusher. Even middle school football players learn to block the man closest to the kicker. Then again, based on how the Packers played on special teams all season, it's fair to wonder if they were taught anything at all.
3) T.J. Slaton's rollercoaster of a rookie season ended on a high note. The massive defensive lineman turned in 11 solid snaps against a very physical offensive line. His best moment came late in the fourth quarter when he blew past center Alex Mack and tackled running back Elijah Mitchell for a two-year loss. Had Green Bay won, this would've been one of the plays of the game. It says something that the coaches trusted the former Gator in such a big spot. With Kingsley Keke in Houston and Dean Lowry's future unknown due to the cap, the Packers will be counting heavily on Slaton in 2022.
4) Getting back cornerback Jaire Alexander and outside linebacker Za'Darius Smith was better in theory than reality. The two were on the field for a combined 27 snaps, and aside from Smith's early sack, they hardly made an impact… until the biggest play of the night. With the 49ers facing 3rd and 7 from the Green Bay 39 with 67 seconds left in the fourth quarter, both All-Pros missed a tackle on Deebo Samuel's 9-yard run that got Robbie Gould close enough to kick the game-winning field goal. It's fair to wonder why they were even out there, but that's a depressing story for another day.
On Samuel's decisive run, first Smith (#55) made a half-hearted attempt at an arm tackle, and then Alexander (#23) whiffed in the open field.
5) Eric Stokes' coverage was so good in the second half of the season that opposing quarterbacks rarely tested him. That was the case once again on Saturday night. The rookie from Georgia was targeted only four times and allowed two completions. Stokes is already a good corner, but he needs to improve his ball skills to become a great one. He only had one interception in 17 games despite being in a position to easily have six or seven, including a pass on Saturday night that zipped right past his earhole. This was also an issue in college, so there's no guarantee it'll improve in the years to come.
6) As possibly the sole member of his fan club, it was nice to see backup safety Henry Black conclude a solid second season with a strong effort against the 49ers. Forced to play more snaps (20) than usual after Darnell Savage left the game with a back injury, the former Baylor star might've actually been an upgrade. Black was physical against the run, and he didn't allow any receptions in coverage. Whether he's talented enough to be a future starter is debatable, but there's no doubt he's shown enough this season to at least be a candidate to replace potential cap casualty Adrian Amos.

FINAL THOUGHTS: It's a shame the Packers couldn't enter the playoffs even reasonably healthy. Minus Bakhtiari, guard Elgton Jenkins, tight end Robert Tonyan, and wide receiver Marquez Valdes-Scantling, and with Alexander and Smith nowhere near 100 percent, this was far from the team that began the season in early September. Still, Green Bay would've won on Saturday night had the special teams been even semi-competent despite all the missing pieces. Instead, it'll be another very long and very frustrating offseason for 75 players, 27 coaches, and millions of incredibly loyal fans.