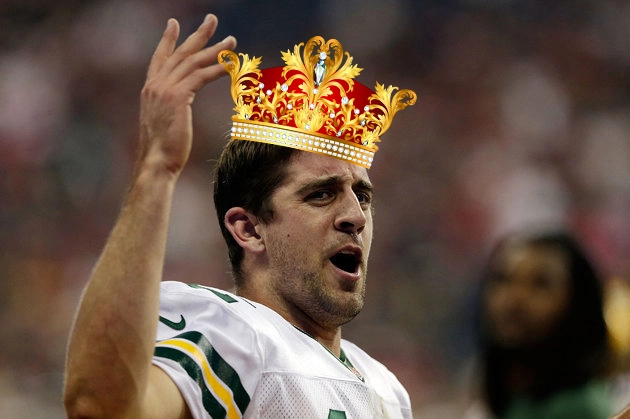 As the football world anxiously awaits Aaron Rodgers' decision, it's impossible to know just how much influence the back-to-back MVP currently wields in the Packers' organization. But it's safe to say he's more powerful than ever before.

Last summer, the Packers had all the leverage in their negotiations with Rodgers. He was under contract for three more seasons, so his only options were to play for Green Bay or retire and forfeit tens of millions of dollars. Despite the team holding all the cards, Rodgers was still able to void the final year of his deal and force Brian Gutekunst to trade a sixth-round pick to Houston for wide receiver Randall Cobb, an aging player the GM deemed expendable 36 months earlier.
Flash forward eight months, and the tables have completely turned. Rodgers now has all the leverage. He can ask for pretty much anything, and the Packers almost have to oblige. Otherwise, the 38-year-old could just say no to any trade proposal or contract restructuring and simply play out the final year of his contract. That would allow Rodgers to leave as an unrestricted free agent next March and force the team to carry his unmanageable $46.7 million salary-cap hit all season.
Rodgers is an intelligent guy despite all the nonsense he spewed about vaccines on the "The Pat McAfee Show" last fall. He knows he's sitting in the catbird seat, and you can be sure he's enjoying the view. You can also be sure he's letting Gutekunst know exactly what it'll take to get him to extend his contract and, in the process, lower his cap number. Forcing Pushing the organization to work out a long-term deal with Davante Adams is probably at the top of his to-do list.
Gutekunst has until Tuesday at 4 p.m. ET to slap the franchise tag on his All-Pro wide receiver, and while this seems likely to happen, it's certainly not the preferred scenario for either the team or the player. The Packers are still about $30M over the cap, and tagging Adams would increase the number by $20M. That would give the team eight days to create $50M in cap space before the start of the new league year on Mar. 16. To get in compliance, Gutekunst would almost certainly have to release multiple players and probably forget about re-signing most if not all of his top free agents, including inside linebacker De'Vondre Campbell, corner Rasul Douglas, and wide receiver Marquez Valdes-Scantling.
Adams, like most elite players, does not want to be tagged. The idea of playing on a one-year contract isn't appealing to any veteran, especially one who turns 30 in December. Any slippage in performance and/or a serious injury could dramatically affect his future earnings. Adams knows he's only going to get one more huge payday, and he wants it now.
A long-term extension is unquestionably the best outcome for both sides. The Packers would hold onto one of the top receivers in the league for another few seasons, and they'd probably save between $8M and $10M as far as the cap is concerned. That would make keeping Campbell and/or Douglas much more doable. As for Adams, he'd get security in the form of guaranteed money that could be as high as $50M – a significant improvement over the tag's guarantee of $20M.
If both sides benefit from a long-term deal, why hasn't it happened yet? The problem, of course, is money. While the Packers seem fine with making Adams the highest-paid wide receiver in the league, what that actually means is open to interpretation. Adams' representatives are using DeAndre Hopkins' $27.5M a year deal as the benchmark, while the Packers are going with Julio Jones' $22M a year deal. This is where it gets a little tricky. While the two-year extension signed by Hopkins in the summer of 2020 does technically average $27.25M a year, the actual new money averaged $19M a year.
According to multiple reports in the past week, Adams is still determined to eclipse $27.25M. And as much as the Packers want the former Fresno State star to stick around for another few seasons, they don't want to spend that kind of money on a non-QB, especially when they recognize Jones and not Hopkins as the highest-paid wide receiver in the league.
If Adams winds up agreeing to an extension worth over $27.25M a year or close to it before Tuesday's deadline, it'll probably happen with a major assist from Rodgers. The future first-ballot Hall of Famer is likely holding off on agreeing to an extension of his own in an effort to strengthen his favorite target's bargaining position. Because as long as Rodgers' cap hit remains at over $46M, there's no way Gutekunst could use the tag on Adams without having to gut the roster. The next 48 hours will be like a very expensive game of chicken, and it'll be interesting to see who if anyone blinks.
Next on Rodgers' to-do list is probably making sure close buddies Cobb, kicker Mason Crosby, and tight end Marcedes Lewis are retained for another season. What's the big deal if Gutekunst holds onto a few descending players in their 30s if it means keeping No. 12 happy? Well, trading for Cobb might've cost the Packers a championship last season. While the former Kentucky star had a couple of productive games, he was more often than not a non-factor before missing the final five weeks of the regular season with a groin injury. But his $2.7M cap number never stopped being a factor.
Maybe the Packers could've outbid the Rams for wide receiver Odell Beckham Jr. had that $2.7M of cap space been available. Or maybe Gutekunst could've traded for a tight end to replace Robert Tonyan. Instead, he had to maintain the status quo with only a few million dollars of cap space to work with. That meant watching the likes of Tyler Davis and Equanimeous St. Brown try to get open against a 49ers' defense that dropped seven into coverage. It wasn't a pretty sight.
Cobb, Crosby, and Lewis currently count a combined $16.7M against the salary cap. That's 8% of the total cap – a huge number for a slow and injury-prone wide receiver, a kicker who missed a league-high nine field goals last season, and a tight end who provides next to nothing in the passing game and hasn't played a snap on special teams since 2019. Even if they accept pay cuts, they'll still be taking up valuable cap space that could be better used right now or in nine months.


While I'm obviously speculating about Rodgers's role in regard to the futures of Adams, Cobb, Crosby, and Lewis since I haven't talked to any of the parties, it would be naive to think he's not intimately involved. He's talked incessantly about wanting to have more say in the construction of the roster, and let's be honest, a person doesn't need six weeks to decide life and death decisions, let alone whether or not he wants to accept $45M a year to play football in Green Bay. Rodgers likely made up his mind a while ago. What's happening now is all about one man taking full advantage of his power.
Simply put, Rodgers is ruling Packer Nation, and if the past 42 days have taught us anything, it's that his so-called bosses don't seem to mind. In fact, here's what coach Matt LaFleur said about the situation earlier this week: "I told him, I don't wanna be overbearing and tell him every day how much we love him and how much we want him back. So you just wanna be respectful of his space and allow him to think through everything clearly without being annoying, I guess."
All hail the king.
DONATE TO PACKERS NOTES