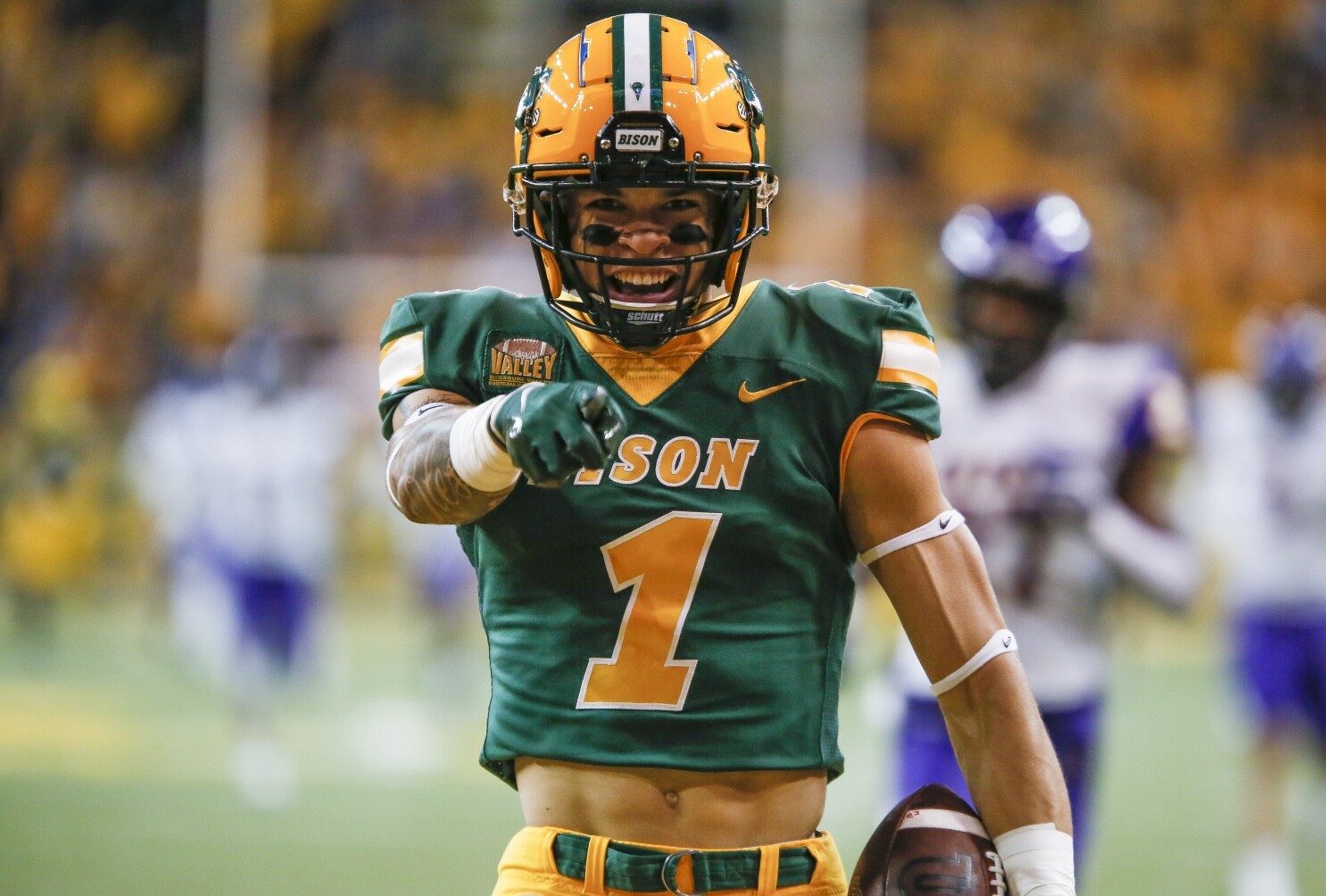 After not drafting a wide receiver on Thursday night, it was a matter of when and not if the Packers would address that position in round 2. The when wound up being right away as GM Brian Gutekunst packaged picks 53 and 59 to Minnesota in order to select Christian Watson at 34.
The Packers paid a very steep price for the former North Dakota State star, a player they could've selected at 28 instead of defensive lineman Davante Wyatt. Gutekunst obviously preferred Wyatt and Watson to Watson and a pair of late second-round picks in a draft that was loaded with quality in that particular round. Whether he made the right decision will be determined by how these players perform in the years to come.
What are the Packers getting in the player they wanted SO badly? Think of Marquez Valdes-Scantling with a more diverse skill set.




Watson is a little bigger (6-4 1/2) and faster (4.33) than Valdes-Scantling. He's also a more fluid athlete, which should eventually make him more effective on intermediate routes than MVS, who was pretty much just a vertical threat in his four seasons with the Packers. Of course, being "pretty much just a vertical threat" got him a $36 million contract from Kansas City in free agency. But with two-time All-Pro Davante Adams no longer around, the Packers need Watson to be a more complete wide receiver. And considering what the depth chart looks like, sooner rather than later would sure be nice.
At the end of Day 2, Gutekunst referred to his current wide receivers as a solid group, but that had to be GM-speak. In reality, even with the additions of Watson and free agent Sammy Watkins, this wouldn't be a solid group on most SEC campuses. So unless a rookie from an FCS school is going to become Randy Moss overnight, Gutekunst still has work to do.
After watching six North Dakota State games, I'm fairly confident that Watson can be better than Valdes-Scantling, but it's going to take time. Right now, he's too raw to be much more than an MVS clone next season. By that I mean he'll be able to use his speed to threaten defenses vertically and create opportunities for others. Gutekunst now needs to find someone better than Watkins, Allen Lazard, and Randall Cobb to take advantage of those open spaces in the middle of the field.
The reason Watson will be one-dimensional early in his career is his route running. He takes way too long to get into and out of his cuts. In the video below, Watson (top of the screen) takes unnecessary steps at the top of his route. This makes him a little slow getting into and out of his break. He got away with it here because the cornerback plays for Albany.
Watson is also going to have to get used to being pressed at the line of scrimmage. That rarely occurred at North Dakota State because defensive backs were rightfully scared to death of his speed. The video below is a good example of what often happened when an FCS corner didn't give Watson (top of the screen) a healthy cushion. Missouri State's Javian Smith was unable to slow Watson down at the LOS, and he simply lacked the speed to stay with him down the field.
Watson had 16 drops in four seasons. That's surprising because he's a natural hands catcher. He often extended outside his frame to make difficult off-target catches on balls that were high, low, or behind him. He also doesn't appear to be fazed by traffic. Concentration lapses accounted for the majority of his drops, and that should be a fairly easy fix in the NFL.
While it may take some time for Watson to get comfortable in the passing game, he should be able to help right away on jet sweeps and reverses. Unlike some players – former Packer Equanimeous St. Brown comes to mind – his 40 time is legitimate. In the video below, watch how Watson splits two sets of defenders. This is impressive against any level of competition.
Wide receivers coach Jason Vrable has done good work with Valdes-Scantling and Lazard the past few years, and now he has another big challenge on his hands. The one thing Vrable won't have to teach Watson is how to block. He's already very good – both near the line of scrimmage in the run game and down the field. That had to appeal to the Packers.
In the video below, Watson doesn't actually block anybody, but his effort is extraordinary. Most receivers – especially stars – would've simply become observers after the fake handoff at the 30-yard-line, but watch as he flies down the field looking for somebody to hit at the opponent's 45. This play is indicative of just how seriously he takes this part of his game.
Watson was also a great kick returner in college, but even former special teams coordinator Mo Drayton wouldn't be clueless enough to ask someone who's 6-foot-4 to do that job in the NFL. He'd be fortunate to last three games before getting hurt.
VERDICT
There's plenty to like about Watson, but giving up a second-round pick to move up 19 spots feels like a pretty big overpay, especially for a team that needed a receiver who could fill the No. 1, or at least the No. 2 role immediately. That's probably not going to be Watson. And to be honest, the Packers shouldn't expect him to be that player right away. Heck, he might never be that player. It's important to remember just how few receivers from FCS programs excel at the next level. Everybody knows about Jerry Rice, Terrell Owens, Randy Moss, and Super Bowl hero Cooper Kupp, but they sit atop a pretty short list.