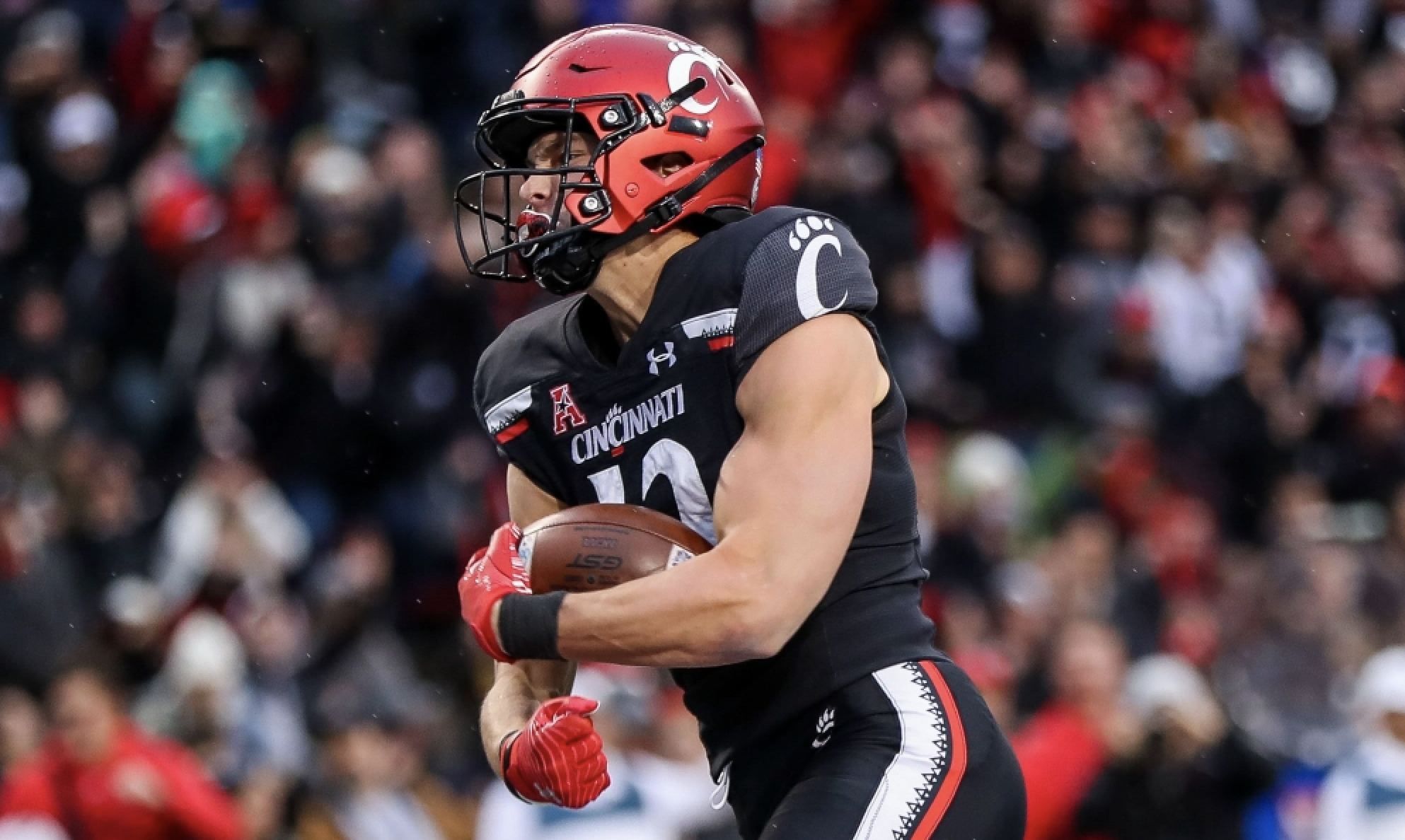 I hate when people say they would've drafted this guy instead of that guy a year or two after the fact. It's too easy. So I decided to choose along with GM Brian Gutekunst and make my selections right before he made his. Here were my picks:
| ROUND | PACKERS PICK | MY PICK |
| --- | --- | --- |
| 1 | LB Quay Walker (Georgia) | LB Jermaine Johnson (Florida St.) |
| 1 | DL Devonte Wyatt (Georgia) | DL Devonte Wyatt (Georgia) |
| 2 | WR Christian Watson (North Dakota St.) | WR Alec Pierce (Cincinnati) |
| 3 | OL Sean Rhyan (UCLA) | CB Jalyn Armour-Davis (Alabama) |
| 4 | WR Romeo Doubs (Nevada) | WR Khalil Shakir (Boise St.) |
| 4 | OL Zach Tom (Wake Forest) | QB Sam Howell (North Carolina) |
| 5 | LB Kinglsey Enegbare (South Carolina) | OL Jamaree Salyer (Georgia) |
| 7 | DB Tariq Carpenter (Georgia Tech) | WR Kevin Austin Jr. (Notre Dame) |
| 7 | DL Jonathan Ford (Miami) | TE Jalen Wydermyer (Texas A&M) |
| 7 | OT Rasheed Walker (Penn St.) | OT Rasheed Walker (Penn St.) |
| 7 | WR Samori Toure (Nebraska) | RB Kennedy Brooks (Oklahoma) |
Round 1 – I desperately wanted to pick a wide receiver, but the value just wasn't there. As soon as Penn State's Jahan Dotson and Arkansas' Treylon Burks were scooped up in the teens, I settled on Michigan defensive back Daxton Hill… until edge rusher Jermaine Johnson fell all the way to 22. While I never bought into the former Florida State star being a top-10 pick, he represented excellent value at this point in round 1. As for Quay Walker, he honestly never entered my mind. I expected him to go in the second round, and more importantly, I didn't see Gutekunst considering this position on Day 1.
Round 1 – Hill was the safer pick, but I went with Devonte Wyatt. His advanced age (24) and off-the-field baggage kept me from taking him at 22, but his talent made him a worthwhile gamble late in round 1. Surprisingly, Gutekunst agreed with me. I say surprisingly because the Packers under former GM Ted Thompson stayed far away from players with character concerns. Things are different under his successor. That was obvious when Jarran Reed was signed as a free agent. Agree or disagree with this change in philosophy; it certainly does widen the pool of possible prospects in the draft.




Round 2 – I cringed when Gutekunst traded picks 53 and 59 to Minnesota to move up to 34 because I knew I had to draft a wide receiver, and I also knew there wasn't a player worth taking this early in the second round. My preference would've been to move up five or 10 spots from 53 and grab either Alec Pierce or Georgia's George Pickens (I had both of them ranked ahead of Christian Watson, whom I saw more as a third-round pick). I ultimately chose Pierce over Pickens because I thought his character would fit better with the Packers, and he could make a bigger impact right away.
Round 3 – Gutekunst obviously feels a lot better about the depth at corner than I do because he didn't draft a single player at the position. I considered it a pretty big need and wasn't willing to wait until Day 3 to fill it. Jalyn Armour-Davis was a fast riser heading into the draft. His speed (4.39) and versatility – not to mention the coaching he received at Alabama – were all really attractive. As for Sean Rhyan, I get the attraction but saw him as more of a fourth-round pick.
Round 4 – Not satisfied with just Watson, I was determined to add a wide receiver early on Day 3. Boise State's Khalil Shakir was an easy choice at this spot, although I figured his lack of ideal size (6-0, 190) would keep Gutekunst from drafting him. I was right. He preferred Romeo Doubs, a much bigger player (6-2, 201) who doesn't run as well and isn't nearly as polished. Shakir was chosen by Buffalo a round later, and I'd be surprised if he doesn't have a better career in the NFL.
Round 4 – Gutekunst took Zach Tom here, and while I had no problem picking an athletic and versatile offensive lineman, I was unwilling to pass up Sam Howell. The former North Carolina star was once projected as a possible first-round pick, and while that was never going to happen, taking him at the end of round 4 would've been a steal for the Packers. And it's not like they don't need a quarterback. Odds are either Aaron Rodgers or Jordan Love won't be around in 2023. Howell lacks prototypical size, but he reminds me of Baker Mayfield. At worst, he'll be a quality backup at the next level.
Round 5 – I didn't want to choose an offensive lineman for the third consecutive round, but I just couldn't pass up Georgia's Jamaree Salyer, a versatile player who I thought could've gone one or even two rounds earlier. Gutekunst filled a need with Kingsley Enagbare. I remember liking him while watching some South Carlina games last fall, but his 40 time at the Combine was extremely slow (4.89). Whether he'll be any better than current backup Jonathan Garvin is debatable.
Round 7 – I was very surprised to see Kevin Austin Jr. still available, so I grabbed him with the first of four seventh-round picks. His tape reminded me of Equanimeous St. Brown, another former Notre Dame wide receiver taken by the Packers late on Day 3. Gutekunst preferred Tyriq Carpenter, a big and fast player who might not have a natural position at the next level. Still, he should be able to help right away on special teams, and that's what probably made him most appealing.
Round 7 – With Robert Tonyan unlikely to be ready for Week 1, no team will enter the season with a less talented collection of tight ends. I really wanted to draft Coastal Carolina's Isaiah Likely at the end of the fourth round, but he went right before the Packers picked. So I finally got my tight end here. Jalen Wydermyer has good size, and while he didn't improve as much as expected following an impressive freshman season, he still seemed like an excellent value this late in the draft. Gutekunst surprisingly chose Jonathan Ford, a massive human being who made very few plays in college.
Round 7 – I watched a lot of Penn State games, so I knew all about Rasheed Walker's inconsistency. That's why I didn't take him earlier, but he was too talented to pass up in round 7. Gutekunst obviously felt the same. While there were times when Walker looked like a potential high pick, there were other times when he looked undraftable. Green Bay has had success developing O-linemen picked on Day 3 over the years, and few of them were blessed with Walker's skill set.
Round 7 – Gutekunst finished his draft with Samori Toure, yet another wide receiver. The former Nebraska star, who visited with the Packers before the draft, was on my radar, but I went with Kennedy Brooks instead. With Kylin Hill likely to begin the season on the PUP list, adding a running back with the final pick in the draft made sense. Brooks slipped in the draft due to a poor 40 time (4.59), but he plays faster. He also ran for over 1,000 yards in three straight seasons.