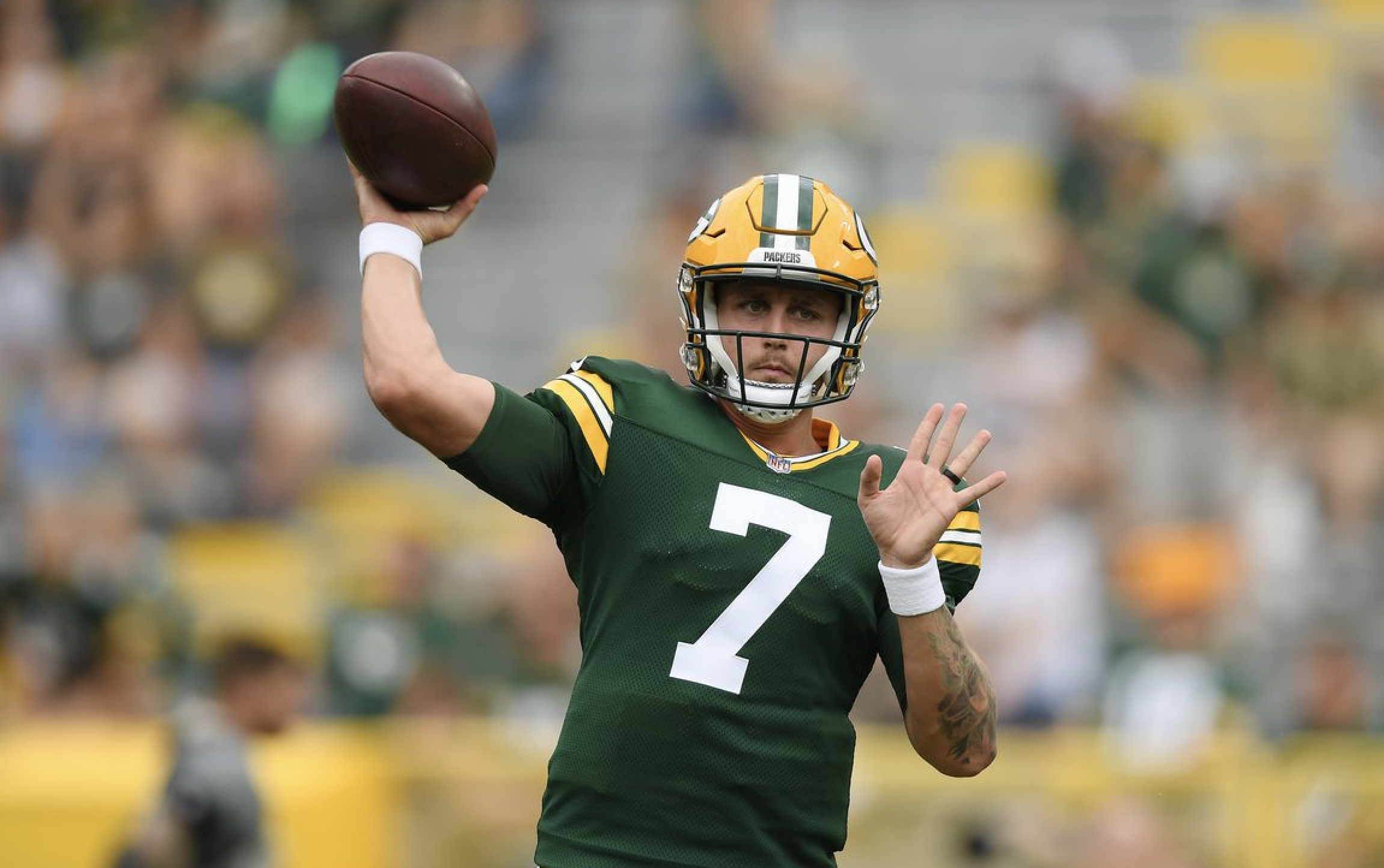 The 2022 National Football League draft didn't just affect the lives of the 11 young players who general manager Brian Gutekunst chose to be Green Bay Packers; it also affected the lives of many players already on the team. Some saw their chances of making the final 53-man roster improve dramatically, while others should probably start updating their resumes.
Even though no ball was thrown and no tackle was made, here's a look at the biggest winners and losers from late last month:




WINNERS
QB Kurt Benkert – Gutekunst not only didn't use any of his 11 picks on a quarterback, but he also didn't sign one after the draft. That leaves Benkert the clear choice to spend a second straight year on the practice squad as QB3. His only competition – and I use that term loosely – is Danny Etling, who's already been cut by nine teams, including one in the CFL.
TE Tyler Davis – With no help coming from the draft, the former Georgia Tech wide receiver is the best hope the offense has of having a tight end capable of making plays down the field – at least until Robert Tonyan returns from knee surgery. And even if Davis doesn't develop as a pass-catcher, his surprisingly effective blocking should keep him around.
LB Jonathan Garvin – The former seventh-round pick from Miami probably breathed a huge sigh of relief when Gutekunst passed on highly-rated edge rusher Jermaine Johnson with the 22nd pick in the first round. That decision should keep Garvin as the No. 3 outside linebacker heading into training camp, although adding a veteran is always possible.
CB Shemar Jean-Charles – Gutekunst not only didn't draft a corner, but he only signed one rookie free agent. That leaves Jean-Charles and a handful of even less accomplished young players vying for the No. 4 job. And while there's always a chance a veteran could be added, right now, the former Appalachian State star is sitting in a surprisingly good spot.
OT Yosh Nijman – The former undrafted free agent from Virginia Tech played well enough in eight starts to make steady veteran Billy Turner expendable, and the drafting of Sean Rhyan and Zach Tom in the third and fourth rounds, respectively, won't keep Nijman from entering the summer atop the depth chart at right tackle. Can he stay there is the question?
DB Vernon Scott – The former seventh-round pick from TCU remains the top backup at safety despite logging only 90 snaps since being drafted in 2020 and being outplayed last season by Henry Black, who was released a few months ago. The Packers have shown a surprising amount of faith and patience in Scott; it's about time for him to start paying them back.
RB Patrick Taylor – With Gutekunst ignoring this position in the draft and Kylin Hill likely to begin the season on the PUP list, Taylor is the frontrunner to begin the 2022 season where he finished the 2021 season – on the 53-man roster. His biggest challenge for a roster spot could come from undrafted free agent Tyler Goodson, who put up big numbers at Iowa.
LOSERS
LB Krys Barnes – The former UCLA star has been one of the team's better inside linebackers in recent years, and he's about to lose his starting job because Green Bay drafted at his position on Day 1 for the first time in two decades. As Alanis Morrisette sang, "isn't it ironic?" Barnes won't go down without a fight, but Quay Walker wasn't picked at 22 to sit.
OL Jake Hanson – He was the top backup at center and guard going into the draft. Nine days later, he's a long shot even to make the 53-man roster. The Packers are suddenly flush with young interior offensive linemen with Ryan, Tom, Jon Runyan, and Royce Newman. Hanson's best chance to stick around would be for Tom to win the starting job at right tackle.
DL T.J. Slaton – Things got harder for the former Florida star after Gutekunst signed veteran free agent Jarren Reed and drafted Devonte Wyatt in the first round. While there's still room for Slaton on the 53, he'll really have to earn it now. He flashed at times as a rookie, but he'll need to do more than flash to avoid beginning the season on the practice squad.
WR Malik Taylor – Barring injuries, there won't be any room for Taylor, who's been an adequate No. 5 receiver the past two seasons. Allen Lazard, Randall Cobb, and second-round pick Christian Watson are guaranteed spots on the 53, and Sammy Watkins, Amari Rodgers, and fourth-round pick Romeo Doubs would have to implode not to make the final roster.
OL Cole Van Lanen – It's a lot more difficult to imagine this story having a happy ending now that Ryan, Tom, and seventh-round pick Rasheed Walker have been added to the roster. Seven spots on the 53 seem fairly secure, so Green Bay native Van Lanen will have to beat out a handful of young players and perhaps a late veteran addition to survive final cuts.