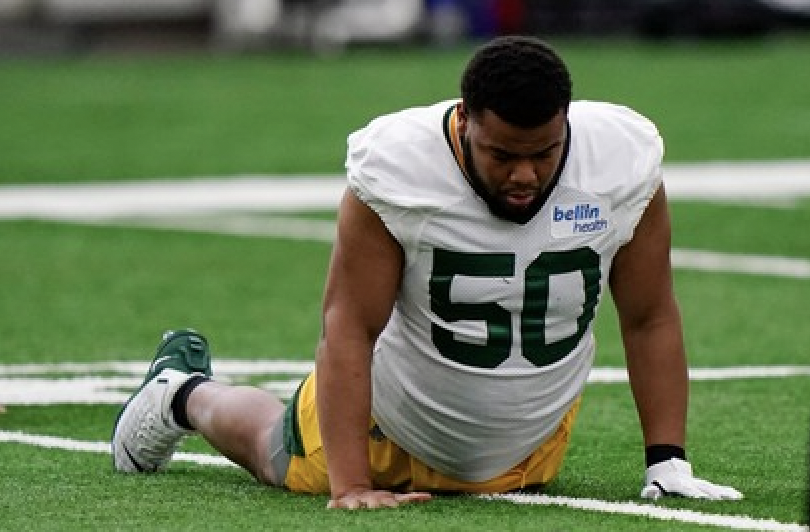 It's disappointing to see any player skip voluntary workouts, but it's especially disappointing in the case of Sammy Watkins. The Packers threw a life jacket to a player whose career was underwater, but he didn't grab it. And while the veteran receiver can make the coaches forget about his absences in May and June with a strong August, he's probably left himself little margin for error. Here are a few more thoughts that ran through my mind in recent days:




1) Based solely on their college tape, the Packers' best pick in April's draft came late in the fourth round. Wake Forest's Zach Tom, the 25th offensive lineman selected, looks like a potential long-term starter at either center or left tackle. In fact, he reminds me a lot of David Bakhtiari at Colorado. By that I mean Tom rarely got beat in college due to his good balance, body control, and recovery quickness. And like Bakhtiari, he's a little undersized (6-4, 304) and not particularly physical in the run game. That's why both players lasted until Day 3. Am I suggesting that Tom is going to be a five-time All-Pro? Of course not. Bakhtiari improved dramatically in each of his first three years in the National Football League, and that's fairly uncommon. But I am suggesting that the Packers may have found yet another gem in a round that's been extremely good to them over the years when it comes to O-linemen (i.e., Bakhtiari, Josh Sitton, T.J. Lang, and J.C. Tretter).
2) General manager Brian Gutekunst didn't draft a cornerback in April, so that gives Raleigh Texada a fighting chance to earn a spot on the 53-man roster. The rookie from Baylor will be competing with veteran Keisean Nixon, Shemar Jean-Charles, and a handful of other unproven youngsters for two or three spots behind Jaire Alexander, Eric Stokes, and Rasul Douglas. Texada has good speed (4.4), and he generally held his own in the very competitive Big 12. The 23-year-old does a nice job of reading routes and is able to stay in the hip pocket of receivers down the field. What kept Texada from being drafted is his size. He's small (5-10, 185), and he plays small. Despite usually being in good position, he often got outmuscled for the ball by bigger wide receivers. He also lacks awareness with his back to the ball. Texada is kind of intriguing, but it remains to be seen if quality coaching can help him overcome the obvious limitations in his game.
On a very typical play, Texada (#3) stays with Oklahoma State wide receiver Jaden Bray but is unable to keep the pass from being completed.
3) Only one team in the league used tight ends more often than the Packers last season. That's why it's so surprising that Gutekunst did absolutely nothing to upgrade the position in the offseason. This was a fairly pedestrian group even with a healthy Robert Tonyan, whose 11 touchdowns in 2020 obscure the fact that he's averaged only 2.9 catches and 32.9 yards in the past 24 games. On the other hand, maybe it's a good thing that Gutekunst didn't spend big bucks or a premium draft pick on a tight end. So far, $30 million brought Jimmy Graham to Green Bay, and a pair of third-round picks netted Jace Sternberger (2019) and Josiah Deguara (2020). The former is already gone, and the latter figures to eventually settle in at fullback. But at least Tyler Davis has given the media somebody to overhype for the next few months.
[yop_poll id="60″]