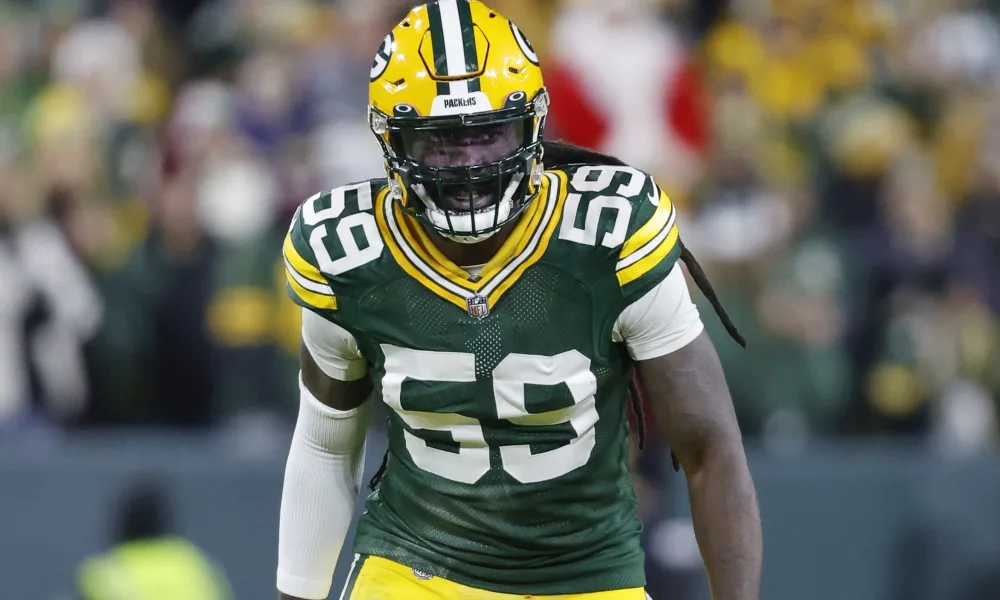 The January 6 hearings begin later today, so get ready to hear the words "Green Bay sweep" mentioned repeatedly. Only this time, it won't refer to the beautifully designed and executed run that helped the Packers dominate the 1960s. Instead, it will refer to the strategy used by Donald Trump in an attempt to keep Joe Biden from becoming the duly elected President of the United States. Leave it to Trump to contaminate the way we think about a basic football play.
Anyway, with training camp seven weeks away, here are more Packers-related thoughts that ran through my mind recently:




1) Exactly one year ago today, the Packers signed free agent inside linebacker De'Vondre Campbell to a contract worth $2 million. The transaction barely made news as the media was fixated on the ongoing saga involving MVP quarterback Aaron Rodgers, who was threatening to never play for the franchise again. Twelve months later, Rodgers is still around, and much more surprisingly, Campbell is coming off of an All-Pro season and is the proud owner of a new $50 million extension. The 29-year-old from Minnesota is without question Brian Gutekunst's shrewdest move since being named general manager. Campbell finally gave the Green Bay defense the kind of playmaking inside linebacker it had been lacking for nearly two decades. Nobody is expecting Gutekunst to unearth a similar gem this June, but it would sure be nice.
2) Ellis Brooks reminds me of a slightly smaller and slightly less instinctive Krys Barnes, another undrafted free agent from a big school who's started 23 games for the Packers in the past two seasons. Besides not being quite as good as Barnes, Brooks will have fewer opportunities to prove himself once camp begins late next month. Unlike two years ago, when Christian Kirksey and Oren Burks sat atop the depth chart, Green Bay now has an All-Pro (Campbell) and a No. 1 pick (Quay Walker) at the position. That means Brooks will be competing with a handful of other players, including veteran Ty Summers, for possibly one spot. And since the former Penn State star will never be strong versus the run, he'll need to perform better in coverage than he did in college and excel on special teams to stick on the 53-man roster. Realistically, Brooks will be fighting to land on the practice squad, and based on his tape, that's no better than a 50-50 proposition.
Even at the collegiate level, Brooks (#13) simply isn't big and physical enough to take on blockers and consistently makes plays against the run.
3) Nothing that happens on the field in a June minicamp really matters, but what does matter – at least a little – is where players line up. That's why it was interesting to find out that Shawn Davis was ahead of Vernon Scott in the battle to be the No. 3 safety (seventh-round pick Tariq Carpenter also figures to be in the mix come August). Davis was signed by the Packers last September after being released by the Colts, who chose him in the fifth round in 2021. The former Florida star certainly looks the part. The powerfully built 202-pounder ran a respectable 4.55 prior to the draft. What stands out on tape is Davis' physicality. He really loves to hit, and while that's obviously a positive on defense, it probably excited Gutekunst even more as far as special teams are concerned. That's where the 24-year-old will have to stand out if he's going to make the 53 because, as a safety, he never performed as well on the field as he looked in his uniform.