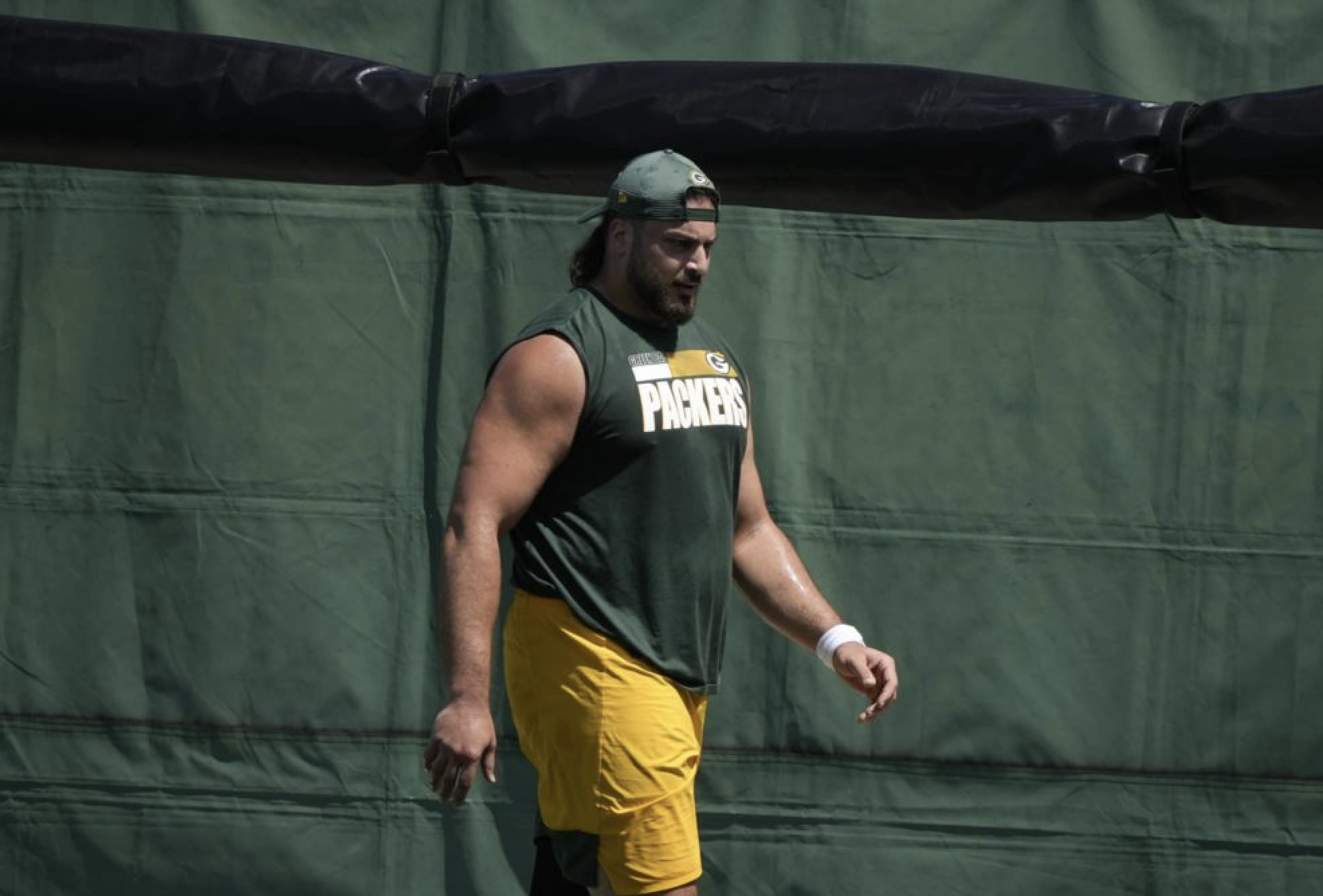 The Packers held their first practice of training camp earlier today. Here are the five most newsworthy items from July 27:




1) We now know why David Bakhtiari missed all offseason activities and was placed on the physically unable to perform list a few days ago. The five-time All-Pro left tackle underwent a third surgery on his troublesome left knee sometime between the end of last season and the first minicamp in April. Both general manager Brian Gutekunst and coach Matt LaFleur expressed confidence that Bakhtiari would be able to play this season, but neither wanted to put a timetable on his return. If the 30-year-old, who's played a total of 409 snaps since signing a record $92M extension on November 15, 2020, begins the season on PUP, he'd be eligible to start practicing after the Week 4 matchup against the Patriots at Lambeau.
2) Another player placed on PUP – Christian Watson – isn't expected to be out long-term following knee surgery in June, but the second-round pick will likely miss at least the first few weeks of practices. That's not a good thing for a raw rookie who's being counted on to help replace All-Pro Davante Adams. In the meantime, less heralded rookie receivers Romeo Doubs and Samori Toure will get more reps against the team's top 3 cornerbacks (Jaire Alexander, Eric Stokes, and Rasul Douglas). Speaking of Toure, the more tape I watch of the former Nebraska star, the more he reminds me of Robbie Anderson, another overlooked college prospect who's developed into a pretty darn good NFL player.
3) Gutekunst was asked about adding a wide receiver, and he said the team isn't actively pursuing any players at that position. "There's not a lot out there," he explained. And while that's true, it's also fair to say the same thing about the players who took the field this morning. The team's top three receivers were Allen Lazard, Randall Cobb, and Amari Rodgers. And while things should look better once Watson and Sammy Watkins return, that group is underwhelming, to say the least. It's still difficult to believe that four months after losing both Adams and Marquez Valdes-Scantling, Guterkunst's response was to add an injury-prone veteran who hasn't caught more than 40 balls since 2015 and three rookies.
4) As expected, Yosh Nijman replaced Bakhtiari at left tackle when the starters took the field for the first training camp practice. Seeing Royce Newman working with the 1s at right tackle was more of a surprise – although it certainly makes sense. As I wrote on Monday, he's the only player on the roster with recent experience at the position (I'm not counting undrafted rookie Caleb Jones, who'll be spending the summer competing for a spot on the practice squad). Cole Van Lanen worked with the 2s at right tackle, and it wouldn't surprise me to see the Green Bay native leapfrog Newman at some point this summer. It also wouldn't surprise me to see a veteran acquired between now and the end of next month.
5) Speaking of the offensive line, Jake Hanson opened with the starters at right guard. It's hard to imagine that lasting for too long. The third-year player from Oregon will be pushed by third-round pick Sean Rhyan and perhaps Newman if things don't go well for him at right tackle. It was also nice to see Zach Tom working with the 2s at left tackle. As I've written before, the fourth-round pick from Wake Forest is a skilled pass protector with the talent to start at either left tackle or center in the NFL. It wouldn't be a shock to see Tom win that job if given a legitimate chance. He was a much better college player than Nijman, and the Packers have never had any qualms about starting rookies on the offensive line.
Big thanks to contributor Michael Posh for being my eyes at practice. I'm hoping to get to Green Bay sometime next month.