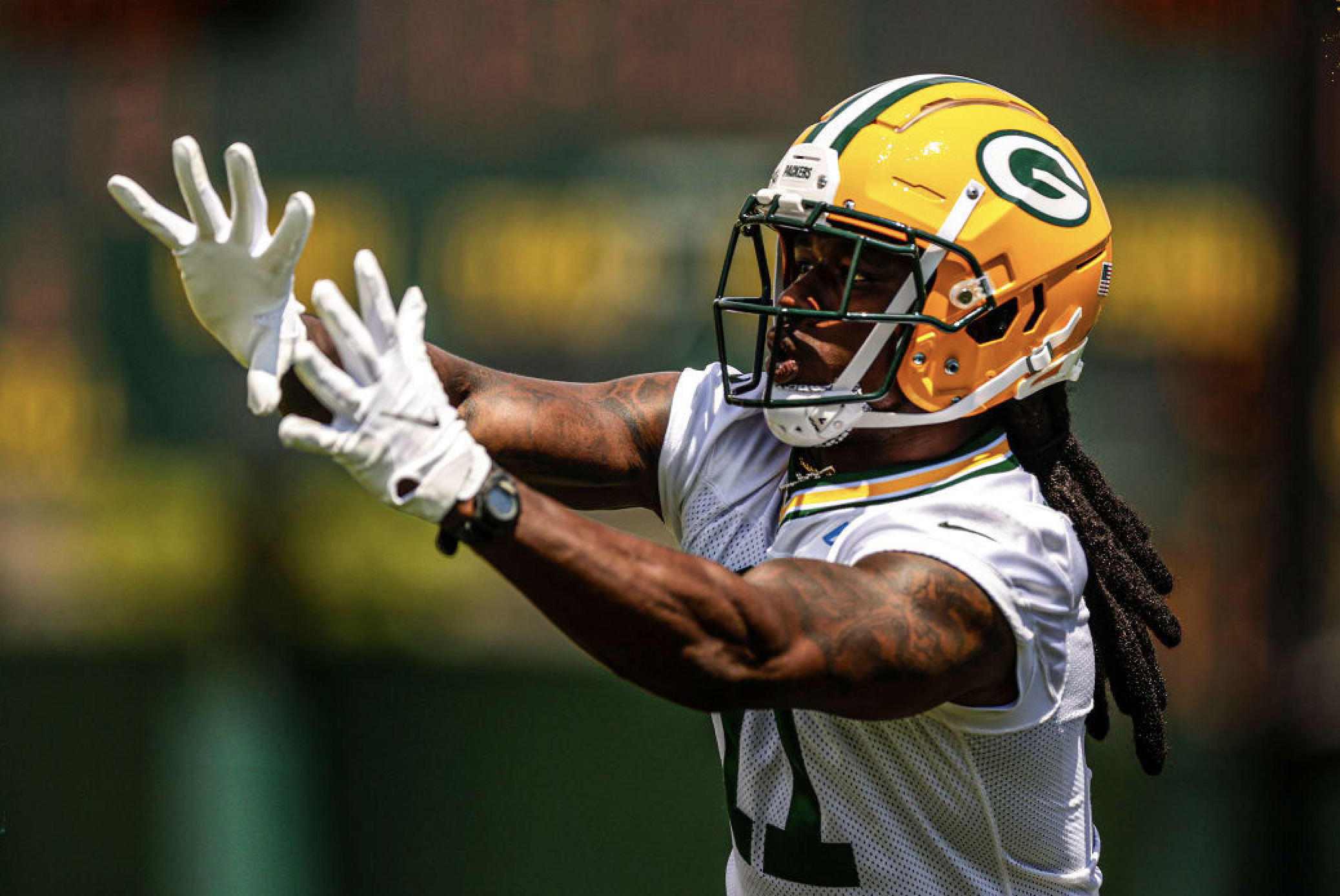 The Packers held their third practice of training camp earlier today. Here are the five most newsworthy items from July 29:




1) As expected, Sammy Watkins' stay on the non-football injury list was a short one. The veteran wide receiver, who signed a 1-year deal in April, returned to practice on Friday. Now the question becomes, how long can he stay on the field? The 29-year-old has been plagued by soft tissue injuries throughout his career and has missed 27 games since 2016. Even though Watkins hasn't caught more than 40 passes or had over 700 yards since Barack Obama was in the White House, he has a chance to be a significant part of the offense this season. That tells you the state of things at the position. Allen Lazard, with 108 catches, 1,441 yards, and 14 touchdowns in the past three seasons, is currently the No. 1 receiver.
2) Watkins wasn't the only player to return to practice. Outside linebacker Randy Ramsey also stepped on the field for the first time this summer. The 26-year-old, who missed all of last season with an ankle injury, is a player to keep an eye on. The former Arkansas star made the active roster in 2020 and contributed 237 effective snaps on special teams. He had 10 tackles while covering kicks and punts. Ramsey will also be in the mix for playing time on defense. Things are unsettled behind starters, Rashan Gary and Preston Smith. Ramsey will now compete with Tipa Galeai, Jonathan Garvin, La'Darius Hamilton, Chauncey Manac, Kinglsey Enagbare, and Kobe Jones for two or three openings on the final 53.
3) With so many questions at wide receiver and a lack of talent at tight end, there could be room on the 53-man roster and maybe even a limited role in the offense for undrafted free agent Tyler Goodson. The former Iowa star catches the ball effortlessly, and just as importantly, he's looked pretty elusive the first few days of training camp. Of course, the real test will come when the pads go on and the hitting begins. Veteran Patrick Taylor is currently third on the depth chart at running back, but he doesn't offer nearly as much in the passing game as Goodson. With Aaron Jones and A.J. Dillon already around, it's fair to think general manager Brian Gutekunst and coach Matt LaFleur would prefer RB3 to be as versatile as possible. Goodson ran for 2,551 yards and 18 touchdowns in college and caught passes for another 600 yards.
4) With Mason Crosby rehabbing a right knee injury and expected to miss a good portion of training camp, rookie Gabe Brkic will do all of the kicking for the foreseeable future. It's a great opportunity for the former Oklahoma star, but he'll need to be near perfect to have any chance of unseating the incumbent. Despite missing a league-high nine field goals in 2021, Crosby is likely to keep his job for two reasons. The first is his 15 years of experience kicking in Green Bay, and the second is his close friendship with MVP quarterback and pseudo assistant general manager Aaron Rodgers. To put it simply, Brkic can't miss from 42 yards in perfect conditions – which is exactly what he did the other day. And while nobody's perfect, he'll pretty much have to be from this point forward to have any chance of sticking on the 53-man roster.
5) It was interesting to see Rico Gafford taking reps ahead of Amari Rodgers when the Packers worked on kick returns on Friday. The 26-year-old, who's been with six teams since entering the league as an undrafted free agent in 2018, is attempting to win a job at cornerback, but excelling on special teams will be his best chance at making the 53-man roster. Gafford has flashed as a gunner early in camp, and while he's returned only one kick in the National Football League, he's intriguing due to his terrific speed (4.22 at pro day). It's interesting to note that the former Wyoming star played for new special teams coordinator Rich Bisaccia in Oakland and Las Vegas from September 2018 to November 2020. He's the third ex-Raider to be signed by the Packers in the past few months – joining Keisean Nixon and Dallin Leavitt.
Big thanks to Packers Notes contributor Michael Posh for being my eyes at practice. I'm hoping to get to Green Bay in August.