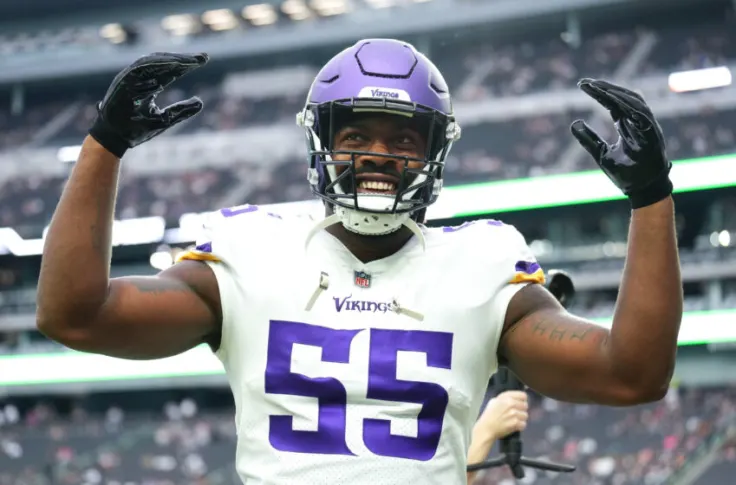 Matt LaFleur and the Packers have lost only 10 regular season games in three seasons, and a pair of them have been to the Vikings. Whether their NFC North rivals will be better or worse with Kevin O'Connell replacing Mike Zimmer as coach remains to be seen. What else remains to be seen is whether this will be the year the Packers finally get over the hump and play in their first Super Bowl since Barack Obama's presidency. We'll begin to get answers to both questions on Sunday.
If the Packers are going to begin the season 1-0 for the third time in four years under LaFleur, here are five keys to victory:




1) WIN THE TURNOVER BATTLE
Green Bay is 30-0 under LaFleur when winning the turnover battle. The easiest way to accomplish this on Sunday is to get pressure on Kirk Cousins, who, like most quarterbacks not named Aaron Rodgers, tends to make very questionable decisions under pressure. We've been reminded all summer about how great Green Bay's pass rush is going to be this season; it's time for Rashan Gary, Preston Smith, Kenny Clark, Jarren Reed, et al. to start proving the hype is legitimate. Minnesota has pretty good tackles in Christian Darrisaw and Brian O'Neill, but their guards and center look extremely vulnerable.
2) PROTECT THE FRANCHISE
Keeping pass rushers Za'Darius Smith and Danielle Hunter away from Rodgers would be a challenge even if David Bakhtiari and Elgton Jenkins were at their best, but that won't be the case on Sunday. In fact, there's no guarantee either star tackle will play, and even if they do, this would be their first game action since undergoing knee surgery. Bakhtiari went under the knife in the spring; Jenkins early last November. If both miss the game, Yosh Nijman, Royce Newman, and Jake Hanson would be tasked with slowing down Smith and Hunter. These are not matchups that favor Green Bay.
3) KEEP COOK UNDER CONTROL
Wide receiver Justin Jefferson is the best player on Minnesota's offense, but the Packers are paying Jaire Alexander over $20 million a year for a reason. Assuming the All-Pro corner does his job on Sunday afternoon, defensive coordinator Joe Barry can focus his attention on trying to slow down explosive running back Dalvin Cook, who ran for a combined 249 yards in the Vikings' wins over the Packers in 2020 and last season. It won't be easy, but replacing defensive end Tyler Lancaster and inside linebacker Krys Barnes with Jarran Reed and Quay Walker should make a pretty significant difference.




4) USE RUNNERS AS RECEIVERS
With Allen Lazard (ankle) likely to miss the game, the next best receivers on the Packers' roster might be running backs Aaron Jones and A.J. Dillon. LaFleur and Rodgers need to use them as more than just last resort dump-off options on Sunday. Both players have proven they can catch the ball down the field, but those unique skills weren't utilized much last season when Davante Adams seemed to be the target on just about every other pass attempt. Now that he's in Las Vegas, perhaps Rodgers will be more inclined to use Jones and Dillon, who are undoubtedly the top two playmakers on offense.
5) HOLD UP ON SPECIAL TEAMS
The Packers will be better on special teams this season because they finally hired a competent coordinator in Rich Bisaccia, but it's going to take some time. Opening against the Vikings isn't ideal. Kick returner Kene Nwangwu and new punt returner Jalen Reagor are fast and explosive, traits which are only enhanced on turf. And while Green Bay's coverage units should benefit from the addition of veterans Dallin Leavitt, Keiseasn Nixon, and Rudy Ford, this still has the potential to be a mismatch. Biasucci needs to drill into his players the importance of being disciplined and tackling well.
PREDICTION: It's next to impossible to know what to expect in Week 1, especially nowadays, with so few teams playing their key starters in the preseason. Add in the uncertainty of a new staff in Minnesota, and it's naive for anybody to think they can predict what's going to happen on Sunday.

The Vikings, who've never lacked for talent, could look great in their debut under O'Connell, or like many teams with a rookie head coach, they could look unsure of themselves as they continue to adapt to new systems on both sides of the ball. The Packers are the better team now, and they'll be the better team when the two longtime rivals meet again at Lambeau Field on New Year's Day. But that doesn't mean much in Week 1, which is always the most unpredictable of weeks.


Green Bay is favored by 2 points. That number seems low, almost like Vegas is begging me to take the road team. So I won't. Maybe the Packers' defense, which has been chirping all summer, needs to get humbled just a bit. MINNESOTA 27-23.