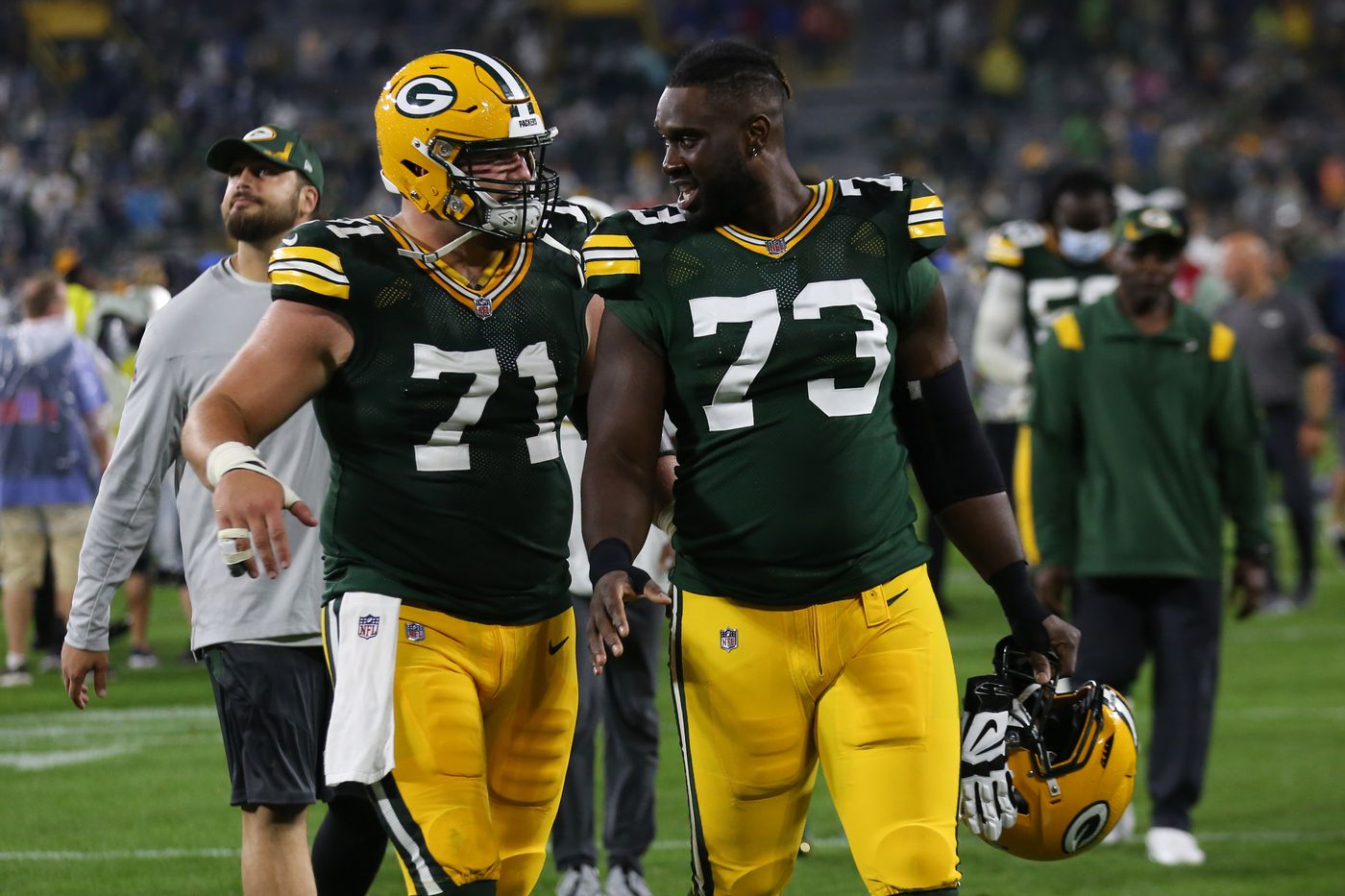 It might be difficult to believe following last week's collapse against the Minnesota Vikings, but the Packers' offensive line is actually in good shape for the future. And while that future almost certainly won't include former All-Pro David Bakhtiari, a handful of talented young prospects are ready to usher in a new era of quality play from the big guys up front.
Nobody has a crystal ball, but the following is my best projection at what the offensive line will look like a year from now:




LEFT TACKLE 
Barring a miraculous turnaround, Bakhtiari figures to be cut after this season. Such a move would cost Green Bay a dead cap hit of $23 million, but it would also free up $6M in much-needed cap space. Yosh Nijman has done a solid job in nine starts, and  Zach Tom, Rasheed Walker, and Caleb Jones all played the position in college and would be possible candidates to start next September. Still, the guess here is that Elgton Jenkins, who looked good filling in for Bakhtiari early last season, will get the nod. Teams typically play their most talented and highest-paid offensive lineman at this spot, and both things will apply to the former Mississippi State star as soon as he signs an extension in the next five months.
LEFT GUARD
Steady Jon Runyan has done a solid job since taking over at the beginning of last season, but the guess here is that the coaches would prefer a more athletic player with a higher ceiling. Tom would check off both boxes. While I still think the impressive fourth-round pick from Wake Forest is better suited to play center or even left tackle at this level, he's certainly talented enough to play this position, especially after another offseason in the weight room. Having Jenkins and Tom next to each other would make the left side of Green Bay's offensive line one of the most athletic in the NFL. The demoted Runyan would then provide outstanding depth at both guard spots if he's not starting elsewhere on the line.
CENTER 
The Packers surprised nearly everybody by choosing Josh Myers over Creed Humphrey in the second round of the 2021 draft, and while it's still very early, the decision looks to have been a mistake. Myers has been OK, but Humphrey was named to the PFWA All-Rookie Team and is already regarded as one of the top handful of players at his position in the league. While I still think there's a decent chance Myers will eventually be moved to guard, where his 6-foot-5 frame would be a much more natural fit, that's probably not going to happen anytime soon. So it's pretty safe to assume he'll still be the one snapping the football to the quarterback a year from now, whether that's MVP Aaron Rodgers or Jordan Love.
RIGHT GUARD 
Sean Rhyan had a disappointing first summer in Green Bay, but he's still the frontrunner to secure this starting spot in 2023. Those who want to write off the college left tackle as general manager Brian Gutekunst's latest third-round bust need to remember that he was not only learning a brand new position but was doing so on the opposite side of the line. That's a lot to ask of any rookie. While Rhyan has the skill set to be at least as good as former Packer T.J. Lang, he has a long way to go to get there. If he's still not ready a year from now, Runyan and Royce Newman, who started 16 games at this position in 2021, would be available to fill the void. A team could do worse than having either player as its fifth-best lineman.
RIGHT TACKLE 
The Packers could choose to keep Nijman where he's most comfortable and start Jenkins here, but that seems unlikely. While moving from one side to the other isn't easy, far less talented players have done it countless times. If for some reason the transition proves to be too difficult for Nijman, the Packers would still have multiple other options. Rookies Caleb Jones and Rasheed Walker showed enough in their first training camps to excite the coaching staff, and Newman could also step in if all else fails. The point is, thanks to general manager Brian Gutekunst loading up on O-linemen in recent years – a whopping 10 draft picks since 2019 – Green Bay is in good shape at one of the game's most important positions.




A starting offensive line of Jenkins, Tom, Myers, Rhyan, and Nijman might not be Bakhtiari, Jenkins, Linsley, Turner, and Bulaga circa 2019, but it would be an intriguing group made up of talented and athletic players. And while it could take some time for these youngsters to gel since their average age would be under 25, the potential would be exciting. So keep in mind that better days are coming as you watch the current quintet struggle to survive at least until Jenkins returns, which would finally allow the human turnstile (Jake Hanson) masquerading at right guard to go back to the bench.