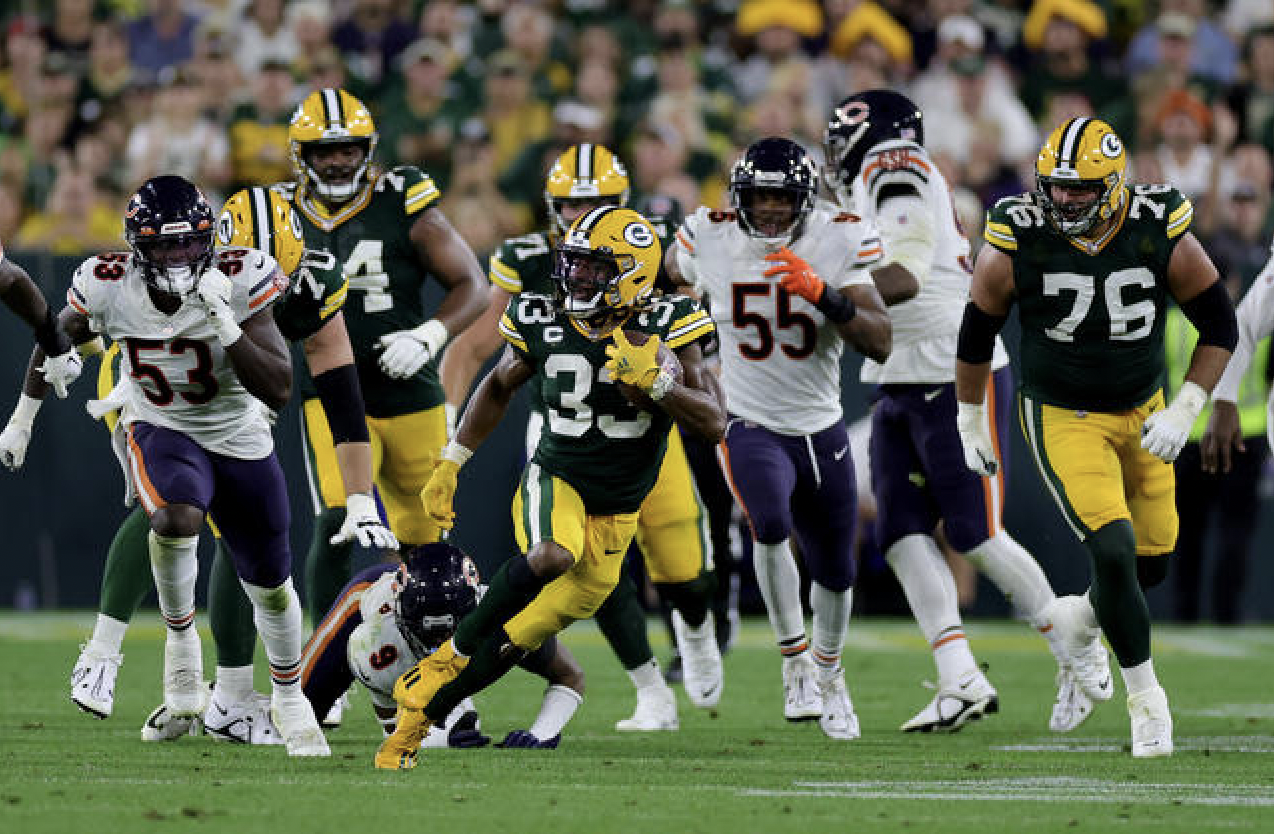 After rewatching Sunday night's game against the Chicago Bears, here are 10 things worth knowing:
5 QUICK THINGS
1) If AJ Dillon is ever going to be a legit No. 1 running back, he needs to do a better job of making tacklers miss. The bruising third-year pro should've averaged more than 3.4 yards per carry on an evening when the big guys up front were controlling the line of scrimmage, but unlike Aaron Jones, he failed to either see or get through small openings. Dillon has gotten better at running behind his pads, and that's why he almost always gains positive yardage, but defenses will never truly respect the run when he's in the game unless he's able to create an explosive play from time to time. Against Chicago, only four of his 18 carries went for more than five yards. The best thing Dillon did was block for Jones. And while that's commendable, general manager Brian Gutekunst wasn't looking for a fullback when he used a second-round pick on the former Boston College star a couple of years ago.




2) Based on his tape from the past two seasons, Sunday night was pretty much what I expected from Sammy Watkins when he signed with the Packers in April. The former Clemson star caught three passes for 93 yards, including a 55-yarder in the fourth quarter that helped seal the win. Watkins used his experience and above-average straight-line speed on that play to beat talented rookie cornerback Kyler Gordon. He also turned a couple of short slants into first downs earlier in the game. That's the route he runs best at this point in his career. Watkins is a big (6-1, 211), physical receiver who can cleanly get away from the line of scrimmage and presents an inviting target in the middle of the field. While a little inconsistent as a blocker, the 29-year-old's desire to help clear space for Jones and Dillon could never be questioned.
3) The Packers were gashed on the ground in the second half (144 yards on 17 carries), and while the defensive linemen were more to blame than the inside linebackers, De'Vondre Campbell and Quay Walker needed to be better. They both struggled to fight through traffic, and thanks to off nights from Kenny Clark, Dean Lowry, and especially Jarran Reed, the second level often resembled a freeway at rush hour. Still, Gutekunst invested $50 million and a No. 1 pick at this position in order to keep games like this from happening. On a more positive note, Walker made the defensive play of the night when he forced Justin Fields out of bounds just shy of the goal line in the fourth quarter. The former Georgia star used his great speed to track down one of the most athletic quarterbacks in the league. The Packers then stuffed Fields on 4th and goal from inside the 1, and for all intents and purposes, the contest between the longtime rivals was over.
4) Elgton Jenkins won't receive a high grade for his work at right tackle, but his return from a torn ACL suffered less than 10 months ago was a godsend for the offense. While clearly rusty, the former Mississippi State star was still an upgrade over Royce Newman, who struggled at the position in the opener. Jenkins got beat a few times in protection, but for the most part, he managed to keep his man a safe distance away from Aaron Rodgers, who looked much more comfortable in the pocket than he did a week ago. Jenkins also contributed to a running game that churned out 203 yards. But the most significant benefit to having the former Pro Bowler in the lineup was moving Newman to right guard in place of center Jake Hanson, who was forced to play out of position against Minnesota. The results weren't pretty. So while Jenkins was far from great on Sunday night, his mere presence improved the offensive line at two spots.
5) Outside linebackers Rashan Gary and especially Preston Smith played very well against Chicago. The pair combined for 10 tackles and three sacks. Just as importantly, they did a nice job of keeping Fields in the pocket. The former Ohio State star, who ran for 117 yards in two games against the Packers last season, managed just 20 yards on Sunday night. Smith seems poised to finally break a career-long pattern of following up a good season with a disappointing one. The 29-year-old reported to training camp in superb shape, and it's been paying off through two games. After playing over 80 percent of the snaps in the opener, Gary and Smith spent even more time on the field a week later. It's pretty clear the coaches lack faith in backups Jonathan Garvin and Kingsley Enagbare. That's why Walker lined up outside a few times.




5 QUICKER THINGS
1) Rodgers was critical of his play against the Bears, and as always, coach Matt LaFleur heaped lavish praise on his star quarterback. The truth lies somewhere in the middle. The best thing Rodgers did was stick with a running game that was working. That hasn't always been the case in past seasons. He also avoided turning the ball over, which has always been the case for the past 15 years. But the reigning MVP missed a few easy throws, didn't see some open receivers, and held the ball too long on occasion. Like everybody else on offense, he's still adjusting to life without the great Davante Adams.
2) Josh Myers' night was a mixed bag. While the second-year center from Ohio state made some nice blocks to help get Jones to the second level, he also gave got beat a few times in protection and hit a motioning Christian Watson with an errant snap that resulted in a 10-yard loss. Myers is one of the biggest centers in the league at 6-foot-5, and he gets in trouble when he plays too tall and allows smaller defensive linemen to get under his pads. That happened a number of times against the Bears. Right now, Myers isn't playing as well as Corey Linsley at the same point in their respective careers.
3) Tight end Robert Tonyan was scrappier than usual as a run blocker, but with the lack of talent at wide receiver, he needs to become more of a factor in the passing game. Catching a couple of balls for 11 yards off bootlegs isn't nearly enough. While fans, the local media, and probably even his own coaches think too highly of Tonyan as a receiver, he runs well enough to at least beat the occasional strong safety or inside linebacker down the field for 20 or 30 yards. Unfortunately, that's happened only a handful of times in the past dozen games stretching back to late in the 2020 season.
4) Maybe it's time to promote defensive end Jack Heflin from the practice squad since No. 1 pick Devonte Wyatt barely played (four snaps) for the second week in a row. Heflin isn't as talented as his linemate, but he was more productive during practices and preseason games. The former Iowa star gives 100% on every snap and will fight like heck to hold his ground at the point of attack. Heflin won't win many beauty contests, but after watching David Montgomery slice through the D-line like a hot knife through butter in the second half, maybe that side of the ball can use a little more ugly.
5) Aside from a mishandled punt by Amari Rodgers that caused no harm, the Packers were OK on special teams. Pat O'Donnell boomed a 72-yard punt against his former employer, Mason Crosby hit both of his field goals, Dallin Leavitt made his presence felt on the coverage units, and Rodgers had a couple of nice returns. As for Crosby, while he seems fully recovered from the knee injury that sidelined him all summer, his aging right leg is struggling to get the ball to the end zone on kickoffs. It might make sense to use Ramiz Ahmed in that role later in the season when the weather gets cold.




OVERALL: The Packers did what they had to do against a vastly inferior team, but they're going to have to perform at a much higher level on both sides of the ball to even stay close to Tampa Bay (2-0) on Sunday. The Buccaneers haven't been great on offense through two games, but Tom Brady is still Tom Brady, and their defense might be the best in the league.