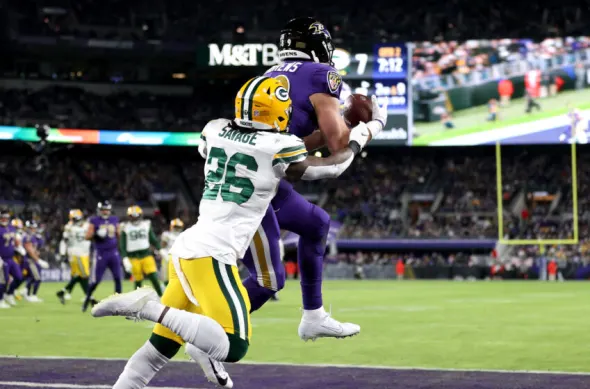 Two games into his fourth season, it's likely free safety Darnell Savage is pretty much who he's going to be in the NFL, and that's certainly not the player general manager Brian Gutekunst eagerly traded up to get in the first round of the 2019 draft.




Savage was supposed to be the playmaking free safety the Packers hadn't had since Nick Collins was forced to retire due to a neck injury in 2012. He was supposed to make up for the mistake then general manager Ted Thompson made when he spent a first-round pick on Ha Ha Clinton-Dix in 2014. Instead, Savage has pretty much been Clinton-Dix, a player Gutekunst thought so little of that he traded him to Washington for a fourth-round pick in the middle of the 2018 season.
The similarities between Savage and Clinton-Dix are eerie. Both players were drafted 21st overall. Both players had eight interceptions in their first three seasons. Both players had a pair of forced fumbles. Both players had one fumble recovery. Both players had six tackles for losses. Both players had their fifth-year options picked up. In fact, the only significant difference on their resumes was Clinton-Dix's unlikely trip to the Pro Bowl in February 2017, although that was far more indicative of how meaningless that "honor" has become in recent years than it was of his performance on the field.
To be fair, there is another difference between the two players, and it's the reason Clinton-Dix was reviled by the fan base and ultimately traded away during the 2018 season, even though there was no capable replacement on the roster. Gutekunst, who replaced Thompson 11 months earlier, had simply grown tired of Clinton-Dix's reluctance to tackle. The former Alabama star avoided contact with other players the way we all avoided contact with other people during COVID-19.
Being physical has never been an issue with Savage, and it's one of the reasons he's largely avoided the wrath of the fans and will almost certainly remain with Green Bay for at least another couple of years. But that doesn't change the fact he's been a disappointment. In his best campaign (2020), the former Maryland star was an above-average starter. In 2019 and 2021, he didn't even reach that modest level. Could the light suddenly go on for Savage this season? It's certainly possible, but that seems unlikely based on the way he played in Week 1 when his passer rating against was 118.8.
Savage had an awful opener in Minnesota. He wasn't the only reason Pro Bowl wide receiver Justin Jefferson caught nine passes for 184 yards and a pair of touchdowns, but he was one of the big reasons. As has often been the case the past three-plus seasons, the 25-year-old's instincts were lacking, and his downfield ball reactions left something to be desired.

In the first video, Savage (26) allows himself to get spun around like a dreidel during Hanukkah. While no safety is going to feel comfortable with a receiver as talented as Jefferson baring down on them in the open field, the good ones don't take themselves completely out of the play. The second video might be even harder to watch. Savage allows an aging Adam Thielen to gain separation across the middle of the field. Yes, Savage got caught up in a bit of traffic, but he still should've been able to make up ground on a 32-year-old. Instead, Thielen pulled away from him for an easy 23-yard completion.
It's too late now, but a defensive coordinator who isn't afraid to think outside the box would've moved Savage to nickel corner during the spring. He spent some time in the slot in college, and his skill set certainly fits that position. Savage is blessed with great speed, and aside from Jaire Alexander, he has the most fluid hips of all the defensive backs on the roster. Of course, being able to run very fast and transition quickly into and out of cuts doesn't guarantee success. If it did, first-round busts Ahmad Carroll and Damarious Randall would've had successful careers in the National Football League.
Still, Savage should've been given a long look at nickel corner, as opposed to the small number of reps he got there during training camp. Sure, it would've meant moving Rasul Douglas – at least temporarily – to free safety, but that would've been worth seeing as well. The former Eagle and Panther, who was a revelation on the outside last season after years of mediocrity, is probably better suited to roam the field as a safety than to deal with quick-as-a-hiccup receivers. If the idea is to put players in the best positions to succeed, these moves should've at least been seriously considered.
But if we know anything about defensive coordinator Joe Barry, it's that thinking outside the box isn't his strong suit. That became clear a couple of weeks ago when he did absolutely nothing either before or during the opener to slow down Jefferson. The 52-year-old believes in playing a certain way, and he's going to stay the course. That was his MO for two awful seasons in Detroit and two almost as awful seasons in Washington. The knock on Barry in both places was an unwillingness or an inability to adjust as far as personnel and schemes were concerned, and while it's still a little too soon to place that particular label on him in Green Bay, early returns suggest this leopard hasn't changed its spots.




There's always the chance Savage will be one of the rare players who get significantly better four or five years into his career. The Packers witnessed that first-hand with Douglas and De'Vondre Campbell in 2021, but they were coming from different teams, which makes such a dramatic change a bit less shocking. Savage, on the other hand, has been in Green Bay since 2019, and he spent last season with Barry, so expecting anything close to that type of improvement is unrealistic.