On Wednesday, a reporter asked Matt LaFleur what the biggest difference is between Tom Brady and Aaron Rodgers. I lost interest halfway through the coach's response because there's really only one correct answer to that question – six rings. A Packers win on Sunday won't change that, and it won't make up for the NFC championship game in 2020, but it'll count more than Rodgers beating Brady on the links in July, which is the last time he's bested his good friend since 2014.
If the Packers are to win their second consecutive game after laying an egg in the season opener, here are five keys to victory:




1) WIN THE TURNOVER BATTLE
The Bucs have the No. 1 scoring defense in the NFL, with stars at every level. It's hard for any offense to go 75 yards against this unit, let alone an offense whose top-3 receivers are Allen Lazard, Randall Cobb, and Romeo Doubs, and whose tight ends have combined for 78 yards in two games. The easiest way for the Packers to score over 20 points is for the defense to create a few turnovers and give Rodgers a short field. That's easier said than done against Brady, but he'll be playing behind a shaky line and without his top two or three targets, so he might be susceptible to mistakes if pressured.
2) SLOW DOWN THE RUN
The Bears' David Montgomery carved up the Packers' front seven last week, and now they'll face an even more physical running back in Leonard Fournette. The 240-pounder is fifth in the league with 192 yards. It will present another stiff challenge to inside linebackers De'Vondre Campbell and especially Quay Walker, who really struggled to get off blocks against Chicago. With wide receivers Mike Evans and Chris Godwin out and Julio Jones listed as questionable, the Bucs figure to rely on the ground game more than usual. So, expect to see plenty of Fournette and explosive rookie Rachaad White.
3) GET CREATIVE ON OFFENSE
When's the last time the Packers attempted a flea-flicker, ran a double reverse, or had somebody other than Rodgers throw a pass? Maybe this is the perfect week for LaFleur to reach into his bag of tricks – after he wipes away all the cobwebs – and come up with a few creative plays to use against a defense that has a lot more talent than his offense. While trick plays obviously don't always work, considering how rarely the Packers use them, you'd think the odds of catching the Bucs' secondary off-guard would have to be reasonably high. Former college QB Cobb to Lazard for six, anyone?
4) PLAY WITH EMOTION
Like most people, I didn't particularly like the hiring of Joe Barry. He failed in Detroit and Washington, and a couple of people whose opinions I trust said he wasn't aggressive and failed to make adjustments during games. But they agreed on one thing – Barry would bring much-needed energy to a defense that often played like a bunch of zombies under Mike Pettine. Yet the Packers have looked surprisingly uninspired through the first two weeks of the season. Perhaps staying up late to read their press clippings tired them out. Whatever the reason, that needs to change beginning on Sunday.
5) HANDLE THE HEAT
The Packers have played twice in Florida in the past two years. They lost 38-10 to Tampa Bay in 2020 and 35-3 to New Orleans last season. Those are the team's worst defeats under LaFleur. The temperature was in the upper 80s for both games, and that's the forecast for Sunday afternoon. There's no way to prepare for that kind of weather, especially coming from Green Bay, where the average high the past three weeks has been a comfortable 75 degrees. Players can drink plenty of water and sit next to giant fans, but being mentally tough is the only antidote that works for extreme heat.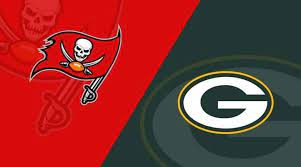 PREDICTION: It's not who you play, it's when you play them, and Green Bay might be facing Tampa Bay at the perfect time. Brady will be without some of his top weapons, and he's still getting used to a revamped O-line that's young and somewhat vulnerable in the middle. The Packers most likely won't be able to outscore the Buccaneers, but perhaps they won't have to.
Brian Gutekunst has spent five No. 1 picks and hundreds of millions of dollars on the defensive side of the ball since being hired as general manager in 2018, and today would be a great time to reap the rewards. If Barry's defense can keep Brady and what's left of Tampa Bay's offense under 20 points, the Packers will at least have a chance to win the game.




Tampa Bay is favored by only one point. That number seems awfully low. It's almost like Vegas is begging people to take the home team, which makes me want to take the Packers. But alas, I won't. TAMPA BAY 24-17 (Record: 2-0; 1-1 vs. the spread).