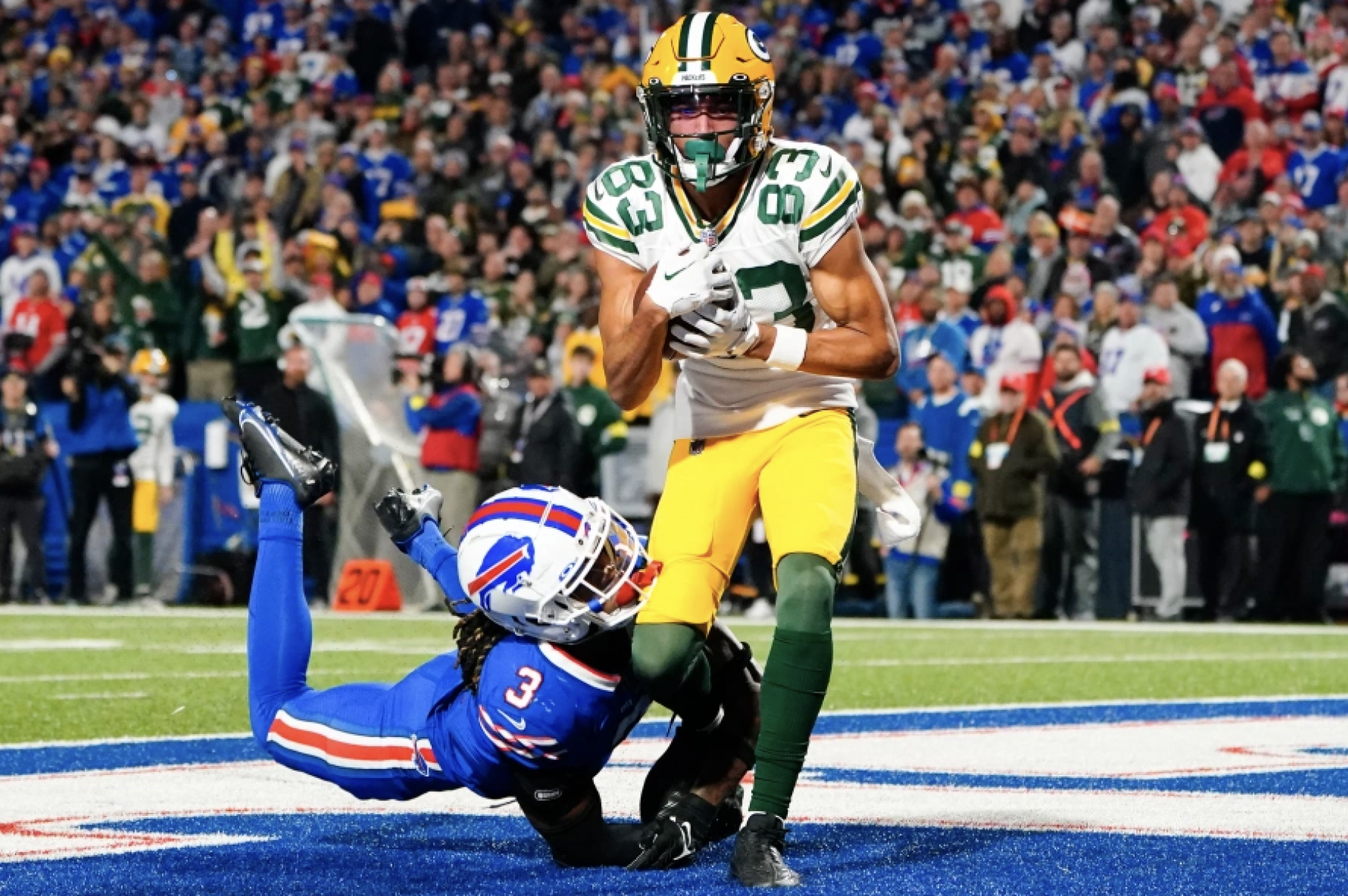 After re-watching Sunday night's game against the Bills, here are five six things worth knowing:
1) It's one thing to move around veterans Billy Turner and Lucas Patrick; it's a whole other thing to move around young players. Neither tackle Yosh Nijman nor guard Jon Runyan is performing as well on the right side of the O-line. They allowed five hurries and a sack on Sunday night. On a more positive note, David Bakhtiari was terrific for the second time in three weeks. (He was inactive against the Commanders.) The five-time All-Pro didn't allow any of Buffalo's talented pass rushers near star quarterback Aaron Rodgers. The only question left to answer is whether he can remain on the field.




2) With Allen Lazard inactive and rookie Christian Watson in the locker room with a concussion, Josiah Deguara played a season-high 30 snaps and helped the Packers rush for 208 yards. A lack of size and speed will always limit the former Cincinnati star, but he's a tough SOB who never backs down. There were a few times in the second half when would-be Buffalo tacklers didn't seem all that interested in engaging with Deguara. Truth is, if the 25-year-old were picked in the fourth or fifth round instead of the third, fans would appreciate him for what he is and not complain about what he isn't.
3) While watching Samori Toure at practice in August, I turned to the person next to me and opined that the rookie from Nebraska reminded me of Donald Driver. A couple of good plays in one game certainly doesn't mean Toure is on his way to the Packers Hall of Fame, but his instincts on Sunday night were impressive. On two plays, including a 37-yard touchdown, the seventh-round pick got himself open as Rodgers bought extra time to throw. That kind of savvy had to impress the demanding four-time MVP and future Hall of Famer and likely earned Toure more snaps in the future.
Toure (#83) never took his eyes off of Rodgers as he ran this route, which allowed him to make a veteran-like adjustment and score his first TD.
4) The defense lost starting inside linebacker De'Vondre Campbell to a knee injury in the first half, and he really wasn't missed. That's both a tribute to the play of Eric Wilson and an indictment of Campbell, whose 24 snaps were pretty bad. He struggled to get off blocks and failed to wrap up on a number of occasions. That's become a pretty common theme. The first-team All-Pro has already missed more tackles in eight games than he did in all of 2021. Wilson, signed off New Orleans' practice squad a few weeks ago, was solid versus the run, had a sack, and did a good job covering kicks and punts.
5) Rasul Douglas allowed three receptions for 85 yards and a touchdown to Stefon Diggs. It was a matchup the veteran corner had no chance of winning. The former West Virginia star just isn't athletic enough to run with elite receivers. To his credit, Douglas was very physical against the run and had an interception early in the fourth quarter. Why defensive coordinator Joe Barry didn't have All-Pro Jaire Alexander shadow Diggs all over the field is a question that has no good answer. Instead, Alexander spent much of the night shutting out Gabriel Davis, who came into the game with only 14 catches.
6) Kenny Clark has avoided criticism because he's not missing tackles in the open field or giving up long passes, but the $18 million per year nose tackle is a big reason why the run defense continues to be a problem. On Sunday night, he got outplayed by veteran center Mitch Morse and his own backup (T.J. Slaton). Sure, Clark had to deal with double-teams, but the great ones still manage to make an impact. The former No. 1 pick from UCLA was as quiet as a mouse. It's fair to wonder whether he's been on the field too much. He's averaged over 50 snaps per game since Week 3. That's a lot for a big man.




OVERALL: Forget the relatively close final score; the Bills kind of lost interest in the second half. The biggest takeaway from this game is how much better Buffalo is than Green Bay. They are faster, tougher, and better coached. Fortunately for the Packers, the only team nearly as good in their conference is Philadelphia. That's why it's still too soon to give up hope, even after four straight demoralizing losses. (That can come next week if Green Bay falls to the toothless Lions on Sunday.) The truth is, any team that qualifies for the playoffs in the NFC has a puncher's chance of getting to the Super Bowl.