After eight weeks, Green Bay is closer to last place than first place. Nobody expected that back in the spring when the three-time defending NFC North champs committed over $150 million to 38-year-old Aaron Rodgers and restructured multiple contracts to re-sign De'Vondre Campbell and Rasul Douglas. The Packers will probably have to win at least six of their final nine games to qualify for the playoffs, and that unlikely quest begins on Sunday afternoon at Ford Field in Detroit.
If the 3-5 Packers are to break their four-game losing streak and keep their season on life support, here are five keys to victory:




1) TAKE ADVANTAGE OF BAD DEFENSE
The Lions are ranked last in defense and fired their DBs coach on Monday. They've allowed at least 27 points in six of seven games. If the Packers can't get their anemic offense going this week, it probably won't happen for the rest of the season. After Aaron Jones and AJ Dillon combined for 197 yards last week, expect coordinator Aaron Glenn to focus on slowing down the run game. That should make throwing the ball easier. Rodgers hasn't passed for over 255 yards all season. The reigning MVP should be able to eclipse that number on Sunday, especially if David Bakhtiari and Elgton Jenkins play.
2) ATTEMPT MULTIPLE DEEP SHOTS
Sunday would be the ideal time to unleash Christian Watson. After the second-round pick from North Dakota State dropped a 75-yard touchdown on the first play of the season, Rodgers hasn't attempted another deep pass to the speedy rookie. But after seeing how Miami's Jaylen Waddle and Tyreek Hill embarrassed the Lions' secondary last Sunday, it's time for Rodgers to forgive and forget. If Watson still hasn't cleared the concussion protocol, let fellow rookie Samori Toure take those deep routes. The former Nebraska star doesn't run sub-4.4 but plays faster than he times.
3) PLAY ALEXANDER IN THE SLOT
Embattled defensive coordinator Joe Barry seems reluctant to do the obvious and allow his best cornerback to shadow the opponent's best receiver every week. On Sunday against the Lions, putting All-Pro Jaire Alexander on Amon-Ra St. Brown (six receptions per game) should be a no-brainer. Yes, it would mean moving Alexander to the slot and going with Eric Stokes and Rasul Douglas outside, but so what. If a former No. 1 pick and a veteran making nearly $7M per year can't handle journeymen Josh Reynolds and Kalif Raymond, the Packers' issues on defense are even worse than most believe.
4) STOP MISSING SO MANY TACKLES
The Packers missed 104 tackles in 17 games in 2021. They're on pace to miss nearly 150 this season. One of the leading culprits has been free safety Darnell Savage. The former No. 1 pick from Maryland is playing like he's either afraid of contact or allergic to it. Detroit running backs Jamaal Williams and D'Andre Swift, who's questionable with ankle and shoulder injuries, can be very difficult to get to the ground. Besides tackling better, it would also help if the defensive linemen were stouter at the point of attack and the outside linebackers – especially Rashan Gary – stopped crashing inside.
5) HOLD ONTO POTENTIAL PICKS
The Packers' defense has forced only seven turnovers in eight games, and two came last Sunday night when Buffalo's Josh Allen, along with millions of viewers, lost interest midway through the second half. Jared Goff is putting up big yardage numbers for Detroit, but the veteran quarterback is still prone to making mistakes. His six picks are tied for third-most in the league. Goff will make some ill-advised throws – especially when under pressure – so the defensive backs have to catch the balls that hit their hands. Being extremely generous, the Packers have already dropped six interceptions.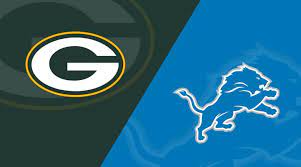 PREDICTION: Qualifying for the playoffs goes from unlikely to next to impossible if the Packers don't prevail on Sunday. And make no mistake about it, they should win. The Lions have the worst record in the league and just traded away one of their best players (tight end T.J. Hockenson). Plus, Detroit is only 3-18 against Green Bay in games Rodgers starts and finishes.
So say goodbye to the Packers' depressing four-game losing streak? Not so fast. While the Lions might stink like rotten cheese, they play hard and can score a lot of points. This makes them particularly dangerous against a team like the Packers that does neither. And you can be sure emotional head coach Dan Campbell will treat this game like the Super Bowl.




The Packers are favored by 3.5 points. After predicting them to beat the Giants, Jets, and Commanders, I refuse to pick them to win another game until they actually win another game. DETROIT 29-27 (Season record: 4-4-0; 3-4-1 vs. the spread)