I could barely watch Thursday night's game between the Falcons and the Panthers. It was a boring matchup between two irrelevant teams going nowhere this season. Then I realized something – Atlanta has more wins than the Packers, and Carolina has just as many. That's how bad the past two months have been for the three-time defending NFC North champs.
If the 3-6 Packers are to break their five-game losing streak on Sunday afternoon against Dallas, here are five keys to victory:




1) NEUTRALIZE PARSONS
Dallas linebacker Micah Parsons is one of the most spectacular young defensive players to enter the league in years, and the Packers can't let him dominate the game. Of course, that's easier said than done. The former Penn State star moves all over and looks to attack the weak spot or spots on an opponent's offensive line. If David Bakhtiari is healthy enough to start at left tackle, figure Parsons to spend a lot of time over right guard Jon Runyan and right tackle Yosh Nijman. The best chance the Packers have of containing Parsons is to jump out to an early lead and avoid becoming one-dimensional.
2) COMMIT TO THE RUN
The Cowboys give up 135 yards per game on the ground, so relying heavily on Aaron Jones and AJ Dillon on Sunday makes sense. Dan Quinn's defense is very fast but not overly big in the front seven. If the Packers avoid committing penalties that put them behind the chains, they have a chance to control time of possession and keep the ball away from Dak Prescott and company. Would Aaron Rodgers be willing to hand the ball off 30 times? That's always a fair question to ask, but he just might since the alternative would be getting smacked around like a Pinata for over three hours.
3) REPLACE GARY'S PASS RUSH
Outside linebacker Rashan Gary, arguably the team's best player this season, tore his ACL last week and was placed on injured reserve. Obviously, nobody will replace the former No. 1 pick, but the combination of rookie Kingsley Enagbare and Jonathan Garvin needs to pick up some of the slack. Ditto veteran Preston Smith, who's been pretty good through nine games. He now must be very good for the next eight. It also wouldn't hurt if Devonte Wyatt finally started to show signs of life. He was drafted in the first round to boost the pass rush, but he's managed only two more pressures than me so far.
4) CREATE TURNOVERS
Green Bay has intercepted five passes and forced three fumbles in nine games. Those are ridiculously low numbers, and it's hard to imagine them improving a whole lot without Gary, De'Vondre Campbell, and Eric Stokes. Still, winning the turnover battle is probably the only chance the Packers have of pulling off an upset. The Cowboys protect the ball pretty well, but perhaps playing their first game in cold conditions (32 degrees at kickoff) will create some problems in that regard. It's come to this – a defense with five No. 1 picks and a huge payroll will need Mother Nature to be its best player.
5) DON'T GET TURPIN'D
KaVontae Turpin is one of the most dynamic returners in the league, and the Packers have come thisclose to getting gashed on kick coverage. The diminutive former USFL star is averaging 24.2 yards on nine kick returns and 14.7 yards on 13 punt returns. The best way to neutralize Turpin is to keep the ball out of his hands. Pat O'Donnell can do that by either getting great hang time or angling his punts toward the sideline. Unfortunately, Mason Crosby has been noodle-legging kickoffs most of the season. Only 27% of his kicks aren't returned, which is one of the lowest numbers in the league.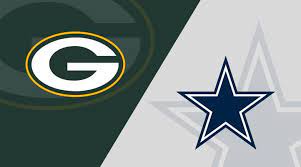 PREDICTION: This game doesn't feel as unwinnable as the one against Buffalo a few weeks ago, but it's close. The Cowboys are more talented, healthier, and better coached on both sides of the ball than the Packers. Plus, they're also coming off a bye. And if that's not enough,  you can be certain the Cowboys' players know how much this game means to Mike McCarthy, who the Packers unceremoniously fired in the middle of the 2018 season. The 59-year-old might not talk about his exit publicly, but it's difficult to believe he's not at least a little bitter about being treated more like Matt Patricia than a Super Bowl winner.
While it seems insane to talk about the Packers making the playoffs, the weakness of the NFC should still give them a reason to believe. Getting to 4-6 would keep them within one game of the final wild-card spot. Ironically, it would also equal their record from 2016, the season Rodgers famously told everybody to R-E-L-A-X, and the Packers rolled off six straight wins.




The Cowboys are favored by 4 points. That number seems a little low, and it gives me pause. But then I think of how the Packers have played the past five weeks, and the choice seems clear. DALLAS 31-17 (Record: 5-4 straight-up; 4-4-1 vs. spread)