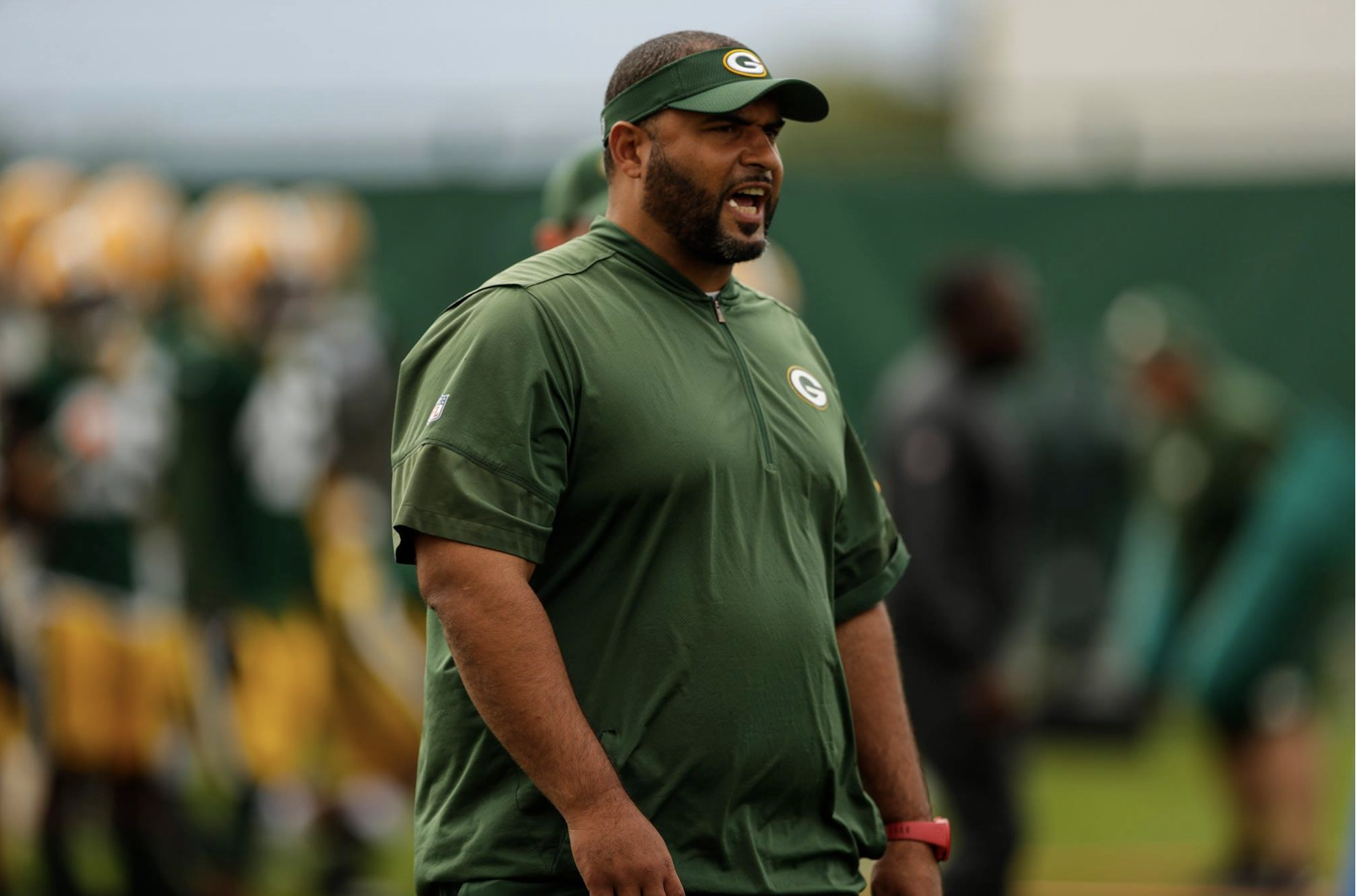 Unless a person attends every practice and has access to meetings, it's difficult to judge the work of a position coach. Outside observers can only go by what they see on the field. Using that criterion, here's an analysis of 10 of the most important members of Matt LaFleur's 2022 staff:
LUKE BUTKUS (Offensive Line)
Promoted to the job when Adam Stenavich was named offensive coordinator last February, Butkus had a rough first season. It didn't help that the team's two best offensive linemen – David Bakhtiari and Elgton Jenkins – were returning from serious knee injuries and practiced sporadically. The timing in the run game never looked right. But the biggest mark against Butkus was the minimal improvement shown by Josh Myers, Jon Runyan, and Yosh Nijman. Is it possible that these three young players – all under the age of 27 – simply maxed out? Perhaps, but fair or not, that's seldom a valid excuse, especially when the head coach and the general manager clearly expected the trio to make noticeable strides.
TOM CLEMENTS (Quarterbacks)
In yet another effort to appease his needy quarterback, LaFleur lured Clements out of retirement last February. The results were mixed. Aaron Rodgers followed up back-to-back MVP seasons with one of the worst years of his career. It's unfair to blame Clements for inaccurate throws and shaky decisions, but the consistently sloppy technique is on him. On the other hand, Jordan Love showed marked improvement. He saw the field better, processed things quicker, and threw the ball with more authority. Whether that was due to coaching or simply having another year of experience under his belt is open to debate, but if we're going to criticize Clements for Rodgers, then we must commend him for Love.
RYAN DOWNARD (Safeties)
No position was a bigger disappointment last season than safety. Darnell Savage Jr. was so bad that he was benched in early December, and Adrian Amos' passer rating against (122) was almost 35 points worse than a year ago. It's fair to put some of the blame on general manager Brian Gutekunst for Savage being drafted and on Father Time for Amos turning 29 last spring, but if excuses were accepted in professional sports, no coach would ever get fired. The NFL is a results-oriented business, and Downard didn't get the job done. The 34-year-old is a holdover from the Mike Pettine days, and it's difficult not to question whether a fresh face and, more importantly, a new voice could coax better play out of this position.
JOHN DUNN (Tight Ends)
As his predecessor, Justin Outten found out for three seasons; it's impossible to make chicken salad out of chicken shit. Dunn, a senior analyst prior to getting promoted last February, did as much as could be expected with one of the least talented collections of tight ends in the league. Robert Tonyan caught a career-high 53 passes, albeit for only 470 yards and two touchdowns, Marcedes Lewis remained an effective blocker at age 38, and Josiah Deguara got the most out of his limited skill set. It's difficult to assess Dunn's coaching in 2022 because the combination of Vince Lombardi and Bill Belichick wasn't going to turn Tonyan into the 49ers' George Kittle or find a way to take about a decade off Lewis' birth certificate.
JERRY GRAY (Cornerbacks)
The corners may have loved and respected their former coach, who was hired by Atlanta earlier this week, but their play on the field last season didn't show it. Eric Stokes was really struggling before going on IR in November, Rasul Douglas regressed after a career year in 2021, and Shemar Jean-Charles couldn't get on the field. Even All-Pro Jaire Alexander slipped a bit. But the 60-year-old Gray's biggest failure came in his role as passing game coordinator. The defense got shredded by the likes of Daniel Jones, Zach Wilson, Taylor Heinicke, and Ryan Tannehill despite having multiple No. 1 picks in the secondary. The tackling was shoddy, and there were too many mental mistakes that led to big plays.
JERRY MONTGOMERY (Defensive Line)
Montgomery has been around since the days of Dom Capers, so he must be an elite coach, right? Perhaps, but the results don't really support that assumption. Kenny Clark is the only above-average defensive lineman developed by the 43-year-old in seven seasons as the position coach. To be fair, he hadn't been given much to work with until GM Brian Gutekunst handed him No. 1 pick Devonte Wyatt last April. That the former Georgia star watched journeymen Dean Lowry and Jarran Reed for most of the season doesn't reflect particularly well on Montgomery. To his credit, massive second-year nose tackle T.J. Slaton showed marked improvement and might turn out to be a pretty useful player.
KIRK OLIVADOTTI (Inside Linebackers)
De'Vondre Campbell wasn't as good in 2022, but he was still better than he was before coming to the Packers. And while No. 1 pick Quay Walker was far from perfect, he improved throughout the season and was named to the All-Rookie team last week. That's a couple of big feathers in the cap for Olivadotti, who continues to quietly get the job done. Yes, Campbell and Walker are very talented, but even undrafted free agent Krys Barnes and sixth-round pick Isaiah McDuffie held their own when asked to play this season. In the half-dozen practices I attended the past two training camps, it was crystal clear that Olivadotti is a demanding coach who expects a lot out of his players. He's getting it.
JASON REBROVICH (Outside Linebacker)
Rebrovich was a strange choice to replace the respected Mike Smith, who left for Minnesota last February. The ex-Bills and Jags assistant brought with him an underwhelming resume and only one year of experience working with outside linebackers. His first season in Green Bay was neither good nor bad. Rashan Gary and Preston Smith continued to play well, but that probably would've been the case under any position coach. Rebrovich's biggest challenge was getting the young guys to develop, and the results were mixed. He deserves credit for turning raw rookie Kingsley Enagbare into a capable starter after Gary went on IR, but none of the other first and second-year outside linebackers showed much improvement.
BEN SIRMANS (Running Backs)
Only Montgomery has been with the Packers longer, and it wouldn't be a surprise to see Sirmans stick around after LaFleur departs. That's a testament to his ability as a coach. The 52-year-old developed Day 3 draft picks Aaron Jones and Jamaal Williams into 1,000-yard rushers, and A.J. Dillon continues to improve as a blocker and a receiver under his tutelage. Sirman's running backs are fundamentally sound and assignment sure. That's why a seldom-used backup like Patrick Taylor can come off the bench in the middle of a game and keep things rolling. The only mark against Sirmans this season would be Jones' five fumbles. While ball security is undoubtedly stressed in practice, it has to carry over to the field.
JASON VRABLE (Wide Receivers)
Had the offense been better, Vrable would be a candidate for coordinator openings around the league. Unfortunately, Green Bay ranked 17th in yards and 14th in points, so the 38-year-old won't be going anywhere. That's a good thing for the Packers because he's a quality young coach. Vrable developed a former fifth-round pick (Marquez Valdes-Scantling) into a coveted free agent last March, and it wouldn't be a huge surprise to see another of his unheralded pupils (former undrafted free agent Allen Lazard) strike it rich this spring. A couple of more talented players – Christian Watson and Romeo Doubs – are in excellent hands. Both raw rookies showed steady improvement throughout the course of the season.
| POSITION | COACH | GRADE |
| --- | --- | --- |
| Offensive Line | Luke Butkus | C- |
| Quarterbacks | Tom Clements | C |
| Safeties | Ryan Downard | D |
| Tight Ends | John Dunn | C+ |
| Cornerbacks | Jerry Gray | C |
| Defensive Line | Jerry Montgomery | C |
| Inside Linebackers | Kirk Olivadotti | B |
| Outside Linebackers | Jason Rebrovich | B- |
| Running Backs | Ben Sirmans | B+ |
| Wide Receivers | Jason Vrable | B |

[yop_poll id=" 84″]