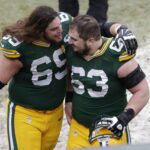 The Packers had one of the best offensive lines in the league in 2020, and even with center Corey Linsley's likely departure in free agency, things still looked extremely bright heading into next season. That all changed on New Year's Eve when star left tackle David Bakhtiari tore his ACL in practice. Suddenly, what looked to be a strength turned into yet another position that general manager Brian Gutekunst must deal with in the coming months.
As of today, only Elgton Jenkins and Billy Turner are assured of starting spots come the middle of September, although Lucas Patrick is a good bet to fit in somewhere. After that, all that's left are unproven youngsters Jon Runyan, Simon Stepaniak, Jake Hanson, Yosh Nijman, Ben Braden, and Zack Johnson. That's not good enough when so much of the offense's success is predicated on strong line play. Protecting the quarterback is obviously important for every team, but it's even more important when that quarterback turns 38 in December and is the reigning MVP.
While Gutekunst will likely use one of his early draft picks to address the offensive line, there's no guarantee that the player will be ready to contribute as a rookie. Free agency is the best place to procure an instant starter, but the Packers don't have much money to spend, so it'll be up to the front office to try to find a bargain. And they're out there. In fact, Daryl Williams was my No. 1 under-the-radar O-lineman a year ago at this time. He wound up signing a one-year deal worth just over $2 million with Buffalo and enjoyed a Pro Bowl-caliber season at right tackle.
The following are five players even the Packers – currently $11 million over the salary cap – should be able to afford:
1) KENDALL LAMM (OT – Browns)
The 28-year-old has started only one game since 2017, but he's an intriguing short-term option for the offensive line. His limited tape (198 snaps) from last season was pretty good, and more importantly, he showed significant improvement from his days in Houston. The former undrafted free agent from Appalachian State has good size (6-5, 312), but his short arms and average athleticism will always make him the kind of player that coaches will look to replace. That said, he uses his hands effectively and shows good balance in pass protection. And while his run blocking needs work, I'm willing to bet he could improve that part of his game under the tutelage of offensive line coach Adam Stenavich. I don't think Gutekunst will be looking to sign a long-term starter in free agency since most of those guys cost at least $10 million a year. But if he's looking for a player who can step in until Bakhtiari returns and then provide adequate depth at both tackle spots, Lamm would be a really solid – and inexpensive – addition.
Lamm (#70) started in the divisional round of the playoffs against the Chiefs and more than held his own in protection against Frank Clark (#55), one of the better pass rushers in the league. The video above features a couple of plays from that game.
2) JAMES HURST (OG/OT – Saints)
Filling in for All-Pro left tackle Terron Armstead, the 29-year-old played the best football of his career last season after returning from a PED suspension. He was originally signed as an undrafted free agent by the Ravens – and Packers' director of football operations Milt Hendrickson – and struggled in 26 starts at left tackle, left guard, and right guard in 2017 and 2018. But that versatility, combined with his improved play last season, makes him a very attractive option for a team looking to improve its depth on the offensive line inexpensively. While Hurst isn't much of an athlete, he works to sustain blocks and does a good job of seeing stunts and loops. The former North Carolina star might not be a long-term answer at any position, but he played better at left tackle than Turner last season, and he'd be less of a risk at guard than any of the second-year offensive linemen currently on the Packers' roster. Hurst certainly won't break the bank, but he'll probably be slightly more expensive than Lamm due to his experience.
3) MATT FEILER (OG/OT – Steelers)
I noticed the 28-year-old while watching tape of former Pro Bowl left tackle Alejandro Villanueva, his much more heralded teammate. Feiler started 13 games at left guard for the Steelers last season after starting all 16 games at right tackle in 2019. He was above average at both positions. The former undrafted free agent from Division II Bloomsburg is a similar player to Hurst – only quite a bit bigger. And the extra 20 pounds allows him to get a little more movement in the run game, especially at tackle. It also makes him better able to absorb bull-rushes from massive defensive linemen. He's the best offensive lineman on this list, but he's No. 3 because he's probably going to be the most expensive to sign. That said, he's better than both Turner and Rick Wagner, whom Gutekunst paid $7 million and $5.5 million a year, respectively. Acquiring Feiler would not only help the Packers on the field this season, but it would also make it easier to move on from Turner and his substantial salary cap hit in 2022 ($8.15 million).
4) CEDRIC OGBUEHI (OT – Seahawks)
The 28-year-old former No. 1 pick was a bust in Cincinnati, but he was able to resuscitate his career to some extent with the Seahawks last season. He started four games at right tackle, and looked pretty good in three of them. But what excites me the most about Ogbuehi coming to the Packers is the thought of him working with Stenavich. He's never been around such a good offensive line coach. The former Texas A&M star was the 21st pick in the 2015 draft for a reason – he's extremely talented. He has impressive size (6-5, 308), long arms, and the athleticism to mirror speed rushers in pass protection and get to the second level in the run game. But he's never been able to put those skills to good use consistently. He can look like a budding star or a borderline NFL player – often in the same game. Then again, that's why a player so talented will hit the open market in a couple of weeks. Right now, Nijman is the only healthy natural tackle on the Packers' roster. It couldn't hurt to add Ogbuehi to the mix.
5) JOHN MILLER (OG/Panthers)
The 27-year-old is strictly a guard, but he's a good one. As a member of the Bengals in 2019,  the former third-round pick from Louisville struggled against power and had difficulty adjusting to moving targets at the second level. Neither was the case last season. Miller looked stronger and more athletic with the Panthers, and while he certainly didn't play at a Pro Bowl level, he was marginally better than Patrick. His lack of versatility might not make him particularly attractive to Gutekunst, but he could wind up being one of the better bargains available later this month. And shouldn't finding the best bargains be the goal of any general manager heading into free agency, especially a general manager whose team has very limited cap space? Adding Miller would also make it easier to move Patrick to center, allowing Jenkins to either remain at left guard where he was just voted to his first Pro Bowl or move to tackle. The guess here is that it won't take more than $3.5 million a year to get a deal done.