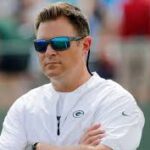 If the first three girls someone goes out with have blonde hair, there's no guarantee the next girl will also have blonde hair, but the odds are pretty good. Everybody has a type – be it a high school senior looking for a prom date or a GM looking for a college football player.
Brian Gutekunst has conducted only a trio of drafts as the GM of the Packers, but based on what he did in 2018, 2019, and 2020, he does seem to have a specific type on each of the three days. Based on that history, we can take an educated guess as to which players might interest him over the weekend.

ROUND 1
CB Jaire Alexander (2018)
LB Rashan Gary (2019)
FS Darnell Savage (2019)
QB Jordan Love (2020)
All three of the non-quarterbacks Mike Mamula'd the NFL Combine (click on the link if you need to look it up). They ran faster and/or jumped higher than at least 90 percent of the players at their respective positions. Based on that criteria, here are some of the workout warriors who could be of interest to the Packers late in the first round:
OT Samuel Cosmi (Texas) – Combines physicality and athleticism as well as any O-lineman not named Sewell or Slater.
OL Alex Leatherwood (Alabama) – Quality tackle in college whose terrific athleticism could move him to guard in the pros.
WR Terrace Marshall (LSU) – Still raw talent whose mix of size (6-2, 205) and speed (4.40) will stress NFL defenses.
ED Jayson Oweh (Penn State) – Didn't record a single sack last season, but he was disruptive, and his skill set is incredible.
ED Gregory Rousseau (Miami) – Looks like a young Julius Peppers at times, but he needs to be a lot more consistent.
DL Christian Barmore (Alabama) – Explosive interior rushers who run 4.97 at 310 pounds don't last long in the draft.
DL Levi Onwuzurike (Washington) – Twitchiness at 290 pounds could make him tough to block as a 3-technique tackle.
LB Jamin Davis (Kentucky) – Every team is looking for ILBs that can run, and this guy can flat out fly (4.47 at 234 pounds).
DB Trevon Moehrig (TCU) – Rare safety with enough size to tackle and enough speed and quickness to cover like a corner.
CB Tyson Campbell (Georgia) –  Tall corners with 4.3 speed and good transitional quickness don't usually get to round 2.
CB Greg Newsome (Northwestern) – Smart and productive player whose 40 (4.38) might've pushed him into the teens.
CB Eric Stokes (Georgia) – Wasn't on any team's radar as a potential first-round pick until he ran 4.25 at the Combine.
ROUNDS 2 & 3
LB Oren Burks (2018)
CB Josh Jackson (2018)
OL Elgton Jenkins (2019)
TE Jace Sternberger (2019)
RB A.J. Dillon (2020)
TE Josiah Deguara (2020)
If Gutekunst had a tendency to go for the head cheerleader in round 1 of his first three drafts, he mostly had eyes for the debate team captain in rounds 2 and 3. Jackson, Jenkins, Sternberger, and Deguara certainly didn't wow anybody at their respective Combines and/or pro days, but all four players enjoyed very productive final seasons in college. Based on that criteria, here are some of the players who could be on Gutekunst's radar come Friday night:
RB Michael Carter (North Carolina) – There's not much wow factor here, but some runners just know how to pick up yards.
WR Amari Rodgers (Clemson) – Catches the ball effortlessly over the middle and is tough to bring down after the reception.
WR Amon-Ra St. Brown (USC) – Equanimeous' younger brother isn't as big or as fast, but he's a better overall receiver.
TE Pat Freiermuth (Penn St.) – Lacks explosiveness, but he gets open by finding zones and giving the QB an inviting target.
TE Tommy Tremble (Notre Dame) – Caught only 35 passes in college, but he's an ascending player who should be a better pro.
OT Brenden Jaimes (Nebraska) – Excellent technician who held up extremely well at less than 300 pounds in the Big 10.
OT Dillon Radunz (North Dakota St.) – Doesn't always look pretty, but he almost always manages to get the job done.
OG Aaron Banks (Notre Dame) – Physical road grader who's good enough in protection when he gets his hands on an opponent.
OG Ben Cleveland (Georgia) – Massive (6-6, 343) player who looks stiff at times, but he rarely got beat by speed in college.
OL Drew Dalman (Stanford) – Very similar traits to Corey Linsley, who the scouts also dinged for his lack of ideal size.
OL Creed Humphrey (Oklahoma) – A bit inconsistent in college, but he has the talent to be one of the top centers in the NFL.

ED Joseph Ossai (Texas) – Probably won't get more than 7 or 8 sacks in a season, but he'll create pressure and set the edge.
ED Rashad Weaver (Pitt) – Tough and relentless player who lacks one truly special trait but does everything pretty well.
DL Jay Tufele (USC) – Goes hard on every play and has enough short-area quickness to make plays in the backfield.
DL Tommy Togiai (Ohio St.) – Weighs less than 300 pounds, but he holds the point better than most much bigger players.
LB Nick Bolton (Missouri) – Small (5-11) with only average speed (4.6), but he plays bigger and faster than the numbers suggest.
LB Chazz Surratt (North Carolina) – Tackling needs to improve, but he's an effective blitzer who had 12 sacks the past two seasons.
CB Elijah Molden (Washington) – Teams in need of a slot corner would be smart to overlook his below-average size and speed.
CB Shakur Brown (Michigan St.) – Tough and instinctive corner who plays a lot better on the field than he looks on paper.

DB Jamar Johnson (Indiana) – Makes up for pedestrian speed (4.58) with fluid movements and excellent anticipation.

ROUNDS 4-7
LB Kendall Donnerson (2018)
DE Kingsley Keke (2019)
CB Ka'dar Hollman (2019)
DE James Looney (2018)
WR J'Mon Moore (2018)
WR Equanimeous St. Brown (2018)
LB Ty Summers (2019)
WR Marquez Valdes-Scantling (2018)
RB Dexter Williams (2019)
DB Vernon Scott (2020)
LB Jonathan Garvin (2020)
Of the 11 non-offensive linemen selected by Gutekunst on day 3, eight ran 40s that were faster than the average at their positions (linebacker Kamal Martin was recovering from knee surgery and couldn't run at the Combine or his pro day). In fact, most ran times that were much faster. Moore, Williams, and Garvin were the lone exceptions. Based on that criteria, here are some very speedy players who could find themselves Packers by the end of Saturday:
QB Kellen Mond (Texa A&M/4.61)
RB Javian Hawkins (Louisville/4.45)
RB Kene Nwangwu (Nebraska/4.82)
WR Anthony Schwarz (Auburn/4.25)
WR Ihmir Smith-Marette (Iowa/4.47)
WR Tamorrion Terry (Florida St./4.44)
TE Jacob Harris (Central Florida/4.40)
ED Joshua Kaindoh (Florida St./4.65)
ED Shaka Toney (Penn St./4.53)
DL Jonathan Marshall (Arkansas/4.81)
DL Ta'Quon Graham (Texas/4.88)
LB Nick Niemann (Iowa/4.47)
LB Isaiah McDuffie (Boston College/4.58)
CB Brandon Stephens (SMU/4.44)
CB Kari Vincent Jr. (LSU/4.38)
CB Brandon Echols (Kentucky/4.35)
DB Tyree Gillespie (Missouri/4.42)
DB Caden Sterns (Texas/4.40)
DB Darrick Forrest (Cincinnati/4.41)
Visits: 5376 Today: 1
Tagged:
Green Bay Packers
NFL Draft