Top 10 Reasons To Trade 12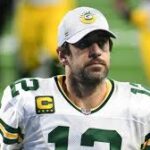 I've been blogging about the Packers since 2004, and the only time I've ever been accused of being a homer is when it comes to quarterback Aaron Rodgers. I supported him during the debacle with Brett Favre in 2008, and I defended him after some subpar performances in the postseason. So I take no pleasure in writing this next line – it's time for the greatest franchise in the history of the NFL to say goodbye to one of its greatest players.
Here are the top 10 reasons why GM Brian Gutekunst should make the best trade possible before the start of camp:

1) Rodgers no longer wants to play for the Packers
While Rodgers doesn't have the cojones to say these words himself, he's gotten the message out loud and clear through his friends around the NFL and in the national media. And give him credit; he's been able to make himself look like the wronged party – which isn't an easy thing to do when you're one of the highest-paid players in the league.
2) These aren't the Green Bay Rodgers
It's embarrassing to watch Gutekunst and coach Matt LaFleur grovel. Meanwhile, Rodgers has to be loving it. Seinfeld's George Costanza once talked about the importance of having "hand" in a relationship. Well, Rodgers has plenty of hand now, and if he comes back, you can be sure he'll use it to bitch-slap the franchise for the next few years.

3) Rodgers turns 38 in December
Watching Tom Brady win Super Bowls in his 40s makes it easy to forget that he's the anomaly when it comes to aging quarterbacks. Most – think John Elway, Peyton Manning, and Drew Brees – are either retired or running on fumes by the time they approach the Big 4-0. And the end usually happens quickly. So while Rodgers was named MVP last season, that doesn't mean he'll keep playing at the same level next season – let alone three years from now.
4) Rodgers' value will never be higher
No reigning MVP has ever been traded, so you can be sure more than a few teams will be extremely interested should Rodgers be made available. It's not hard to imagine Gutekunst getting four high picks and a quality young player in return. That would be quite the haul for a QB who turns 38 this season and who doesn't want to play for the Packers.
5) Jordan Love was drafted for a reason
Gutekunst isn't dumb, so he had to know exactly what his actions on that April night in 2020 would mean. He obviously thinks highly of Love, so he should let the youngster take his lumps in 2021 – much like Rodgers did in 2008 – and then trust that his instincts developed under the great Ron Wolf and honed over 20 years of scouting were right.
6) Love is a very talented player

There's no way of knowing what kind of quarterback the former Utah State star will be, but it's not like the Packers would have to replace Rodgers with Seneca Wallace, Graham Harrell, or Scott Tolzien. Love has the skill set to be a very good QB in the NFL. As good as Rodgers? Probably not, but he doesn't have to be. If Gutekunst uses all those extra draft picks wisely, the Packers could surround Love with one of the most talented rosters in the league.
7) This offense doesn't need a great QB
LaFleur learned offense under Kyle Shanahan and Sean McVay, and he watched both of his buddies have great success with less than stellar play at quarterback. There's no reason why Love can't be at least as good as Jimmy Garoppolo (49ers) and Jared Goff (ex-Rams); In fact, he should be better. The Packers would surround him with a solid offensive line, a first-team All-Pro wide receiver, multiple talented young tight ends, and a Pro Bowl running back.
8) Rodgers counts for 20% of the cap

Trading Rodgers would go a long way in fixing what has become an ugly situation with the salary cap. Not only would it clear $15 million after June 1, but it would give the Packers some much-needed breathing room next offseason. Plus, if a trade happened to bring back a quality young wide receiver like the Broncos' Jerry Jeudy, Gutekunst wouldn't have to spend between $18M and $22M a year to keep Davante Adams, who turns 30 in 2022.
9) The Packers already blew their best chance

Aside from the injury to star tackle David Bakhtiari, everything went right for the Packers last season, and they still couldn't get to the Super Bowl. They had a bye. They had home field throughout the playoffs. They didn't have to deal with the 49ers. They intercepted Brady three times in the second half of the NFCC. And they still couldn't get it done.
10) The Packers haven't played in a Super Bowl since 2010
In all likelihood, Rodgers will be better than Love next season, the season after that, and the season after that. Heck, he might be better five years from now. But Love doesn't need to be as good as Rodgers. He just needs to be good enough. The Packers have gone an entire decade without playing in a Super Bowl, and Rodgers was superb in most of those seasons. Maybe a lesser quarterback supported by a stronger 53-man roster is the way to go. And building a stronger 53-man roster should be a lot easier with all the additional high draft picks acquired in a trade.
Visits: 6646 Today: 1
Tagged:
Aaron Rodgers
Green Bay Packers