10 Quick Things: GB vs. HOU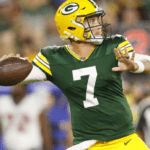 After rewatching Saturday night's game vs. the Texans, here are 10 things worth knowing:
OFFENSE
1) Third-string quarterback Kurt Benkert made some very nice throws, but his awful interception happened the one time he faced heavy pressure. That's been a theme since his college days at Virginia.
2) Right tackle Dennis Kelly had a disappointing debut. The 10-year veteran, who played well in 16 starts for the Titans in 2020, allowed too much pressure. Hopefully, he just needs to knock off the rust after an offseason of inactivity.
3) Jon Runyan and Ben Braden are battling for the starting job at left guard. Neither played particularly well. If it's close, the coaches will likely go with Runyan. And if neither steps up, maybe rookie Royce Newman steals the job.
4) Left tackle Yosh Nijman played OK aside from the sack he allowed at the end of the first half, but that's a pretty big aside. Consistency has always been a major issue, and I still don't think he has the feet to handle quality edge rushers.
5) Running back Dexter Williams picked up 16 of his 32 yards after contact, but not playing until the final 15 minutes doesn't bode well for his chances of making the 53. I think the GM likes him a lot more than does the coach.

DEFENSE
1) Cornerback Kabion Ento did absolutely nothing to hurt his chances of making the 53. He showed impressive instincts on his interception, especially for someone who played receiver until he entered the NFL three years ago.
2) Cornerback Josh Jackson gave up 5 completions before I got frustrated and stopped counting. He simply doesn't have the fluidity to stay with even average receivers. His hold on a roster spot is getting more tenuous by the day.
3) Corner Shemar Jean-Charles had an up-and-down night in coverage, but he definitely possesses the skill set to be a pretty good slot corner. He gives great effort on every play, and only All-Pro Jaire Alexander has twitchier hips.
4) Defensive lineman T.J. Slaton made a handful of tackles, but he got moved out of position too often by backup offensive linemen and created minimal push as a pass rusher. As was the case in college, his pad level was too high.
5) Outside linebacker Chauncey Rivers wasn't bad for a player added to the roster only eight days ago. He was physical versus the run and showed some burst off the edge. He took a big step toward a spot on the practice squad.
–
photos courtesy of packers.com
Visits: 3587 Today: 5
Tagged:
Ben Braden
Chauncey Rivers
Dennis Kelly
Dexter Williams
Green Bay Packers
Jon Runyan
Josh Jackson
Kabion Ento
Kurt Benkert
Shemar Jean-Charles
T.J. Slaton
Yosh Nijman