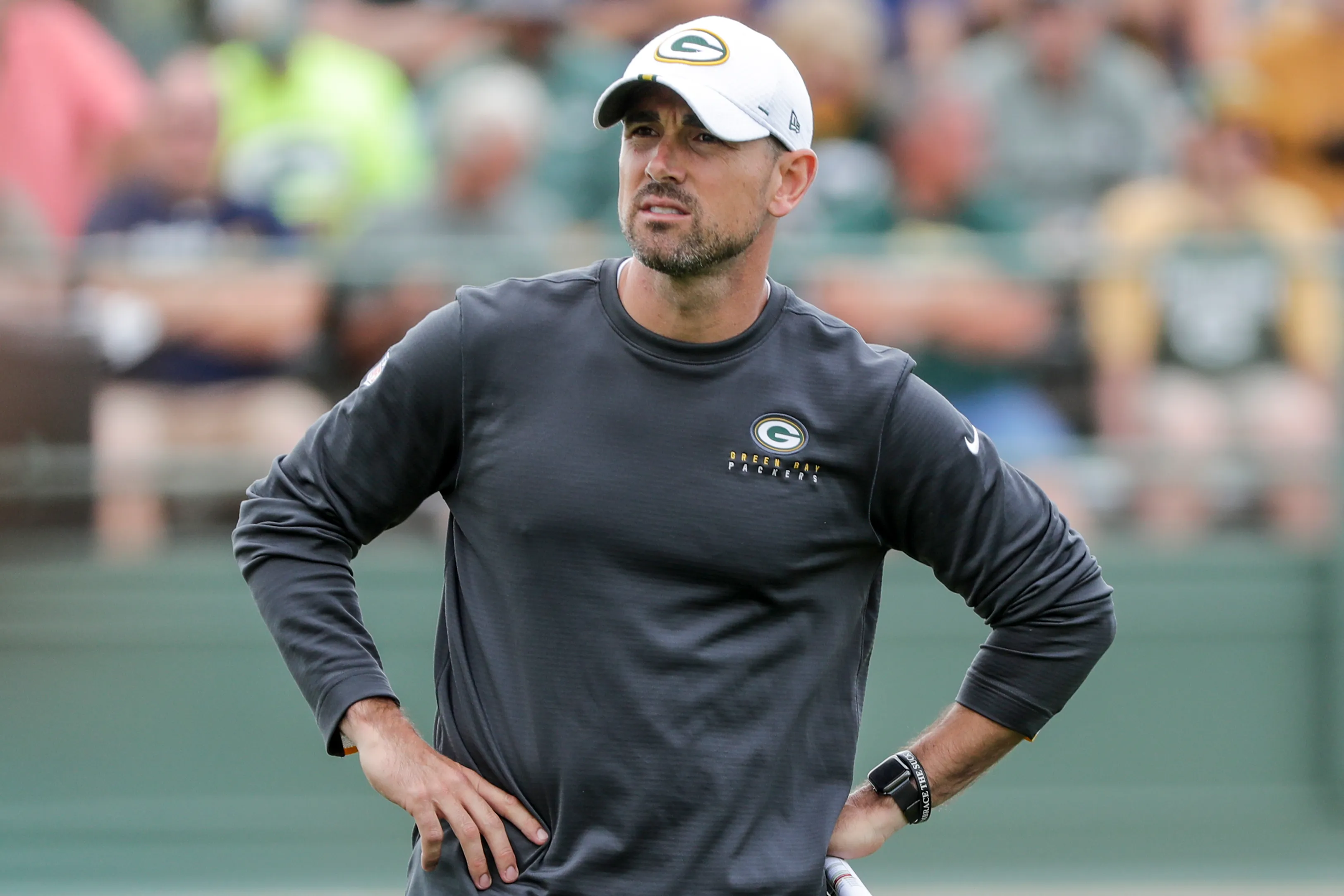 Brian Gutekunst and Matt LaFleur have put together the best three-year stretch of regular seasons in franchise history. The Packers have gone a remarkable 39-10, but until the team figures out how to win games in January, the newly-extended brain trust will never measure up to Ron Wolf and Mike Holmgren, or even Ted Thompson and Mike McCarthy.
With the season opener against the Minnesota Vikings now only a couple of days away, what should we expect from the three-time defending NFC North champion Packers over the course of the next four-plus months? Here's the way I see it:




OFFENSE
Despite, at least on paper, having arguably the worst collection of tight ends and wide receivers in the league, the offense should be just fine during the regular season. That's because the great Aaron Rodgers is at quarterback, and even at 38, he's throwing the ball as well as ever. Having to face only five top-15 defenses from a year ago won't hurt, either. Of course, for Rodgers' golden right arm to do damage in the month that matters most, he'll need to be kept upright behind a line that could either be dominant or problematic, depending on the status of its two stars. If David Bakhtiari and Elgton Jenkins are healthy and playing at a high level in January, the pedestrian receivers should be afforded enough time to get open, or at least create the sliver of separation needed to catch passes from a QB with pinpoint accuracy. But if Bakhtiari or Jenkins isn't around, things could get ugly, especially against some of the NFC's best defenses. Committing more to the run during the fall would be wise. Not only are Aaron Jones and A.J. Dillon two of the premier backs in the NFL, but being able to move the ball on the ground would be extremely helpful come the postseason.
DEFENSE
With six No. 1 draft picks, a first-team All-Pro, and two Pro Bowl alternates in the starting lineup, the Packers' defense should be one of the best in the league. Despite serious injuries to superstars Jaire Alexander and Za'Darius Smith last season, coordinator Joe Barry's first year on the job went pretty well. He quieted the many critics by leading his unit to a top-13 finish in both yards and points allowed. Those numbers should improve with Alexander back and the addition of impressive first-round pick Quay Walker, but that's far from a guarantee. Offensive coordinators have spent the past six months studying Barry, who was almost a complete unknown going into 2021. He hadn't been in charge of a defense since being canned by Washington in 2015. Because opponents will be much more aware of his tendencies this season, Barry's almost certainly going to have to make more adjustments during the week and on game days. That wasn't his strong suit in the nation's capital or before that in Detriot (2007-2008). Another thing to worry about is a lack of depth at outside linebacker, corner, and especially safety. A couple of injuries at any of those positions could be extremely problematic since there typically isn't a Rasul Douglas waiting to come to the rescue from another team's practice squad.
SPECIAL TEAMS
Sadly, it took a season-ending blocked punt for LaFleur and Gutekunst to finally get serious about improving special teams. The respected Rich Bisaccia was named coordinator in February, punter Pat O'Donnell was signed in March, and three veteran players with a long history of being able to cover kicks and punts were kept on the final roster in September (Keisean Nixon, Dallin Leavitt, and Rudy Ford). If things aren't better this season, it won't be for lack of trying. But it would be unrealistic to expect a dramatic turnaround. The Packers haven't been good on special teams since Bill Clinton was in the White House. After ranking dead last a year ago, finishing in the top 20 would be a real success. Two things that won't change from last season are the placekicker (Mason Crosby) and the returner (Amari Rodgers). This is a bit of a surprise, considering neither player was effective in 2021. Gutekunst is counting on a new holder (O'Donnell) getting Crosby back on track and a new physique making Rodgers more dangerous. The former Clemson star dropped weight in the offseason, and while he'll never be overly explosive, he did look a bit faster this summer.
COACHING
LaFleur has won more games in his first three seasons than any coach in league history. It's difficult to minimize that achievement, although pointing out the Packers have been knocked out of the playoffs at home in consecutive years is a good place to start. The loss in 2020 is somewhat defensible since it was unseasonable warm at Lambeau, and Tampa Bay with Tom Brady went on to win the Super Bowl. But there's no excuse for what happened last January against San Francisco. The weather was frigid and snowy, and the 49ers were a 10-7 team that barely snuck into the tournament. LaFleur's offense was horrendous, and special teams – under his handpicked coordinator Maurice Drayton – were an unsurprising disaster. Until the 42-year-old gets Green Bay over the hump and into the Super Bowl, he'll never get the credit his regular season accomplishments deserve. Aside from leading the team during the week and calling plays on game day, LaFleur's other huge responsibility is hiring assistants. With the exception of Drayton, he's done a solid job. Barry seems to have been a decent choice, and one of his former coordinators (Nathaniel Hackett) is already a head coach.
FRONT OFFICE
Like his coach, Gutekunst needs to at least get Green Bay to a Super Bowl before he can be considered among the very best at his job. The disciple of Wolf and Thompson has drafted very well in rounds one and two, signed a handful of quality free agents, and unearthed a few hidden gems. He needs to do better in rounds 3 to 7, but to be fair, the same could be said of most GMs. Gutekunst's decision to trade Davante Adams during the offseason can't be questioned. He was able to get two high picks for a wide receiver who turns 30 in December and wanted out. What can and should be questioned is his decision to replace a two-time All-Pro with journeyman Sammy Watkins and a pair of raw rookies. After all, the Packers have struggled to score points against quality defenses the past two postseasons, and that was with Adams drawing double and sometimes triple coverage on nearly every snap. Gutekunst is obviously counting on either Christian Watson or Romeo Doubs to develop into a legitimate weapon by the time January rolls around. If that doesn't happen and the offense once again sputters in the playoffs, he'll be deservedly eviscerated for his handling of the position.




PREDICTION
Wake me up in January. As long as the back-to-back MVP quarterback avoids serious injury, Green Bay should win 10 games and qualify for the playoffs. That's been the case in all but two of Rodgers' 12 seasons as a healthy starter; the only exceptions being his first year under center in 2008 and Mike McCarthy's tumultuous last year as head coach in 2018. Even with legitimate questions at wide receiver, this team is far too talented not to capture the NFC North for a fourth straight season under LaFleur. But can the Packers finally get over the hump and back to the Super Bowl for the first time in over a decade? Sure they can, but I'm not counting on it. Unless one of the rookie receivers develops into a legitimate weapon by the time the calendar turns to 2023 or Gutekunst acquires a proven veteran like Odell Beckham or the defense morphs into the '85 Bears, it's just really difficult to imagine this Green Bay offense – even led by one of the greatest players in the long history of the NFL – being able to get past two or three high-quality defenses in the postseason.