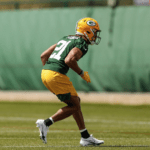 The Packers have been a good defensive team exactly one time since winning Super Bowl XLV. In 2014, that side of the ball surrendered only 19.2 points per game in the second half of a season that shouldn't have ended in the NFC title game. You don't have to be Sherlock Holmes or even Inspector Jacques Clouseau to figure out what made that particular defense so effective – very good talent and incredible depth at the cornerback position.

A still in his prime Tramon Williams and Pro Bowler Sam Shields were the starters, and the backups were Casey Hayward, Davon House, and Micah Hyde. Think about that for a minute. The three players who weren't good enough to start in that secondary would go on to sign deals worth a combined $70M as free agents in the next few years.
But the 2014 defense wasn't strong along the D-line or at inside linebacker. Letroy Guion, Josh Boyd, and A.J. Hawk played 1,917 combined snaps. Suspect talent at those two positions applies to this year's team as well. Dean Lowry, Tyler Lancaster, and De'Vondre Campbell could see nearly as many snaps. But when a defense has quality corners, it makes everyone else just a little better. Or if you want to look at it another way, just a little less mediocre.
That brings us to 2021. Look, nobody knows if Joe Barry will even be an upgrade over Mike Pettine, and it's doubtful Lowry and Campbell are suddenly going to become J.J. Watt and Ray Lewis in their sixth seasons. For the defense to get significantly better, the play at cornerback must get significantly better. The good news is there's some legitimate talent at the position. Jaire Alexander is one of the best players in the league, and the Packers drafted Eric Stokes in round 1 for a reason. If Kevin King and Chandon Sullivan don't have to be on the field for over 100 combined snaps a game, maybe just maybe, the play at cornerback will at least approach the level of 2014.
If general manager Brian Gutekunst hit a home run with Stokes – and early signs suggest he hit at least a double – and if Sullivan and King can settle in as the No. 3 and 4 cornerbacks by the time the playoffs roll around, the play at this position should be good. Not 2014 good, but good enough. Another rookie, fifth-round pick Shemar Jean-Charles is also intriguing.
Along with safeties Darnell Savage and Adrian Amos, edge rushers Za'Darius Smith and Rashan Gary, and nose tackle Kenny Clark, there should be enough talent for even a coordinator as questionable as Barry to field a good defense. And with Aaron Rodgers at quarterback, good might be all the Packers need to finally get back to the Super Bowl.