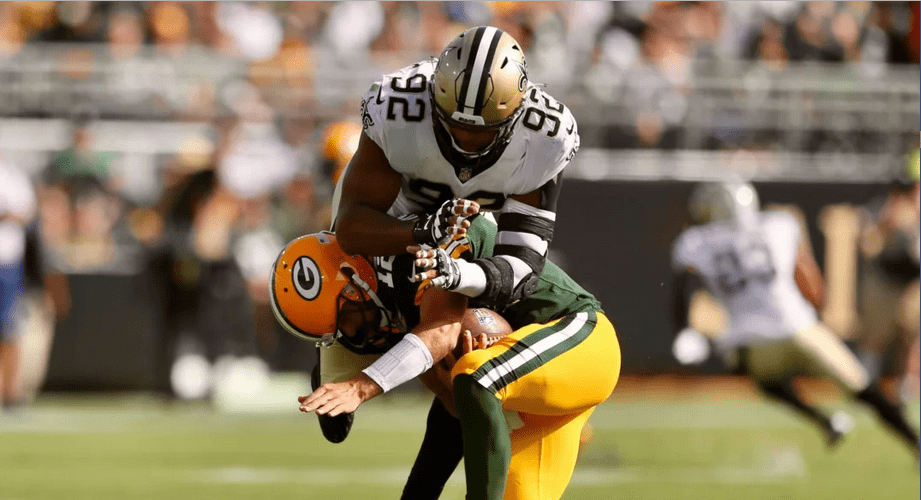 After rewatching Sunday's game against the New Orleans Saints, here are 10 things worth knowing:
OFFENSE
1) Elgton Jenkins was terrific in his first start at left tackle. He moved defenders in the run game and was nearly flawless in protection. Marcus Davenport is a very talented young pass rusher, and he couldn't figure out a way to beat Jenkins. If this continues for another six weeks, the Packers will have to seriously consider moving their Pro Bowl guard to right tackle next season. Heck, they'll be paying him like a tackle soon enough.
2) Rookie right guard Royce Newman had a rough debut as he learned the hard way the difference between pro football in August and pro football in September. The fourth-round pick from Ole Miss really struggled with the quickness and strength of the Saints' defensive tackles and inside linebackers. He didn't do much in the run game and gave up 3 pressures. If he doesn't play better in the coming weeks, the coaches will have to consider other options.
The Saints moved Cameron Jordan (#94) over Newman on this key play in the third quarter. The rookie was no match for the Pro Bowl defensive end.
3) Josh Myers was the only interior offensive lineman to put forth a winning effort. The rookie center wasn't perfect, but he made some nice blocks in the run game and generally held up well in protection. He'll face much stiffer competition than defensive tackles Christian Ringo, Shy Tuttle, and Albert Huggins in the weeks to come, but this was still a very promising debut. At no point did the game seem too big for the 23-year-old from Ohio State.
4) Nearly half of Robert Tonyan's 52 catches last season came off bootlegs. The well-prepared Saints' defense took that play away and rendered the fourth-year tight end a non-factor (2 receptions for 8 yards). Aside from drawing one pass interference call in the third quarter, Tonyan was unable to do much of anything against 33-year-old free safety Malcolm Jenkins and a trio of athletic inside linebackers. His run blocking also wasn't very good.
5) With most of the offensive linemen struggling to get much movement, A.J. Dillon pretty much served as his own blocker on four runs that gained 19 yards. Because of his powerful lower body, it's almost impossible to keep the 250-pound former Boston College star from picking up four yards. Pro Bowler Aaron Jones is obviously the No. 1 running back, but there will be days when Dillon should get the bulk of the snaps. Sunday was one of those days.

DEFENSE
1) Despite all the offseason hype from the  coaches and the cheerleaders in the local media, De'Vondre Campbell played like an inside linebacker that two other teams had no interest in keeping around. While the former Gopher used his speed to make a few nice plays early in the game, he was slow to react a number of times and seemed to get caught out of position at least twice. The Packers need him to be a lot better than Christian Kirksey; he wasn't on Sunday.
2) Campbell wasn't very good, but he was Ray Lewis compared to Krys Barnes. The second-year inside linebacker from UCLA was slow to diagnose plays and to get off blocks. Barnes wasn't helped by the below average work of the guys up front (namely defensive ends Kingsley Keke and Dean Lowry), but he still needs to be better. To his credit, he wasn't a liability in the passing game. He stayed close to his man and kept yards after the catch to a minimum.
3) It's been six months, and it's still hard to explain the decision to re-sign Kevin King. If anybody needed a fresh start, it was the veteran corner. He allowed 2 completions for 72 yards, including a 55-yard TD to Deonte Harris. Safety Henry Black should've offered deep help, but that doesn't absolve King of responsibility. And that $5M deal didn't make his hips more fluid – something that was painfully obvious on Harris' 17-yard reception in the first half.
4) As poorly as the defense played all afternoon, things would've been even worse if not for Preston Smith and Rashan Gary. The starting outside linebackers did solid work in 75 combined snaps. Smith was strong versus the run, and Gary, who gave maximum effort on a very hot day, was one of the few pass rushers to get near Jameis Winston (5 pressures). It was nice to see them step up with Za'Darius Smith limited to part-time duty due to a back injury.
This looked like the Preston Smith (#91) from two years ago. He disengaged from one blocker and split two others to stop Alvin Kamara in his tracks.

5) Forced to play increased snaps due to Smith's injury and the hot weather, fourth and fifth outside linebackers Jonathan Garvin and Chauncey Rivers provided next to nothing in a combined 38 snaps. They rushed 12 times, and the only positive was their adherence to social distancing rules when it came to the QB. General manager Brian Gutekunst had all summer to improve the depth at this position, but he chose to do nothing for some reason.

FINAL THOUGHTS: Pretty much everything I (and many others) questioned in the offseason was a problem on Sunday. Aaron Rodgers looked like an almost 38-year-old quarterback who spent the spring doing everything except working at his craft. Barry was exactly the defensive coordinator everybody feared he'd be when coach Matt LaFleur announced his hiring in February. King picked up right where he left off nine months ago. And a front seven that added only a fifth-round nose tackle and a journeyman inside linebacker still wasn't good enough.
Looking for a positive spin? This was only one game and the world champion Bucs looked every bit as bad against the Saints last November as the Packers looked on Sunday. With San Francisco and Pittsburgh on the schedule in the next three weeks, we'll learn pretty quickly whether this was just "one of those days" or a harbinger of things to come.
–photo courtesy of packers.com
A big thanks to those of you who have already made a donation. If you haven't contributed yet, please click the button below to keep enjoying this type of Packers' content throughout the 2021 season. ⬇️
[wpedon id=46164]